Imagine the first meeting in the late 1970s between Swedish executives from Saab and their Italian counterparts from Alfa Romeo, Fiat, and Lancia to discuss developing a large sedan aimed at the BMW 5 Series and what would become the Mercedes-Benz E-Class. I picture it being held on neutral ground, maybe at an estate high in the Swiss Alps. Wine flowed, the room was hazy with cigarette smoke, and bewildered multilingual interpreters fluent just wanted to get in a little hike to see the fall colors before the meetings ended.
The stoic Swedes who hopped a Scandinavian Airlines System DC-9 back to Trollhattan wondering just how their small automaker and a trio of disjointed Italian brands could ever pull off something so ambitious. The Italians, chainsmoking at the Geneva airport while they waited for their delayed Alitalia flight, wondered just why the Swedes were so uptight.
What they were discussing was a big deal, both literally and figuratively. It was a model that could take Saab from quirky boutique brand to mainstream luxury, which could reinvigorate Alfa Romeo in the key American market, and one that could help Fiat and Lancia — well, wait a minute. Lancia was a disaster by the late 1970s, and Fiat, which owned Lancia and would soon own Alfa Romeo, was so desperate for funding that it took a big cash infusion in trade for a 14% stake in the company from the Libyan government (!!) to keep the lights on in Turin.
Fun fact: Fiat does not sell cars in Libya today.
Anyway, the cars were code-named Type Four, and they rode on a front-wheel-drive chassis that stood in stark contrast to the rear-drive underpinnings of BMW and Mercedes-Benz rivals. Front-wheel-drive was a familiar concept to the Swedes, who liked it for its snowy road traction, but Fiat had only dabbled in such a layout. To Alfa Romeo, it was utterly foreign.
The Italian versions shared a basic suspension layout with MacPherson struts at all four corners. The Saab, which would be positioned somewhere toward the top of the hierarchy, used a completely different setup with what we'd describe today as passive rear-wheel steering. The move would set the tone for Saab's strong-headed independence under later owner General Motors (GM). Whatever GM did to shared platforms, Saab reworked to its own specifications. This, of course, cost Saab a fortune and was a major factor in the brand's demise, even though the Swedish brand's revisions were almost always superior to GM's original.
Styling-wise, all four cars had an Italian touch. Saab called its car the 9000, and the automaker tapped Giogetto Giugiaro's Italdesign for its angular lines. Fiat and Lancia followed suit, and as a result, their Croma and Thema models look decidedly similar to the 9000. While they share some panels, the three are largely different designs. It would have been too easy to have the same part numbers.
Alfa Romeo tapped longtime partner Pininfarina for the 164, which is the most distinctively styled model of the group.
The Saab 9000 arrived first and is likely the best-known model. It arrived in the U.S. for 1986 and garnered largely positive reviews for its supremely spacious interior, its versatile hatchback design, and, not too long thereafter, its powerful turbocharged engine. The biggest update was slowly phased into the lineup between 1993 and 1995 when Saab pinched the car's front end for a more streamlined look and added a conventional sedan, as well as a V6 engine donated by then-owner GM.
Fiat and Lancia launched their Croma and Thema models in Europe about a year later. Both used Fiat 4-cylinders with an optional turbocharged model. The Thema, however, went in an entirely different direction when a Ferrari V8-powered model arrived about a year after the car's debut. The 3.0-liter V8, mounted transversely, looks positively bizarre under the hood of the Thema 8.32. In typical 1980s fashion, Lancia threw all sorts of luxury features at the car, including Poltrona Frau leather, a retractable rear spoiler, and swathes of wood trim. Lancia even built a wagon version of the Thema, though it never officially sold the Thema as a wagon. (One was built for Giovanni Agnelli, who certainly enjoyed perks of ownership.) Still, the climate control panel was shared with the 9000 and many of the switches were used in Alfa Romeo's 164.
The Alfa came last, which is hardly a surprise since the famous Italian brand was in dire straits during its development. Fiat acquired Alfa Romeo in 1986, and the 164 finally went into production a year later. It took until 1991 for the sedan to arrive in the U.S., which was supposed to be its savior market. The 164 boasted a sonorous V6 engine, but its chunky bodywork and angular interior were out of fashion by the 1990s. The car looked dated before it even went on sale, although it was a surprisingly good value. The sporty S version with a 200-horsepower V6 cost about $30,000, and that price included leather seats, electronically controlled shock absorbers, and a radio with a joystick-style balance/fade control right out of Chrysler's parts bin — because by 1991, Alfa Romeo's U.S.-market importer was run by Chrysler. How history repeats itself.
The 164 lasted here until 1995 when both it and Alfa Romeo pulled up shop and retreated to Europe. The 9000 stuck around another three years before being replaced with the more conventional — but still plenty quirky — 9-5 sedan and wagon.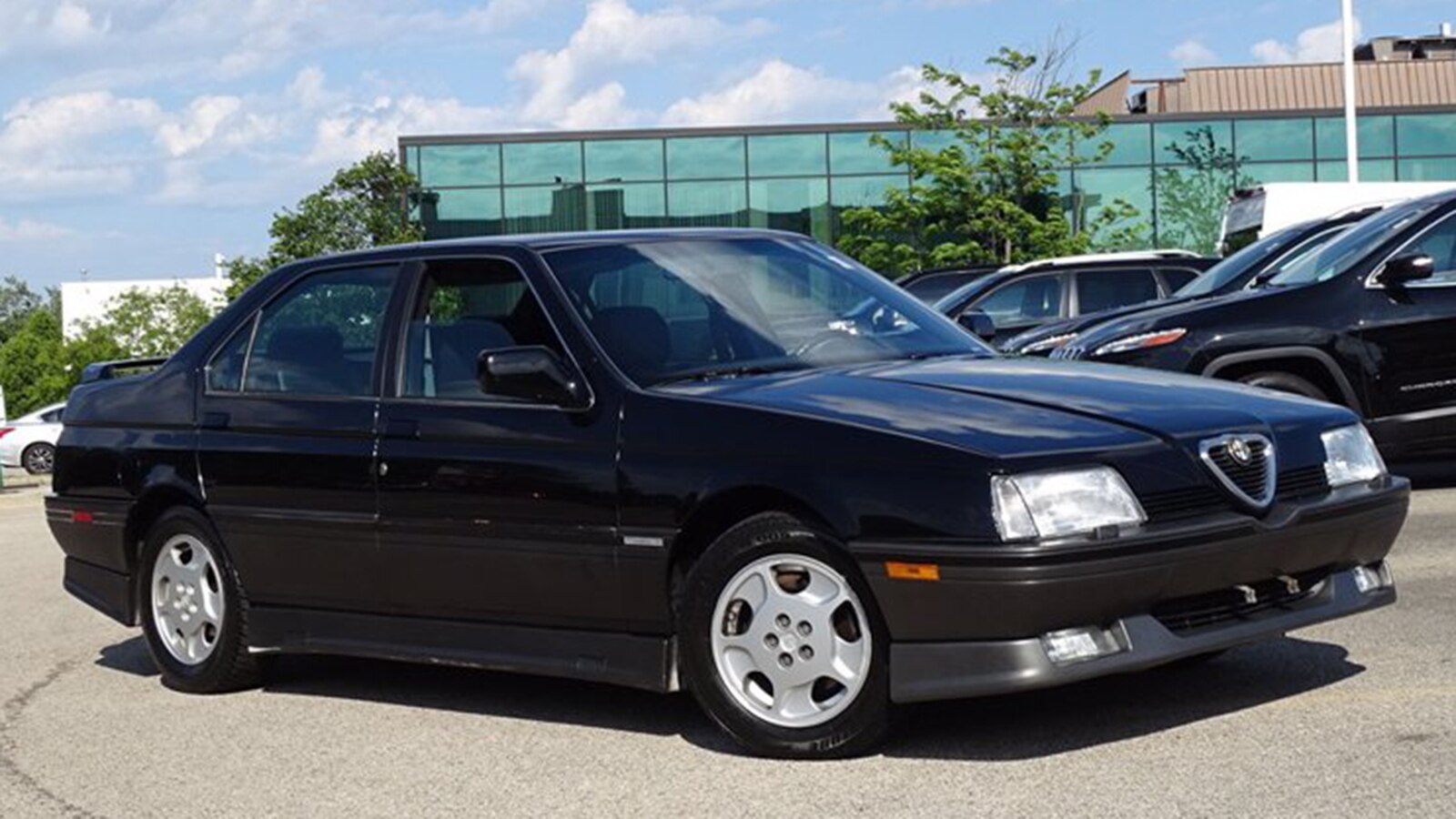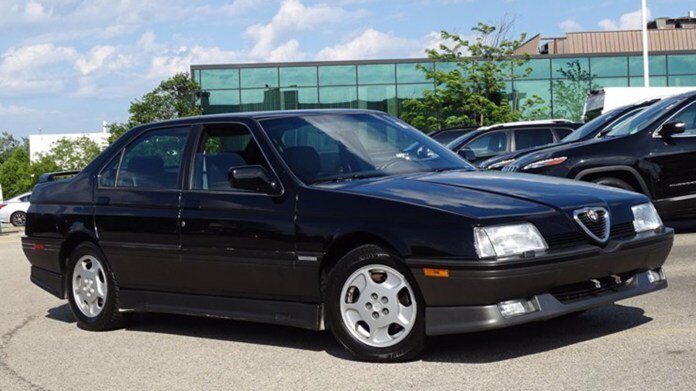 Type Four Today
The 9000 may have been the most common of the four in the U.S., but it's a rare sight today. The last one rolled off the boat from Sweden nearly 25 years ago, and many were sold in snowy, salty climates like New England, where cars quickly turn to dust. The choice version is the 9000 Aero, which boasted as much as 225 hp and a color-matched body kit paired with heavily bolstered leather seats. It is an undeniably cool car.
For whatever reason, the 164 seems more likely to have been preserved, even though not many were sold. Low-mile ones pop up on Autotrader somewhat frequently. Here, you'll want the sporty version — the 164 S — with a V6 rated at 210 hp in its final form. Here's a sharp first-year model with just 72,000 miles at, appropriately, an Alfa Romeo dealer near Chicago.
All four models are now eligible for import, aside from the latest versions that don't quite qualify for the 25-year rule. Should you choose to go down this arduous path, a later Alfa Romeo 164 Quadrifoglio 4 boasted all-wheel drive as well as the 24-valve V6. And a Thema 8.32 would make a fabulously unreliable commuter for drivers who want to fund their Italian car mechanic's family of eight's medical schooling. See Saab 9000 models for sale or See Alfa Romeo 164 models for sale