Car News
Buick Safety Features Offered Across 2014 Lineup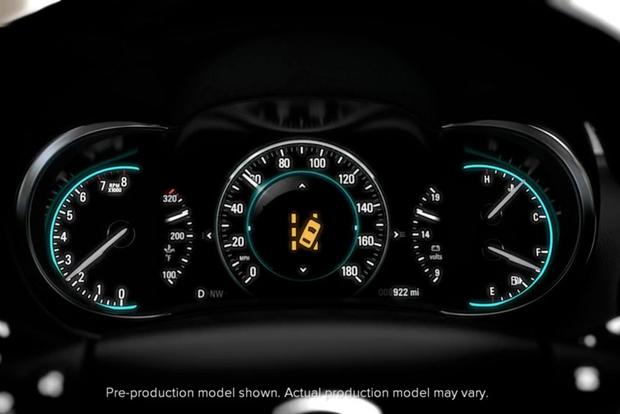 Five driver assistance systems available on every 2014 Buick
Includes technologies to improve safety
Systems function by "watching" area around vehicle
Buick safety ratings are high. All the brand's 2013 models were chosen as Top Safety Picks by the Insurance Institute for Highway Safety (IIHS). Buick's federal crash test ratings are strong, too. Only the front-wheel-drive version of the Encore, a small crossover, missed the best-possible 5-Star mark for 2013.
Those ratings suggest Buicks perform well in a collision, but that's only half of the safety story. Avoiding collisions is just as important, and automakers are using technology to help drivers do just that. Buick offers five safety features on every one of its 2014 models; it's the first brand to do so. The features include a blind spot monitor, forward collision alert, lane departure warning, rear cross-traffic alert and a backup camera.
Each system assists the driver by "watching" the area around the vehicle, especially the spots difficult to see. Blind spot monitoring is ideal on multi-lane roads. The system provides a visual warning -- typically an icon that lights up on the side mirror -- when another vehicle is in the Buick's blind spot. Blind spot monitoring relies on radar to sense other vehicles.
Forward collision alert also warns the driver of hazards. Instead of radar, this system monitors the road ahead using a forward-facing camera. If a slow-moving or stopped vehicle is in the Buick's path, the forward collision alert system will activate visual and audible warnings to prompt a quick reaction from the driver.
Lane departure warning uses the same forward-facing camera to detect road markings and monitor the vehicle's position in the lane. If the Buick drifts out of the lane (and the driver has not indicated a lane change with the turn signal), visual and audible warnings are activated.
Finally, each 2014 Buick is available with a backup camera and rear cross-traffic alert. With more automakers including backup cameras, the advantages of these relatively simple systems have become clear to drivers. Rear cross-traffic alert enhances the system by using radar to detect vehicles coming from either side -- for instance, when backing out of a driveway or parking space. The technology is precise and effective.
Although Buick is the only automaker to offer all five of these features on every model, driver assistance systems are increasingly popular and common solutions for helping drivers avoid crashes. Thus, expect other automakers -- especially luxury brands -- to follow the tech-heavy Buick safety recipe and offer advanced systems on even their most affordable models.
What it means to you: Advanced safety systems help drivers avoid accidents. For the 2014 model year, Buick offers five driver-assistance technologies on every one of its models, and is the only automaker to do so.