For some shoppers interested in buying a new car, features mean everything. And not just the simple stuff like power windows and keyless entry. Many of today's shoppers want unique, high-end equipment that few other cars have. If that sounds like you, you're in the right place. That's because we've created a list of upscale features you can get in a $25,000 car, and we've listed the vehicles that offer them.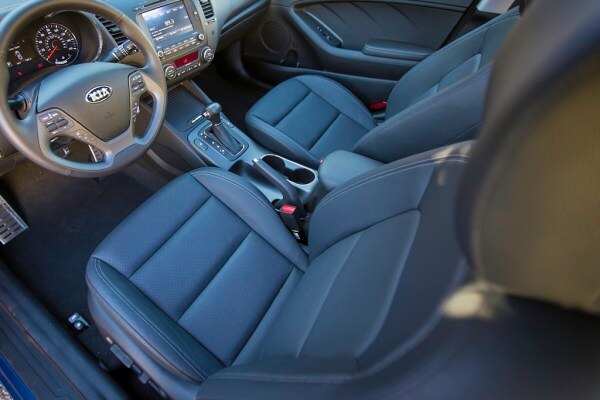 Ventilated Seats: Kia Forte
You've undoubtedly heard of seat heaters, which can warm up a car's seats on a cold day. But have you heard of ventilated seats? The feature can cool down your seats, acting as a supplement to your air-conditioning system. Better yet, some cars make such good use of the feature that you don't even need to use your air conditioning unless temperatures get extremely hot. The newly redesigned Kia Forte is one car that offers ventilated seats, which are available in the high-end EX model's Premium Package.
Adaptive Cruise Control: Mazda3
You've probably heard of — and used — normal cruise control, which allows you to set a vehicle speed and maintain it, without touching the pedals, as you cruise down the highway. So what's adaptive cruise control? Pioneered by high-end carmakers like Mercedes-Benz, the technology "sees" the road ahead and adjusts your speed accordingly. That means you can set a following distance based on the car in front of you, and the system will automatically slow down if the car in front does the same. This feature is standard on the Mazda3 s Grand Touring, which starts just above $25,000.
Remote Starting: Ford Focus
If you live in a climate with weather extremes, this one's for you. The truth is, many cars have remote start as an available feature. The Chevy Cruze, Nissan Altima and the VW Passat all have the feature available, but you often have to spend more than the car's base price to get the cool stuff. On the other hand, the Ford Focus Titanium, which starts just under $25,000 with shipping, features a standard remote starting system. That means you can turn on your car's ignition using only the key fob. In other words, opt for a Focus Titanium and you can say goodbye to days spent sitting in the car on a hot day waiting for the air conditioning to kick in. Alternatively, you can use the features to let the car warm up on a cold day. And don't be afraid of theft, as the system won't allow the car to go anywhere until the driver — and key — are safely inside.
Rear Cross-Path Detection: Dodge Dart
Shoppers who have difficulty backing out of parking spots will appreciate the rear cross-path detection feature that comes standard with the Technology Group in the 2014 Dodge Dart Limited. Easily available for under $25,000 with shipping, a Dart Limited with the Technology Group uses the feature to alert drivers if cross-traffic is approaching as they back out of a parking space. It takes the guesswork out of reversing and minimizes the impact of blind spots. More importantly, it gives drivers confidence and reduces the possibility for low-speed collisions.
Navigation System: Toyota Corolla
If it's been a while since you've considered buying a new car, it might surprise you to learn that many cars available for under $25,000 now include a navigation system. That's certainly true of the Toyota Corolla, which offers such a system as optional equipment on the S trim level. The Corolla also gets a nod for its comprehensive Entune infotainment system, which lets drivers do everything from place calls to make restaurant reservations and buy movie tickets.
Rearview Camera: Honda Civic
If you think rearview cameras are limited to high-end SUVs and long-wheelbase luxury sedans, you might be surprised to learn that's no longer the case. In fact, the 2014 Honda Civic, which starts at just $19,000 with shipping, comes standard with a rearview camera on every trim level. Better yet, the camera includes lines to help guide you into a parking space and avoid collisions with nearby cars, bystanders and other objects.