Subaru is one of the safest vehicles on the road right now, but the automaker has really raised the bar with its latest tech, like Subaru Eyesight Driver Assist technology.
It's essentially a system that provides another set of eyes on the road and — should you need it — hands on the wheel and a foot on the brake.
If you spend a lot of time in stop-and-go traffic or on the highway, you'll really appreciate Adaptive Cruise Control, which is part of the EyeSight package. You set the distance you want to keep between you and the car ahead of you. The system then monitors the movement of other cars and automatically adjusts to keep a safe distance.
EyeSight is now available on all trim levels of all 2019 and beyond Crosstreks
It provides adaptive cruise, stop-and-go, forward collision warning, and pedestrian detection, auto-braking, lane departure warning, lane assist, and pre-collision throttle management.
Rated "Superior" ADAS Tech by IIHS
An overall impressive system with better refinement than some luxury cars
What is Subaru EyeSight?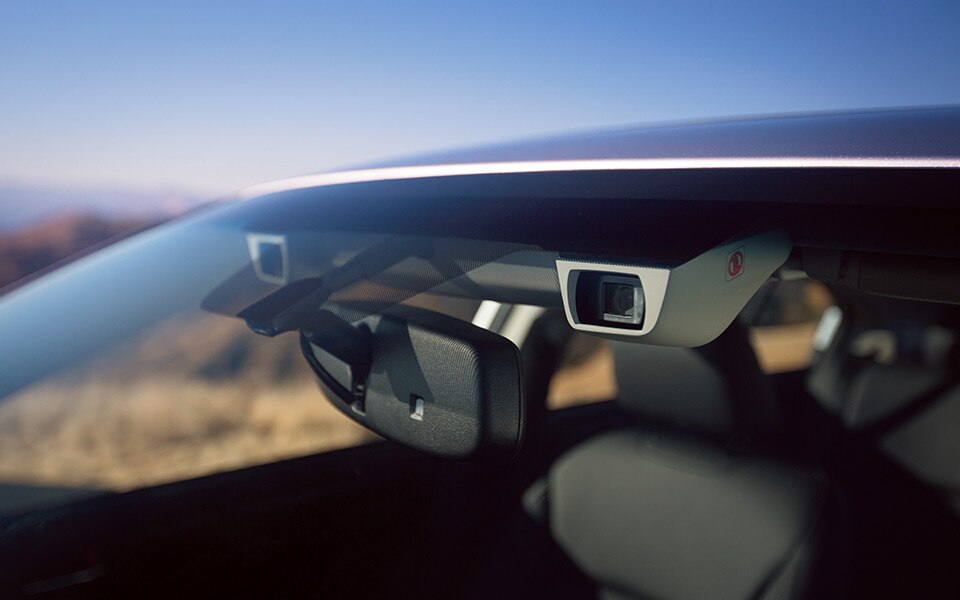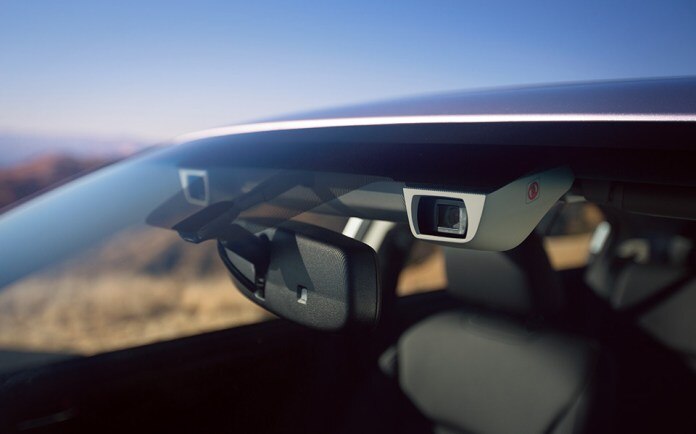 EyeSight is Subaru's camera-based advanced driver-assistance system (ADAS). It uses dual color cameras mounted at the top of the windshield, which continually monitor the road ahead and power the following safety features:
Adaptive cruise control with stop-and-go capability
Forward collision warning with pedestrian detection
Automatic emergency braking
Lane departure and lane sway warning
Lane keeping assist
Pre-collision throttle management
In 2019, Subaru expanded the availability of EyeSight to all trim levels of the Crosstrek, the company's popular small SUV. However, if you get the manual transmission with base or Premium trim, your Crosstrek is ineligible for EyeSight.
Lane Departure
With Subaru EyeSight, the adaptive cruise control system offers four sensitivity settings, as well as stop-and-go capability for heavy traffic driving situations. It maintains a set distance from vehicles ahead and can bring a Subaru to a complete stop. Once traffic starts to move, to continue driving you must press on the accelerator pedal or push the Resume button on the steering wheel to re-engage the adaptive cruise control.
EyeSight also monitors for lane sway and lane departure, beeping to get the driver's attention. Subaru suggests that the beep can rouse a sleepy driver. If the driver fails to heed the warning, the lane-keeping assist system nudges the vehicle back into the intended lane of travel. Of course, if you use your turn signal to indicate a lane change, this deactivates the lane departure and lane-keeping systems to facilitate the desired action.
Collision Mitigation
Pre-collision throttle management works when the car ahead of the Subaru starts to go, and then stops again. This is a common behavior when a line of cars is trying to make a right turn onto a busy highway, and in stop-and-go traffic. If you're not looking forward, EyeSight will visually and aurally warn you of an impending collision while the pre-collision throttle management system reduces power from the engine, giving you extra time to react.
EyeSight also includes forward-collision warning, pedestrian detection, and automatic emergency braking. Subaru says that this technology reduces rear-end crashes with injuries by up to 85%, and claims that the Insurance Institute for Highway Safety (IIHS) finds that EyeSight reduces pedestrian injuries by 35%.
When equipped with EyeSight, all 2019 Subaru models receive the highest possible rating for front crash prevention by IIHS. The IIHS rates EyeSight as a "Superior" ADAS technology, helping the Crosstrek, and others, to earn a "Top Safety Pick+" overall safety rating from the organization. Examine the little SUV's results, and you'll see that the Crosstrek gets the highest possible ratings in every single one of the IIHS's assessments.
It simply does not get better than this.
How Well Does Subaru EyeSight Work?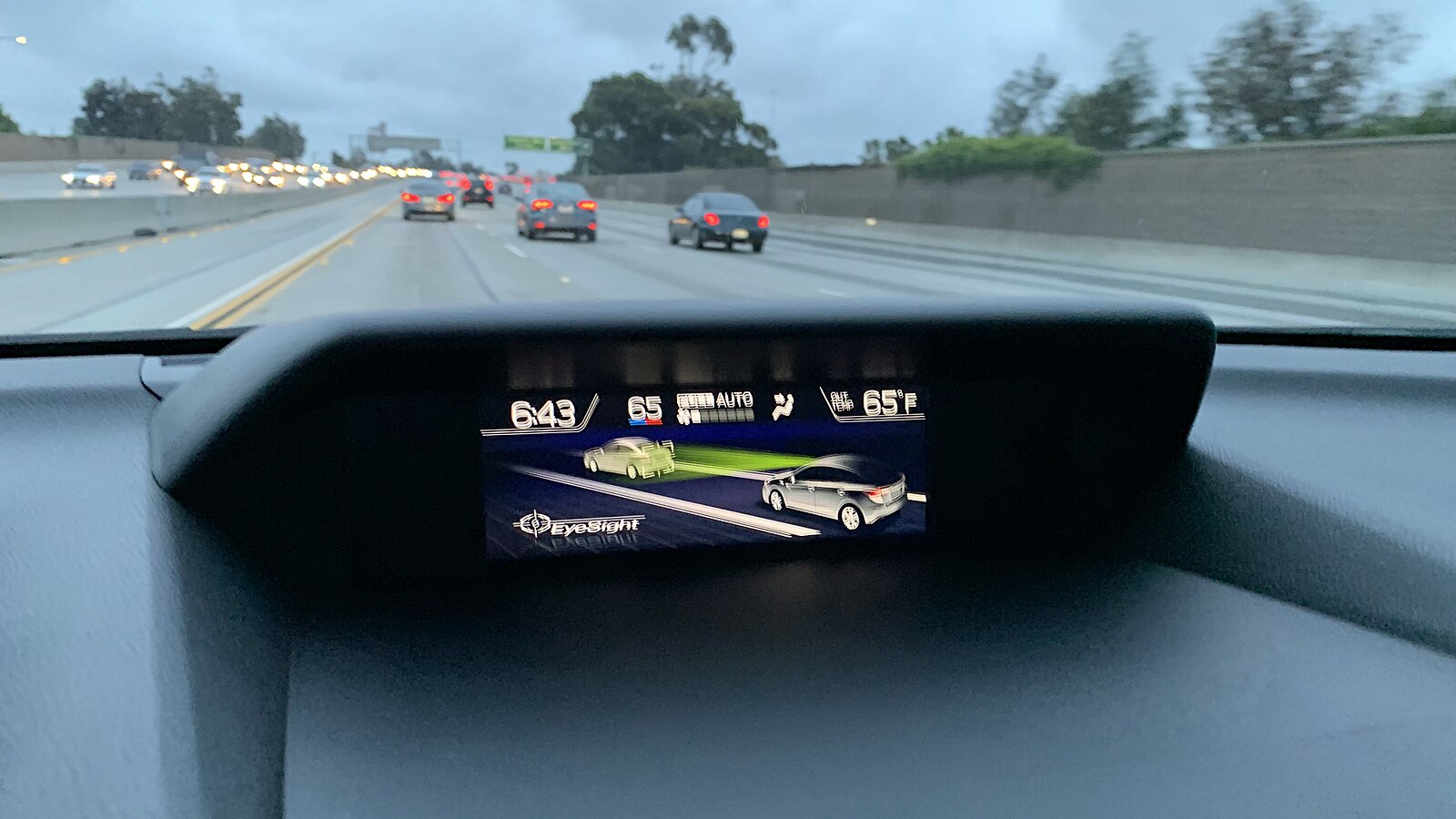 Once engaged, the adaptive cruise works well. Aside from some occasionally abrupt braking response that may take some commuters following too closely by surprise, EyeSight does a great job of maintaining a safe distance to traffic ahead.
Gratefully, the system is sophisticated enough that it doesn't suddenly freak out when other vehicles tuck into the space ahead of you, or if you switch lanes and get behind a closer vehicle that is traveling faster. Some luxury vehicles lack this level of refinement, let alone in a car like the Crosstrek – essentially, an entry-level SUV from a mainstream automaker.
The lane-keeping assist system does a terrific job, though like the adaptive cruise control it can be occasionally abrupt with regard to inputs. The Crosstrek's blind spot monitoring system needs a little extra cushion in terms of its sensing distance.
Overall, EyeSight impresses. It is useful, refined, and accurate, and is not a source of driver irritation.
For 2020 EyeSight is available on all Impreza and Crosstrek models, WRX Premium, and WRX Limited. EyeSight is standard on all versions of the Forester, Legacy, Outback, and Ascent. Find a Subaru for sale