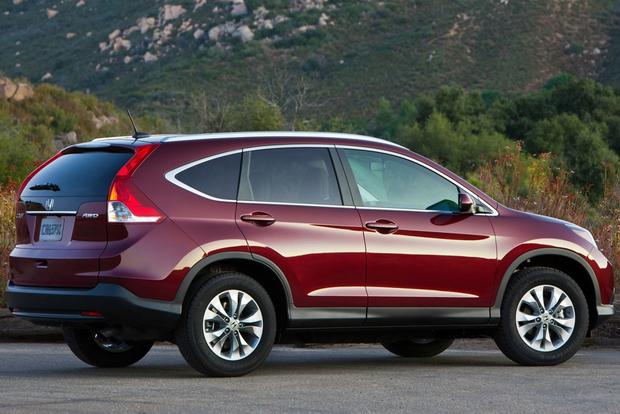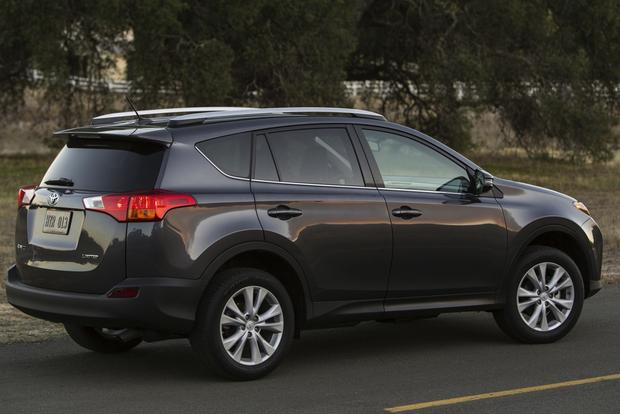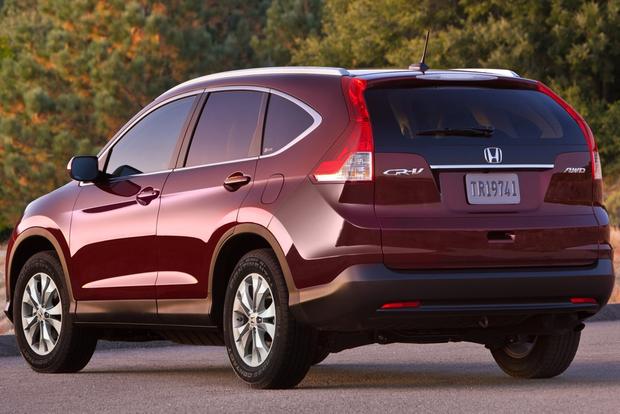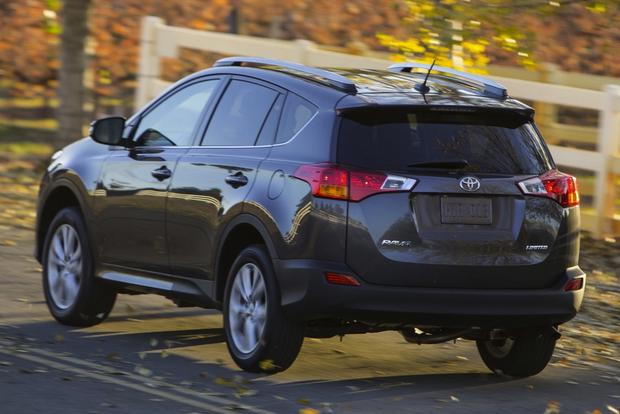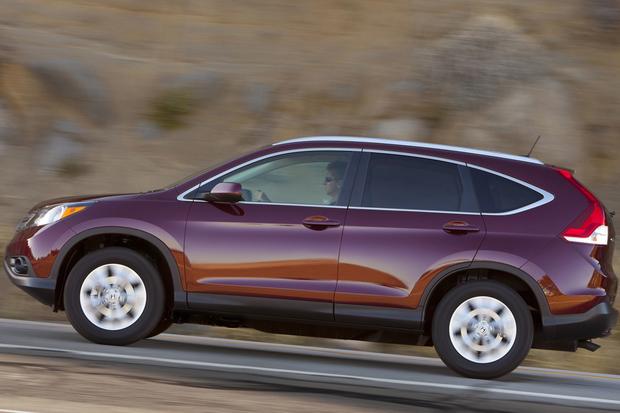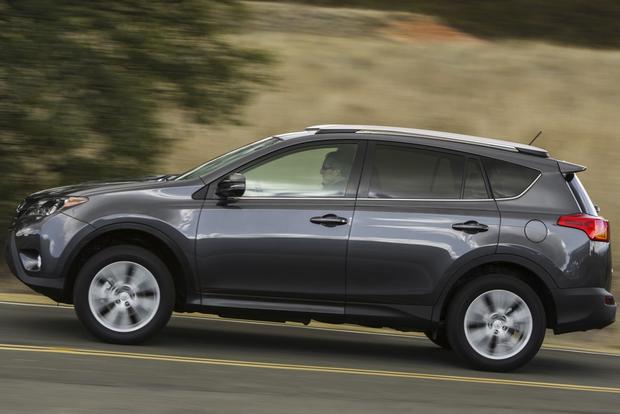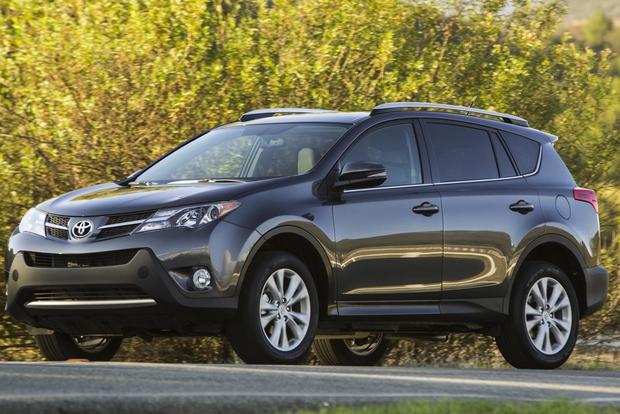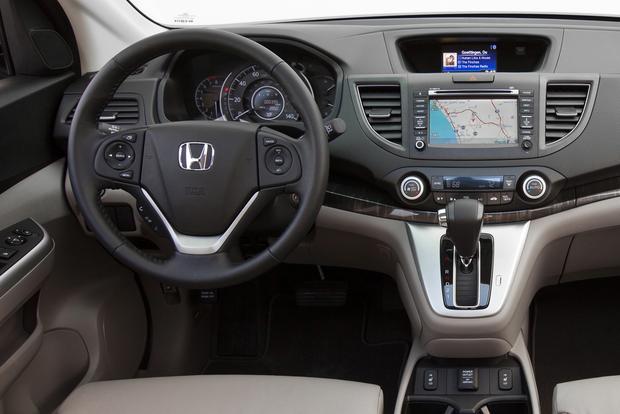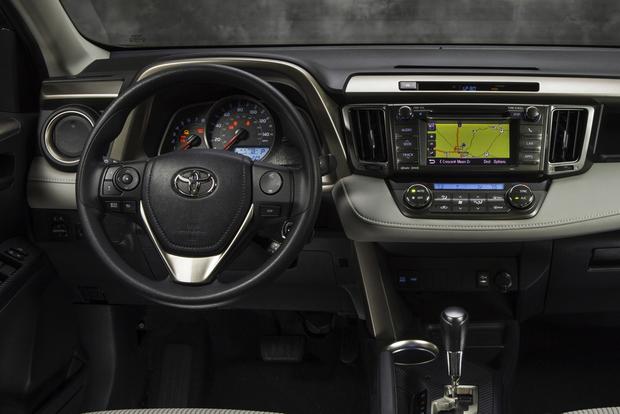 The 2013 Honda CR-V has a new competitor in the popular compact crossover SUV market: the redesigned 2013 Toyota RAV4. Each model is a best seller for their respective automakers, with Honda moving almost three CR-Vs for every two RAV4's moving off Toyota showroom floors. In this installment of This or That, we look at these favorites among consumers to determine whether you should go with the Honda or the Toyota.
2013 Honda CR-V Highlights
Honda redesigned the CR-V for the 2012 model year, and makes no changes to the SUV for 2013. It is sold in LX, EX and EX-L trim levels with a 4-cylinder engine and a choice between front-wheel and all-wheel drive.
2013 Toyota RAV4 Highlights
Redesigned for 2013, the all-new RAV4 no longer offers a V6 engine, a rarity in the small crossover segment, and its signature tailgate-mounted spare tire is dropped in favor of a compact spare under the cargo floor. An upgraded interior offers impressive space, and the new RAV4 has fresh information, entertainment and safety technologies in LE, XLE and Limited trim levels.
Fuel Economy
The Honda CR-V is equipped with a 2.4-liter 4-cylinder engine making 185 horsepower at 7,000 rpm and 163 lb-ft of torque at 4,400 rpm. An Eco Assist driving mode helps conserve fuel when activated, and the 3,305-lb SUV is rated to get 26 miles per gallon in combined driving with front-wheel drive or 25 mpg with all-wheel drive.
The heavier 3,435-lb Toyota RAV4 matches the Honda's fuel economy estimates with a 2.5-liter 4-cylinder engine that isn't as powerful -- 176 hp peaks at 6,000 rpm. However, the Toyota generates more torque, lower in the rev range, measuring 172 lb-ft at 4,100 rpm. Eco and Sport driving modes match your mood.
When it comes to fuel economy, the Honda and Toyota tie.
Safety
Honda packages the CR-V with six airbags, traction and stability control, anti-lock brakes with brake assist and a multi-angle reversing camera display. Every CR-V includes voice-activated text-messaging capability, and is constructed using Honda's Advanced Compatibility Engineering (ACE) body structure, which makes the SUV crash-compatible with a wider variety of vehicles and channels crash energy away from the passenger compartment.
The Toyota RAV4 is equipped with eight airbags, traction and stability control, anti-lock brakes with brake assist and a reversing camera. It also has Smart Stop technology, which makes it impossible to accelerate when the brake pedal is pressed. Text-messaging capability is optional, along with a blind spot information system and a rear cross-traffic alert system.
In crash tests by the National Highway Traffic Safety Administration (NHTSA), the RAV4 receives a 4-star overall rating, while the CR-V achieves the highest possible overall rating of five stars. The Insurance Institute for Highway Safety (IIHS) calls both SUVs a Top Safety Pick.
However, in a new small overlap frontal impact test by IIHS, the Honda performs better than the Toyota. The test, which measures what happens if the left front corner of the vehicle strikes a tree, a pole or oncoming traffic, produced a Poor rating for the RAV4, while the CR-V rated Marginal.
This result, in combination with the RAV4's inferior 4-star overall NHTSA rating, gives Honda the nod for safety even if it offers fewer airbags and safety-related technologies.
Reliability
Since it first debuted way back in 1997, the Honda CR-V has regularly received the highest possible reliability rating from Consumer Reports. It is, one might say, a sure bet. The Toyota RAV4's track record is nearly as impressive, but not quite.
In predicting reliability for the 2013 iterations of the CR-V and RAV4, Consumer Reports rates the Honda higher. This prediction is echoed by J.D. Power, which expects the CR-V to prove more dependable than the RAV4 over time.
Value
A new Honda CR-V LX starts at $23,625 with front-wheel drive and lacks only dark tinted privacy glass and aluminum wheels to deliver extraordinary value. To get those items, shell out $25,725 for the EX model. The most expensive version of the CR-V, the EX-L with leather seats and a navigation system, costs $31,125.
Toyota prices the base RAV4 LE from $24,145 with front-wheel drive, but that includes dark tinted glass, a touchscreen audio system and a two-year/25,000-mile free scheduled service plan. Select the RAV4 Limited, and the price rises to $29,650 including leather seats, navigation and more.
Because both models get the highest possible depreciation rating from ALG, and because the Toyota Limited offers more stuff for less money, we think the RAV4 is the better value.
Technology
We've touched on each crossover SUV's technology in previous sections, but here we can say Toyota provides a broader and better array of infotainment and safety features for the RAV4.
Standard equipment for the RAV4 LE includes Bluetooth, a USB port, a 6.1-inch touchscreen audio system and a reversing camera. Contrast that with the CR-V LX, which has Bluetooth, a USB port and text-messaging capability, as well as Pandora Internet radio compatibility and a reversing camera with a multi-angle display for a 180-degree panoramic view of what's behind the Honda and what might be approaching from either side.
In addition to these standard features, Honda offers CR-V EX-L buyers a choice between a rear-seat DVD entertainment system and a navigation system with voice recognition technology. These options are not available with one another.
Toyota doesn't make a rear-seat entertainment system available from the factory. It does, however, allow buyers to equip the RAV4 with a navigation system, Entune smartphone pairing technology with multimedia services, HD Radio and text-to-speech capability with programmed and custom text responses. Additionally, the RAV4 is offered with a power tailgate, a passive entry system with push-button ignition, a premium audio system with JBL GreenEdge speakers, a blind spot information system and a rear cross-traffic alert system.
When it comes to technology, Toyota offers compact SUVs shoppers more.
AutoTrader's Advice
The Honda CR-V and Toyota RAV4 deliver identical combined fuel economy estimates. The two vehicles differ in that Toyota boasts a compelling value equation and a wider variety of modern infotainment and safety technology, whereas the Honda provides better occupant crash protection and a superior reliability outlook. Small SUV shoppers might be inclined to choose one over the other based solely on styling.
However, we recommend the Honda CR-V, because it performs better in crash tests despite underlying structural engineering that is slightly older than the Toyota's. Compact crossovers are often used to ferry young families, and when babies are on board, safety is paramount.