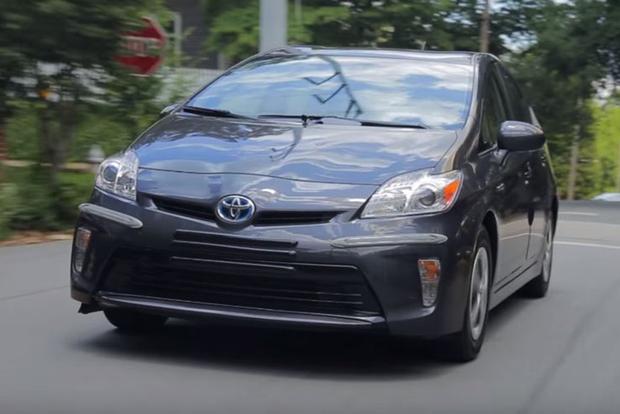 With Toyota's definitive hybrid undergoing a complete redesign this year, there's a good chance you'll be able to find a deal on a used Toyota Prius that belongs to the previous generation. Let's take a look at what you should know about the Prius made between 2012 and 2015.
As always, this Prius owed its popularity to its versatility and sky-high fuel economy of 51 miles per gallon in the city and 48 mpg on the highway. Of course, what you gain in gas mileage brings some loss in driving excitement. The Prius' hybrid powertrain, which consists of a small gasoline engine and two electric motors, puts out a modest 134 horsepower -- most compact sedans produce 20 hp or more above that.
From 2012 to 2015, a used Prius was available in Prius Two, Three, Four and Five trim levels. Nope, there wasn't a Prius One. There was also the Prius Plug-in as well as the Prius c and Prius v, but those are actually different models. Based on year, mileage and trim, expect a used Prius from 2012 to 2015 to cost between $10,000 and $27,000.
Inside, the dash and center console look modern, but the abundance of hard plastic everywhere you look and touch is disappointing. Rear visibility can also be an issue, so we recommend the available rearview camera. You should also keep an eye out for noteworthy available features such as heated front seats, a dual-pane sunroof, lane-departure warning and adaptive cruise control that matches your speed to the vehicle ahead.
The back seat is spacious, and there's plenty of room for four adults and their stuff. The back seats fold down, so there's quite a bit of cargo room beneath its hatchback. There's a reason so many taxi companies turn to used Priuses.
The 2012-2015 Prius received consistently high safety ratings, and given its popularity and repeat buyers, it shouldn't come as a shock that it's enjoyed above-average consumer satisfaction and reliability ratings, as well. Still, it's always smart to have your own mechanic inspect any used vehicle you might purchase and to check for any potential recalls. We also recommend considering a certified pre-owned Toyota Prius since it will already be inspected for problems and will include a year of comprehensive warranty coverage tacked onto whatever is left of the original warranty.
All told, the 2012-2015 Prius should be a smart used-car buy, offering tremendous fuel economy, versatility and dependability.