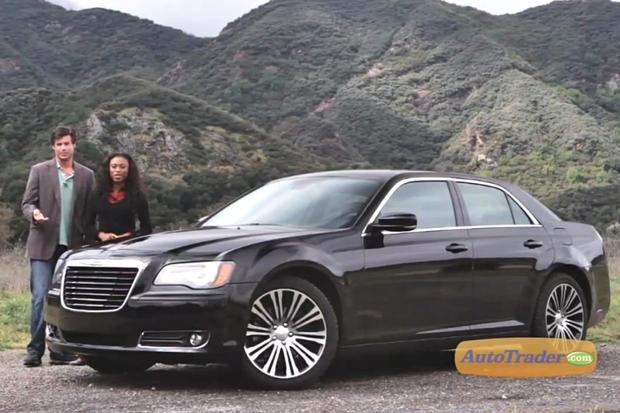 Jeff Thisted: When it first appeared, early in the 2005 model year, the big and bold Chrysler 300 quickly attracted a wave of consumer attention. But by 2010, interest in the 300 was fading fast.
Angelina Spicer: Fast forward to 2012, one year into its first full redesign, and what you see is a confident full-size luxury sedan, ready to regain momentum with a slew of upgrades outside, inside and under the hood.
Jeff: Our 300 is the new S model with a Hemi V8 and rear-wheel drive. Exterior highlights include polished 20-inch aluminum wheels, a black chrome bar grille and black chrome headlight bezels. If you opt for the all-wheel-drive model, you only get 19-inch wheels.
Angelina: The trim line now ranges from the base 300 to the top-rated 300C Luxury Series. We'll cover the high-performance SRT8 in another review.
Jeff: One thing they've all got in common, though, is a great ride and a moderate price.
Angelina: With its sleeker looks and generous power choices, the new Chrysler 300 vies for modern American classic sedan honors with the Buick LaCrosse and Ford Taurus. You might also want to shop it against the Hyundai Genesis and the Toyota Avalon, two well-appointed imports.
Jeff: The 300's interior keeps pace with these rivals as well, especially in the upper trim levels. Our test model came equipped with Radar Red leather-trimmed seats.
Angelina: You'll find more traditional colored leather seating standard in all but the base 300 and S V6 models. And depending on models and options, front and rear seats may be heated.
Jeff: This impressive 8.4-inch touchscreen is command central for controlling audio, climate and the optional Garmin navigation system. It's one of the more intuitive systems we've used. Chrysler calls it UConnect.
Angelina: We like how easily it integrates with Bluetooth devices like my smartphone. And the premium 552-watt Beats audio system handles music with conviction.
Jeff: Premium audio is standard on the S. Other trims get a 276-watt sound system.
Angelina: Our test model came with the SafetyTec package, a recommended option. It provides forward collision warning, blind spot and rear cross-path detection, technology that goes a long way to preventing accidents.
Jeff: There are two engine choices. Lower trims get a 292-horsepower 3.6-liter V6, while upper trims get the 363-horsepower 5.7-liter V8 Hemi we have right here in the 300S.
Angelina: V6 models with the exception of the base trim are paired with an eight-speed automatic transmission that's well suited to delivering the engine's power. On the other hand, V8 models lumber along with the outdated five-speed automatic.
Jeff: Rear-wheel drive is standard across the lineup, while all but the base trim can be had in all-wheel drive, something that's pretty handy in northern climates.
Angelina: Fuel economy is impressive, especially with the V6. EPA ratings with rear-wheel drive top out at 19 city, 31 highway. On the low end, all-wheel-drive V8 Hemi rates are 15 city, 23 highway.
Jeff: With a base price around $28,000 and the top-rated C Luxury Series starting at around $42,000, the Chrysler 300 occupies the niche between an everyday commuter such as the Toyota Camry or Honda Accord, and first-tier luxury models from Lexus, Lincoln and Infiniti.
Angelina: Well built and well equipped, the 2012 Chrysler 300 has enough tempting creature comforts, impressive power and technology that budget-conscious buyers will find really hard to resist.