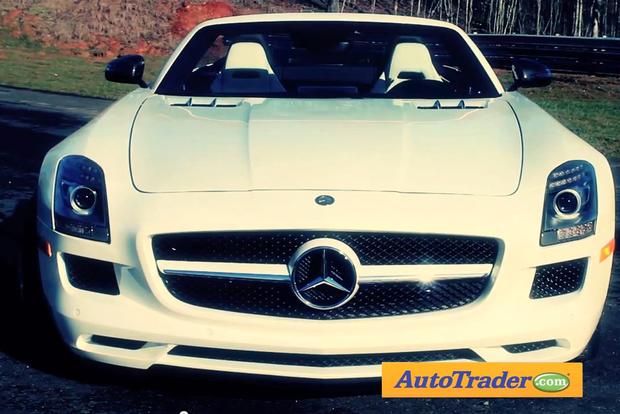 The Mercedes-Benz SLS AMG Roadster is one of those sequels that just might be better than the original. It's got the same hand-built, naturally aspirated V8 engine as its gullwing-doored coupe sibling, which means it also cranks out 563 horsepower, 479 lb-ft of torque, and one of the best exhaust soundtracks in automotive history. It's about the same weight as the coupe, too, so it has the same phenomenal handling capabilities. And thanks to its power-retractable soft top, the Roadster lets you feel the wind in your hair whenever you want it, plus a top-up profile that's arguably sexier than that of the coupe. Yeah, the SLS Roadster costs nearly $200,000, but it might just be worth every penny. If you're one of the few people lucky enough to have a 6-figure, high-performance, open-top sports car on your shopping list, here are 5 reasons to buy the Mercedes-Benz SLS AMG roadster.
1. Dramatic Shape
When the SLS coupe came out, it was all about those throwback gullwing doors - but in order to make room for the door mechanisms, Mercedes had to give the SLS a squared-off roof that some find a little awkward-looking. We're not saying the SLS coupe is homely, of course, but the Roadster doesn't have to accommodate those fancy doors, so its roofline is much sleeker. And with the top down, the Roadster flaunts the classic long-nose, short-tail proportions that we love about the coupe. Few cars on the road have the visual impact of an SLS Roadster.
2. Soft-Top Convertible
We already mentioned that the soft top arguably looks better than the hardtop, but we also like the way the soft top works. It stows in just 11 seconds - that's less time than the Smart ForTwo needs to reach 60 mph - and you can operate it at speeds up to 31 mph. Also, a soft top has fewer moving parts than a retractable hardtop, so there's less stuff that can go wrong with the roof of your new investment.
3. Moderate Price for an Exotic Car
Think the SLS shouldn't be considered an exotic? Think again, we say. With its combination of style, exclusivity and performance, the SLS is the quintessential exotic car. That being the case, its base price of about $200,000 is actually quite modest. Indeed, compared to cars like the Lexus LF-A or Lamborghini Aventador, the Benz is a steal - and those models aren't even available as convertibles. Sure, you can get an Audi R8 Roadster for less, but it doesn't sound nearly as awesome as the Mercedes at full throttle.
4. Handsome Interior
For years now, cabin quality in high-performance cars has often been an afterthought, but the SLS Roadster decisively bucks this trend. Its interior design is elegantly restrained, and the materials inside include plenty of stitched leather, brushed metal, and carbon fiber. The AMG gauge package helps you keep tabs on the car's otherworldly performance, and the 1,000-watt Bang & Olufsen sound system is the perfect aural complement to it all.
5. 0- 60 mph in 3.7 seconds
Last but far from least, the SLS AMG Roadster is a compelling buy because it's just brutally fast. With that 563-horsepower, 6.2 liter V8 working in tandem with a 7-speed dual clutch transmission, the SLS Roadster takes just 3.7 seconds to get from a full stop to 60 mph - and the way it keeps on pulling into criminal territory really must be experienced to be believed. Top speed, by the way is 197 mph. Hey, that's barely $1,000 per mph. See what we mean about this thing being reasonably priced?