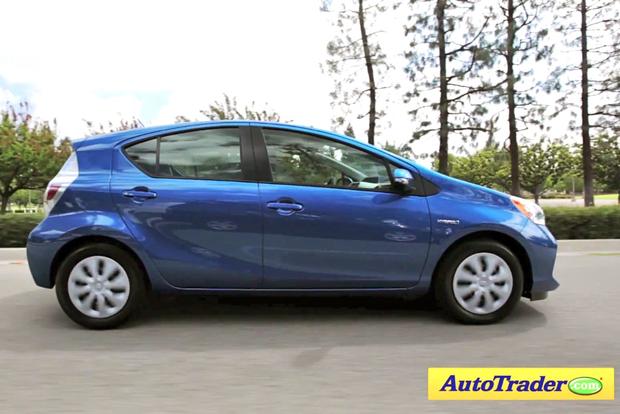 The all-new 2012 Toyota Prius C is out to prove that affordability and true dual-mode hybrid technology can go hand in hand. Essentially a smaller version of the ubiquitous Prius hatchback, the hyper-efficient Prius C features Toyota's famed Hybrid Synergy Drive system, which allows electric-only operation during coasting and light-throttle cruising. In other words, this little hybrid is the real deal. To make your shopping simpler, we've come up with five reasons why you should consider adding a 2012 Prius C to your personal fleet.
1. Prius-Worthy Fuel Economy
We were concerned that Toyota might dumb down the Prius C to protect the pricier regular Prius, but then we saw the EPA fuel economy estimates. Rated at 53 mpg city/46 mpg highway and a very impressive 50 mpg in mixed driving, the Prius C is neck and neck with its bigger sibling, delivering comparable efficiency at a fraction of the cost. Notably, the Prius C makes less power than the regular Prius, but it's still got enough scoot for most situations. We suspect a lot of would-be Prius buyers will reconsider if they give the Prius C a chance.
2. Hatchback Handiness
Although the Prius C is based on the tiny Toyota Yaris, it has impressive cargo capacity for a pint-size hybrid. There's more than 17 cubic feet of space behind the back seat, which is more than most sedans offer in their trunks. Fold down the rear seatbacks, and that figure more than doubles. Not bad, especially given that the Prius C harbors a sizable battery pack underneath its rear seat cushion.
3. Room for a Crowd
The Prius C also impresses when it's time to haul your fellow humans. Front-seat passenger space is ample all around, and while the back seat is predictably tighter than that of the regular Prius, it still has enough head and leg room to accommodate full-size adults. "So what?" you might be thinking-but you'd be surprised how many small cars still struggle to squeeze in six-footers. Neither the Chevrolet Volt nor the Honda Insight can match the Prius C's real-world people-moving skills.
4. Generous High-Tech Features
In a very unusual twist at this price point, every Prius C comes standard with automatic climate control, and the bountiful equipment roster also includes standard iPod/USB and Bluetooth connectivity. If that's not enough, fancier trim levels offer push-button ignition (yes, the base Prius C is a twist-key hybrid!), and you can also specify Toyota's new Entune system, which uses your smartphone's data connection to send mobile apps like Pandora straight to the available touchscreen interface.
5. Genuinely Affordable Pricing
The regular Prius's escalating sticker price has been an open secret for a few years now, so it's refreshing to see that the Prius C starts comfortably under $20,000. Indeed, with a base price of $18,950, the Prius C is an enticing alternative to a wide range of conventional economy cars, bringing cutting-edge hybrid technology to a price range that's better known for cut-rate components. Hybrids usually require you to pay more for the privilege of using less fuel, but the attainable Prius C lets you start realizing those savings immediately.