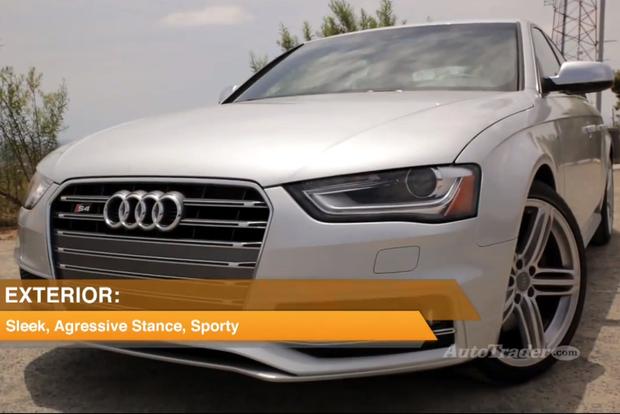 If you like the Audi A4 but crave even greater performance, it may be time to get behind the wheel of the more potent 2013 Audi S4. The exterior of the S4 is pretty much carried over from last year's model, but that won't be an issue if you're looking for an aggressive stance and a sporty attitude.
High-Caliber Cabin
Inside, the S4's cabin shows off Audi's high-quality craftsmanship. Bluetooth, iPod and SD-card connectivity are standard, but surprisingly there's no USB port. However, Audi's Multi-Media Interface (MMI) is definitely a winner for accessing information and entertainment. The standard MMI is easy to operate, but it doesn't include navigation. Our recommendation is the MMI Plus system. This interface offers a handy console-mounted joystick as well as navigation with voice-activated search functions and a mobile Wi-Fi hot spot.
Second-row passengers will appreciate the roominess back there, and the S4's rear-seat side bolsters keep everyone snug in the turns -- especially during spirited driving and high-speed maneuvers.
Supercharged Power
The only engine available in the S4 is a supercharged V6 with 333-horsepower and 325 lb-ft of torque, which equates to a super-quick 0-to-60 miles per hour time of 4.9 seconds. We prefer the standard 6-speed manual transmission, but the 7-speed dual clutch automated manual is as slick as gearboxes get. And the standard Quattro all-wheel-drive system gives the S4 all the right moves on twisty roads and wet surfaces. It all adds up to exceptional handling without sacrificing road comfort. But we wish the S4 had a more satisfying note playing from its four exhaust pipes. Even when pushed, the S4 doesn't offer the deep, sporty, performance growl that many enthusiasts expect.
Environmental Protection Agency estimates are similar for both the manual and automated manual transmissions. Fuel economy is 17 miles per gallon city/26 mpg hwy with the 6-speed manual transmission and 18 mpg city/28 mpg hwy with the 7-speed automated manual gearbox.
Competitive and Affordable
The MSRP for the Premium Plus S4 is $47,600 before extras. The Prestige trim jumps up to a base price of $53,850 but is still a great value for a luxury-sport machine. The BMW 335i, Infiniti G37 and Mercedes-Benz C63 AMG are good comparisons, though the C63 AMG is much pricier.
In Short
In terms of performance, the 2013 Audi S4 is a world apart from the A4 that it's based on. It's quick and responsive, and offers enough high-end features to remind you that it's a premium German sedan. You'll have to live without a USB port and an aggressive exhaust note, but those minor shortfalls are more than offset by the S4's exhilarating driving experience.