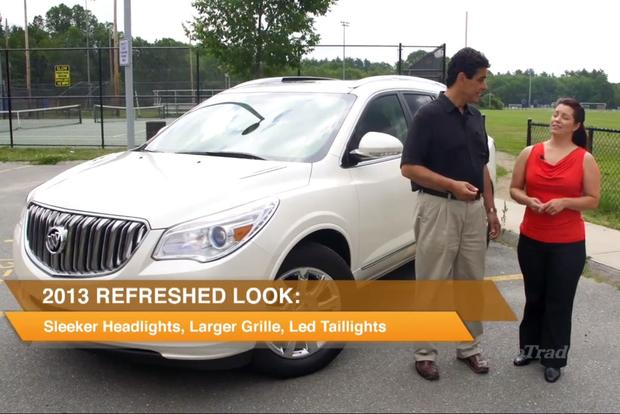 The 2013 Buick Enclave is the classic luxury crossover, an upscale marriage between a conventional family vehicle and a capable SUV, offering all-weather convenience, 7- or 8-passenger versatility and an abundance of comfort, style and practicality. For 2013, the Enclave has received a long overdue refresh, including sleeker headlights, a larger grille and redesigned LED taillights.
Premium Cabin
It's all about premium comfort and content within the Enclave. This crossover's spacious cabin is defined by quality materials and a high-level of fit and finish. Standard tech features include USB, Bluetooth, a color touch display and SiriusXM radio. But ultimately, how much technology you get depends on the option package you choose. Our recommendation is the Premium Group that includes a 10-speaker Bose audio system and rear-seat entertainment.
Overall, we like the three rows of seats. They're comfortable and easy to climb in and out of. But the third-row seat is tight and better suited for kids. We also found that backing up is a chore since rear visibility is less than generous.
Strong and Sure-Footed
The 2013 Enclave uses the same powertrain setup that we saw last year, a 3.6-liter, 288-horsepower V6 with a 6-speed automatic. It's enough to get the Enclave from 0 to 60 miles per hour in around eight seconds and provide more than adequate passing power. Front-wheel-drive and all-wheel-drive models are both available, but the Enclave is not for serious off-roading. It is, however, more than capable of handling wet or snowy roads.
Onboard safety features such as ABS, traction and stability control and the optional all-wheel drive make for a sure-footed and secure crossover in anyone's book.
Fuel economy ratings are 17 miles per gallon city/24 mpg hwy in front-wheel drive and 16 mpg city/22 mpg hwy in all-wheel drive.
A Fair Value
The base Enclave stickers at just over $38,000, and we think that's fair money for all that the Enclave offers. An uplevel Enclave with all-wheel drive starts at a little under $48,000. It makes sense to cross-shop the Enclave against the Acura MDX, the Volvo XC90 and the Ford Flex, all formidable competitors.
The Last Word
The 2013 Buick Enclave is blessed with most of what a luxury crossover shopper needs, as long as your driveway is your favorite off-road destination. This well-built crossover seems to ring all the right bells. It's plush, stylish and roomy enough for a good-sized family. It offers a solid driving experience, too.