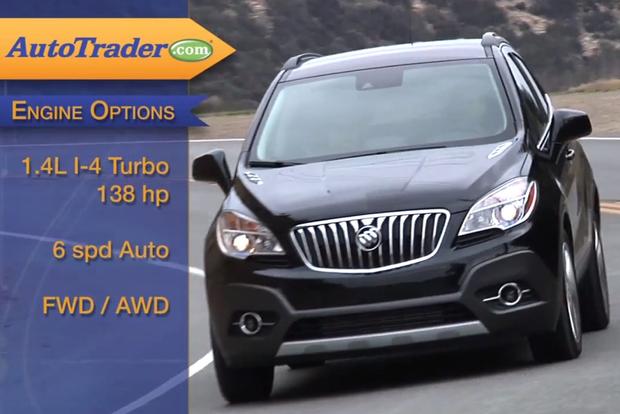 Since the crossover segment is the fastest growing vehicle class in the country, Buick wanted to jump on the bandwagon with the all-new 2013 Buick Encore. Even though Buick has been mostly on the sidelines of the crossover game -- with just the rebadged Buick Enclave -- the Encore has hit the ground running and is aiming for first place.
The exterior of the all-new Encore combines a sleek, sloped hood and windscreen with some sculptured sheet metal along both sides that gives it a forward-motion feel. With a slant-style chrome grille comparable to other Buick models, the front end has a dramatic and sporty look.
Inside, trim levels range from entry-level Base to the all-out Premium model. However, even the Base has some great premium features, including standard 6-way power driver's seat, USB, auxiliary and Bluetooth inputs, and a backup camera. On the Premium trim version, the 2013 Encore comes with increased sound insulation and uses three microphones to neutralize road noise with electronic counter-tones through the premium Bose audio system.
The 2013 Encore is powered by the same turbocharged 1.4-liter inline-4 engine that Chevy uses in the Sonic RS and upper trims of the Cruze. At 138 horsepower, the engine is potent enough to charge down the highway as needed, but it's not meant for the speedway. The only transmission available is a 6-speed automatic that delivers all the power through the front wheels. The Premium trim does have an option for an all-wheel-drive configuration.
Fuel economy for many is priority number one. If that describes you, the front-wheel-drive version of the Encore is capable of 25 miles per gallon city and 33 mpg highway, while the all-wheel-drive version will net a few mpg less.
The entry price of only $24,200 for the Base 2013 Encore is a deal. For the all-wheel-drive Premium, you'll be looking at an extra $5,000 or so.
Many manufacturers offer options in this segment, but the closest in terms of budget, style and feel would be the MINI Cooper Countryman and the Nissan Juke. Even though both offer unique looks, neither offers the upscale feel and flavor of the Encore.
The 2013 Buick Encore is not a family shuttle like the Enclave, but it can be the rookie of the year in the compact crossover segment. With a high-quality interior, lots of features and good fuel economy, this capable crossover brings a touch of class to the small SUV market.