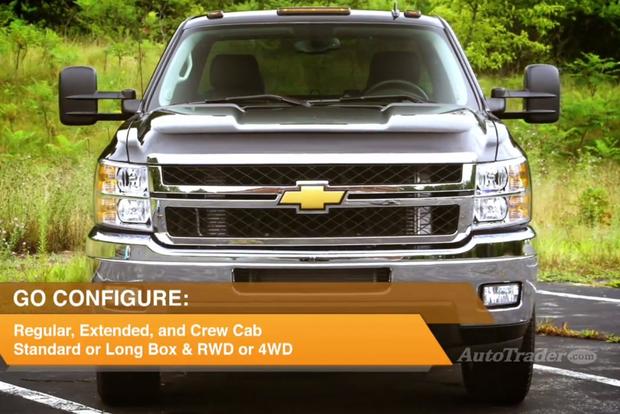 Today, many truck buyers want a pickup that can also provide a more carlike experience, and the 2013 Chevrolet Silverado 2500HD makes a good case study. It's a carryover from the 2012 model, and that's not a bad thing, except that Ford and RAM have recently enhanced the interiors of their trucks significantly, leaving Chevy a little behind the curve.
Where the Silverado base work truck is all business and the LT and LTZ are more playful, Ford and RAM have combined those personalities more successfully. Even so, the Silverado 2500 is no slouch in the Heavy Duty department, and there are many ways you can configure it, among three cab styles and two bed lengths as well as rear-wheel-drive and 4-wheel-drive setups.
Tech-Heavy Cab
The Silverado 2500HD interior is roomy enough but could use upgraded interior decorating. That's where Ford and RAM tip the scales in their favor. But give Chevy credit for all the technology in the 2500HD. From versatile audio systems to USB and Bluetooth, the Silverado is heavy on the tech.
Rugged Workhorse
A 360-horsepower 6-liter gasoline-fueled V8 is the standard 2500HD engine. Torque for this powerplant comes in at 380 lb-ft. But the big and brawny 397-horsepower 6.6-liter Duramax turbodiesel with a tremendous 765 lb-ft of torque is the real champion in the towing and hauling department. Both powerplants get a 6-speed automatic transmission. With the rugged Allison 6-speed that's mated to the turbodiesel, the 2500HD can tow a whopping 17,800 pounds.
Wide Price Range
There's a wide swing in sticker prices from $29,550 for a base Regular Cab WT to $46,665 for a 4-wheel-drive Crew Cab LTZ Long Box before extras. And you already know which trucks are competing for your approval: the Ford Super Duty F-250 and RAM 2500. Both are more refined and overall can match the Silverado where it counts the most.
End Game
The 2013 Chevrolet Silverado 2500HD can be as much truck or as much car as you want. Tough, powerful and with enough cab and bed layouts to fulfill any mission, the 2500HD just needs an interior makeover to press all the right buttons. Its immense towing and hauling capabilities, along with its surplus of available technological features, make it a willing workhorse with a civilized side.