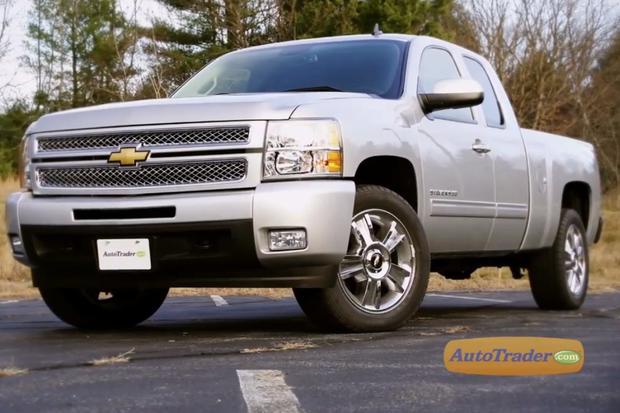 Since the 2012 Silverado was such a hit with only minor changes, the 2013 Chevrolet Silverado 1500 picks up where the other left off. Utilizing the same three cab configurations, four trim levels, three V8 engines, five suspension systems and the only hybrid powertrain available in a pickup, no one can overlook Chevy's oldest platform.
Even though an all-new Silverado is due out in 2014, with recent makeovers to both the Ford F150 and RAM pickups, Chevy had to make sure loyal customers didn't choose another manufacturer based on updates. Using what has worked in the past, Chevy has simply kept something for every one of the several hundred thousand buyers who purchase a Silverado each year.
Utilizing the same cab configurations as the 2012 model, the 2013 Silverado offers plenty of room inside. Even though the finish does look slightly dated compared to the F150 and RAM, the Silverado's cabin is based squarely on what trim level you go with.
Starting with the WT and LS packages, the interior is geared more toward work assignments, while the LT and LTZ layouts serve up more comfort and conveniences, such as dual-zone climate control, premium cloth or leather seating and, in the extended cabs, a flip-up split bench seat.
Also, depending on the trim, a small selection of interior features and options are available, including a choice of various CD/DVD/MP3 capable audio systems, Bluetooth hands-free connectivity, Sirius/XM Radio and GM's OnStar system.
For regular and extended-cab Silverado 1500 models, you can order either a standard or long bed configuration and add secure storage, bed liners or a tool box from the factory.
Engines available for the 2013 Silverado include one V6, a 4.3-liter and three V8 engines, including a 4.8-liter, 5.3-liter and the powerful 6.2-liter. A hybrid version is also available that utilizes a 6.0-liter gas engine and an electric motor combination. All engines are mated to an automatic transmission, either a 4- or 6-speed, based on engine size. Rear-wheel drive is standard, while 4-wheel drive is available.
If choosing an engine wasn't hard enough, the 2013 Silverado also offers five different suspension setups. And, depending on which suspension and powertrain you choose, the Silverado 1500 can carry as much as one ton and tow a hefty 10,700 pounds.
When comparing all the engines, the 2013 Silverado receives 12 miles per gallon city and 18 mpg highway. However, the 2013 Silverado Hybrid does get an average of 20 mpg city/23 mpg hwy.
Prices for this oldie-but-goodie start at only $23,590 for the base regular cab, short bed, rear-wheel-drive 1500 WT with the V6 engine. However, you'll be looking north of $41,000 for the Crew Cab Hybrid version. All configurations include a 5-year or 100,000-mile warranty.
Even though the new F150 and RAM might look prettier, the Silverado remains a perennial favorite with pickup truck owners, and with good reason: The 2013 Chevrolet Silverado can be built pretty much any way you want.