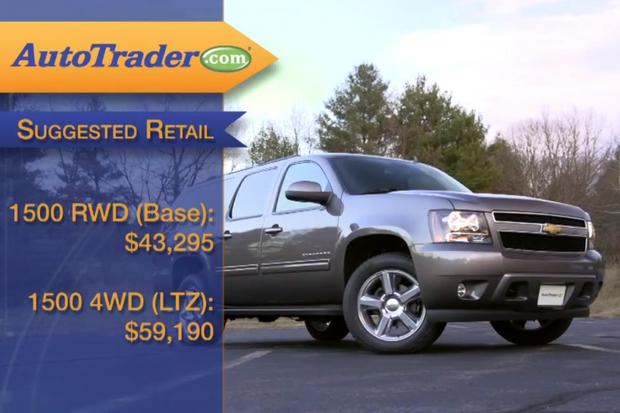 76 years ago the first Chevrolet Suburban rolled off the assembly line. Not even knowing about future demand for a large sport utility vehicle in suburbia, Chevrolet created a cult classic with one of the most nonconforming vehicle types on the road. With early models named the Carryall, Chevrolet knew that these vehicles could, and eventually would, carry everything from families to cargo.
The 2013 Chevrolet Suburban is exactly what one would expect from a traditional, full-size SUV including seating for up to nine adults and a 9,600-lb towing capacity. Available in two models (the 1500 and the 2500) and various trim levels (including LS and LT for both models, plus LTZ for just the 1500), the latest Suburban has everything one could need.
Depending on the trim level, the seating arrangement inside the Suburban can either be seven, eight or nine seats as you have a choice of bucket or bench seats in the first two rows. The third row, however, is only available as a bench seat and, if one needs the maximum 137 cu ft of cargo space, it must be removed completely as it does not fold down and out of the way.
Inside, the base model 2013 Chevrolet Suburban wears a larger amount of plastic in comparison to premium trims, but all are designed with easy-to-read instruments, excellent shifter location and an upright driving position. Technology is a bit dated compared to other SUVs on the market, but depending once again on trim level, USB/iPod interface, navigation and a backup camera are all available.
As for power, the 2013 Suburban offers a choice of V8 powerplants depending on the model: a 320-horsepower 5.3-liter in the 1500 and a 6.0-liter 352-hp in the 2500. Both engines come standard with a 6-speed automatic transmission. Th standard drivetrain layout is rear-wheel drive for both the 1500 and the 2500, but 4-wheel drive with low range is optional.
While driving, the Suburban will handle and act like its predecessors including plenty of body roll. It might obtain around 12 miles per gallon in combined city/highway driving. To counter poor fuel economy, the 2013 Suburban can run on both regular or flex-fuel gasoline, plus Active Fuel Management is offered on the 1500 model only.
Some might even say that with the 6.0-liter engine and low gear 4-wheel-drive system, the 2013 Suburban 2500 is unstoppable. With the use of ABS, three row head curtain airbags, a rollover sensor and a blind spot monitoring system, both models offer a great range of safety features even in the case of an accident.
Starting at $42,545 for a base 1500 to over $55,000 for the 4-wheel-drive 1500 LTZ model before adding the optional goodies, purchasing a 2013 Suburban might be a harder choice to make today than it was 76 years ago. The current SUV marketplace does have plenty of tough competition, including another General Motors product, the Cadillac Escalade ESV, the Infiniti QX56 or even the Toyota Sequoia.
However, this big, comfortable box on wheels has been doing its thing since back in the day and fits the bill if going large is important to any fan of full-size SUVs.