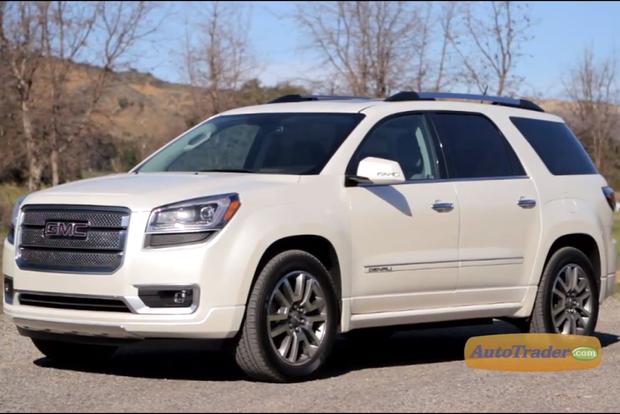 When looking for a new SUV, there are many questions to ask. However, no matter the question you ask about the 2013 GMC Acadia, the answer will always be "yes." Does that new crossover offer distinctive styling, seating for up to eight, a comfortable ride and a high-tech interior? For the 2013 Acadia Denali, yes, yes, yes and yes!
The first thing you'll notice about the Acadia in any trim level is that its bold exterior has been tweaked with a restyled front end, LED running lights and wrap-around rear glass. However, depending on the trim, you might notice extra chrome bits, larger wheels and an optional Dual SkyScape 2-panel power sunroof, as well.
Once inside the 2013 Acadia Denali, you'll be surrounded with luxury appointments, including French-stitch seats and lots of soft-touch materials. Other features of the Denali trim include heated and cooled front seats and a heads-up display that projects your speed and other critical driving information onto the windshield.
All 2013 Acadia trims, which include the Denali and two different SLE and SLT packages, boast great standard features such as Bluetooth connectivity, a backup camera with rear parking sensors and a nice 6-speaker sound system. Also found in all trim levels are various versions of GM's Color Touch infotainment unit. This 6.5-inch screen provides excellent content and feedback for even the most novice drivers.
Under the hood, GMC opted for a power V6 engine instead of a gas-guzzling V8 to keep with the car-like feel. The smooth-running 3.6-liter V6 has 288-horsepower and 270 lb-ft of torque, and is only available with a perfectly matched 6-speed automatic transmission. The 2013 Acadia is available in either front- or all-wheel drive in every trim level.
Fuel economy is not SUV-like at all when it comes to the front-wheel-drive 2013 Acadia. Around town, you should expect around 17 miles per gallon. On the highway, though, thanks to its 6-speed transmission, the Acadia can maintain around 24 mpg. When equipped with all-wheel drive, you should expect slightly lower numbers for both city and highway.
At a starting price of $34,050 before options for the base SLE, and then tipping the scales at $47,945 for the Acadia Denali with all-wheel drive, there are plenty of vehicles to which you can compare the Acadia, including both the Chevy Traverse and the Buick Enclave, both of which share the same platform as the Acadia. Other American counterparts include the redesigned Dodge Durango (available with a V8 engine), the sleek Ford Flex or even the Mazda CX-9.
The 2013 GMC Acadia may be a bit large for some, but it offers one of the most comfortable, confident driving experiences available. Along with impressive styling, plenty of interior space and a long list of tech features, this vehicle can be both your all-weather, family workhorse and your cool, commuter ride.