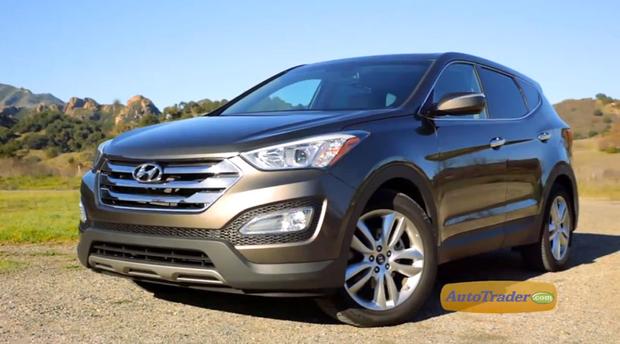 Over the past few years, Hyundai's entire lineup has received much-needed attention. Exterior redesigns, interior changes and a 10-year/100,000-mile powertrain warranty have left many other manufacturers gawking. The 2013 Hyundai Santa Fe follows that trend, and not only is it redesigned, it might be the best-looking crossover available today.
Hyundai calls its current body design "fluidic sculpture." This technique uses smooth, curvy bodywork that stands apart from the boxy, rectangular designs that are meant to maximize interior space on other crossovers. Don't assume that room in the Hyundai is tight; the V6-powered long wheelbase model can still seat up to seven people, using three rows of seating.
The 2013 Santa Fe comes in two lengths: short and long wheelbase. Three trims are available: Sport for the short wheelbase, and GLS or Limited for the longer one. All trims come with many standard features, including Hyundai's awesome Blue Link, which uses voice-recognition technology to control almost every electric feature. The Blue Link system also can search for local points of interest, send or receive a text message, give turn-by-turn directions, check weather, deliver traffic updates and even monitor your driving habits to suggest ways to improve fuel economy. Hyundai's customer service is available 24 hours a day, in case you need assistance or there is an emergency.
Three engines are available in the 2013 Santa Fe: the base 2.4-liter 190-horsepower inline 4-cylinder; a turbocharged 2-liter 4-cylinder that produces 264 hp; and a 3.3-liter 290-hp V6 engine. Both 4-cylinder engines are available on the Sport trim Santa Fe, and come standard with a 6-speed automatic transmission that sends all power to the front wheels. All-wheel drive is an option, as well. The V6 engine is available only on the long-wheelbase trims, and that engine also comes with a 6-speed automatic transmission with standard front-wheel drive. Again, all-wheel drive is available as an option.
Fuel economy varies depending on the engine and wheelbase. The base Sport trim that comes with the 2.4-liter will net the most mileage, while the V6-equipped all-wheel-drive version still gets a respectable 18 miles per gallon city and 24 mpg highway.
Prices start at $24,450 for the base Santa Fe Sport, but they can rise quickly, depending on trim level and options.
Even with such a great starting price, there is plenty of competition for the short-wheelbase version, including the Ford Escape and Kia Sorento. Likewise, for the 3-row model, you should look at the new Toyota Highlander, which can also have three rows.
The redesigned 2013 Hyundai Santa Fe is a looker for sure, and underneath the pretty exterior lies an appealing interior, room for up to seven, lots of standard and optional features and real-world fuel economy everyone can live with.