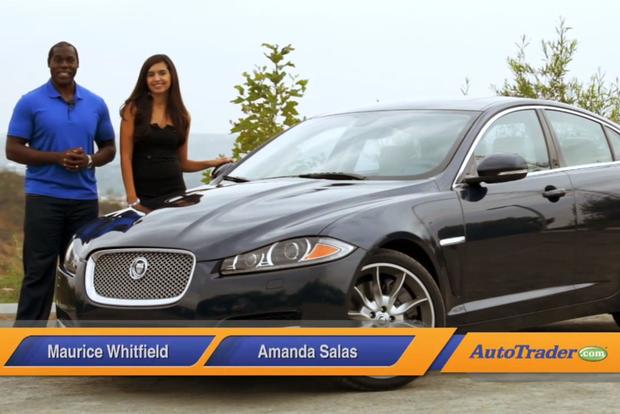 The 2013 Jaguar XF midsize luxury sedan is a seductive, stylish alternative to the enormous fleet of German-built competitors found in countless upscale driveways. The XF received an exterior face-lift last year, giving this sexy Jag even more visual excitement. This year, there are a few more tweaks and six trim levels with no shortage of features. New offerings include an all-wheel-drive variant and a potent XFR-S model.
Upscale Within
As expected, the cabin is luxurious -- wood veneers and leather everywhere -- but the look is dated. Although the low roofline does cut down on headroom for taller passengers, everyone has enough legroom, in front and in the rear.
One cool feature is the shift lever that rises from the console when the ignition is turned on. We also like the standard Bluetooth connectivity and the dual USB ports. And to get the most from your music, we recommend either one of the available Meridian audio systems. However, we wish the XF's 7-inch touchscreen display were bigger to better suit this opulent interior.
Power and Performance
New engines have been added to the XF this year, including a turbocharged inline 4-cylinder and a supercharged V6. And the new high-performance XFR-S model brings 550 horsepower to the game with its supercharged V8.
There's only one transmission across the lineup -- a new paddle-shifted 8-speed automatic. And all-wheel drive is now available, too. All the XF Jaguars are fast, display exceptional handling and still deliver a comfortable ride when just cruising.
As you would expect, the rear-wheel-drive turbo 4-cylinder gets the best mileage rating while the V8s offer the least. Fuel economy ranges from 19 miles per gallon city/30 mpg hwy on the high side to 15 mpg city/23 mpg hwy on the low side.
A Pricey Animal
And with the XF, you really get a lot more when you spend more, with base prices ranging widely, from $46,975 to $99,000. The BMW 5 Series, Mercedes-Benz E-Class and Infinity M37 or M56 all have the XF in their sights.
The Last Word
Take a good look at the XF 3.0 trim with the supercharged V6. It's almost as quick as a V8-powered XF and can be optioned out without reaching the V8 price. We'd like to see a newer interior treatment and a larger touchscreen, but the 2013 Jaguar XF has sensual exterior style, an impressive range of performance options and virtually all the luxury accommodations anyone would ever need.