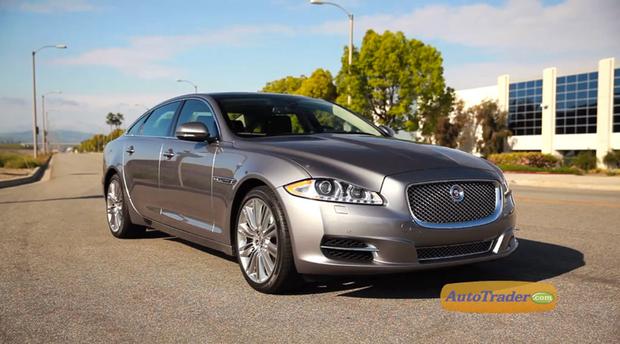 Luxury. Power. Beauty. If you're looking for all three in one place, consider the long-wheelbase 2013 Jaguar XJL Supercharged sedan. When it comes to announcing your presence with authority, this Jag may be in a league of its own. The only problem is, it's so rewarding to drive that we'd almost prefer to be the chauffeur. Here are our reasons why the XJL Supercharged should be your next luxury sedan.
1. Stunning Styling
The XJ's styling is a radical new direction for Jaguar, and we can't get enough of it. From the sleek, slinky profile to the dramatically tapered taillights, this car screams "fashion forward." Many super-luxury sedans err on the conservative side, but this Jag proudly struts its stuff. Wherever it happens to be, the XJL is the star of the show -- whether we're talking a black-tie soiree or a fast-food drive-thru.
2. Maximum Luxury
If you're shopping for a long-wheelbase luxury sedan, let's face it: You expect a first-class experience. That's why the XJL Supercharged comes standard with features such as a 20-speaker sound system, rich leather upholstery, 4-zone climate control and five extra inches of rear-seat legroom. It's the kind of car that makes your commute more enjoyable than what's waiting at the end.
3. Thoroughbred Performance
When you see the word "Supercharged" in a Jaguar model name, you know it means business. Floor it in the XJL Supercharged and you'll unleash 470 horsepower on your unsuspecting fellow motorists. This is a seriously fast car, and it makes great V8 noises, too. Forget all the talk these days about downsizing, fuel economy and what-have-you. "Go big or go home," says the XJL, and we like that attitude.
4. Accomplished Handling
It's rare to see a Jag XJL being hustled along a back road -- but if you wanted to, you definitely could. Jaguar has a decorated racing history, and they want to make sure their cars live up to that legacy, even personal limousines like the XJL. You might never use this special talent, but it's nice to know it's there. At the very least, your chauffeur can take you for some very memorable rides.
5. Surprisingly Priced
The XJL Supercharged starts at $92,600 -- hardly chump change, but that's cheaper than the cheapest Mercedes-Benz S-Class. If there's such a thing as a bargain in this class, the XJL Supercharged is it. We're amazed that the most stylish entrant is also the most affordable. You'd never guess it from the way this Jag turns heads.
The 2013 Jaguar XJL Supercharged offers a unique mix of prestige, performance and cutting-edge design. It's a must-drive if you want to roll in ultimate style.