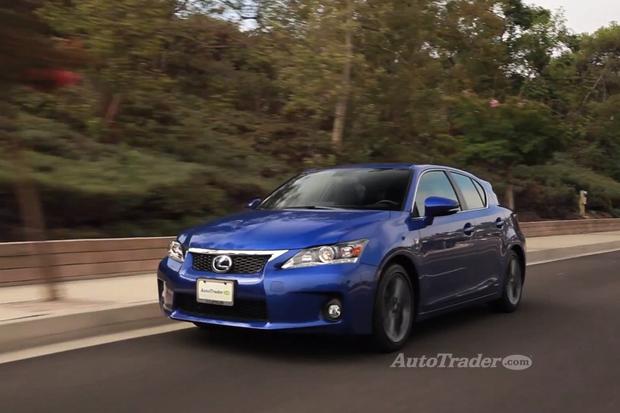 The 2013 Lexus CT200h hybrid is the perfect luxury car for these eco-conscious times. Although "luxury" used to be synonymous with "gas-guzzler," the CT200h is incredibly fuel efficient, sipping fuel like an economy car while still providing a premium ownership experience. If it sounds like the CT's priorities match your own, check out our five reasons to give this Lexus a look.
1. Amazing Fuel Economy
Without a doubt, luxury cars are getting more fuel efficient, but it's still rare to find one that does better than 30 miles per gallon. That's why the CT200h's fuel economy is so impressive. Thanks to hybrid technology borrowed from the Toyota Prius, the CT200h gets an incredible 43 mpg city/42 mpg hwy. So no matter what kind of driving you're doing, 40 mpg is almost guaranteed. For overall fuel efficiency, no other luxury car even comes close.
2. Sleek, Modern Interior
Inside the CT200h's upscale cabin, it's clear this is more than just a tarted-up Prius. The central controls and futuristic gear selector sweep toward you like you're in a sports car, and Lexus's unique Remote Touch Interface gives you mouse-like access to the flip-up infotainment screen. What's more, the materials are first-rate, ranking right up there with the stuff Lexus puts in its top-of-the-line luxury sedans. And if you get the F Sport package, Lexus also throws in aluminum pedals and special metallic trim on the dash.
3. Sharp Handling
Given its incredible fuel economy, you may worry that the CT hates fun, but that's definitely not the case. With its tight, responsive steering and compact dimensions, this Lexus is one of the most entertaining hybrids on the road, especially with the F Sport's special suspension and 17-inch wheels. It won't make the cover of a car magazine anytime soon, but in real-world situations, the CT200h is actually pretty fun to drive.
4. Practical Hatchback Design
There's a useful 14.3 cu ft of storage behind the CT200h's back seat, but here's the beauty of a hatchback: That's just the beginning. If you fold down those seat backs, you could throw camping gear or even a couple of bikes back there. At this price, you have plenty of luxury sedans to choose from, but hatchbacks are few and far between. That gives the CT200h a distinct advantage, even if you leave aside its fuel-economy edge.
5. Attractively Priced
Starting in the low to mid $30,000s, the CT200h is one of the most affordable luxury cars on the market. If you want an upscale car without the upscale price, the CT is a pretty sweet deal. Indeed, if you add all the options to a Ford Fusion Hybrid or Toyota Camry Hybrid, it'll cost close to CT200h money. Given the choice, we'd find the luxurious Lexus quite tempting.
AutoTrader says: Fuel efficient, fun and luxurious -- that's a killer combination. In this day and age, the 2013 Lexus CT200h is just what a luxury car should be.