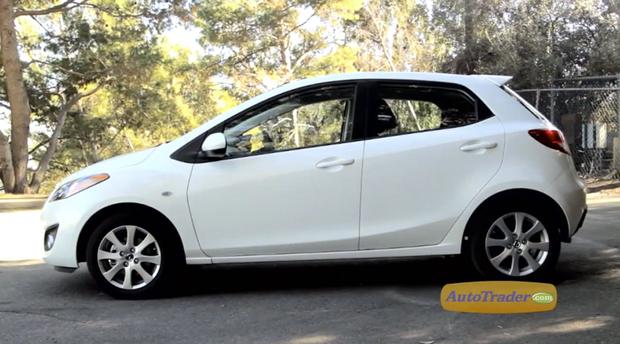 Fun-loving and economical subcompacts are highly desirable today, due to higher gas prices, cutting-edge looks and technology and the value you get for your dollar. Mazda has lots of experience building fuel-efficient, sporty and price-friendly models, and the 2013 Mazda2 hatchback is a real player in that category.
On the outside, the Mazda2 doesn't set any new standards in the design competition between other compacts. The short wheelbase, raked front end and short rear deck are signatures of all vehicles in this segment.
Even though the interior of the Mazda2 is not exactly luxurious, it is definitely simple and comfortable. The front seats are the perfect size for most adults, but taller drivers should note that there is no telescopic steering column. No matter your size, the rear seats are on the tight side.
Technology is limited in the 2013 model Mazda2. For example, there is an auxiliary audio input jack, a USB port and a CD player, but there is not even an option for a navigation system, backup camera or footwell lighting. However, the locations of the audio system and glove box are convenient, and the dash layout and controls are simple, straightforward and easy to read.
The only engine available for the Mazda2 is a 1.5-liter, 100-horsepower inline 4-cylinder. Two transmissions are offered: a 5-speed manual standard transmission and a slightly dated optional 4-speed automatic. All Mazda2 models come only in front-wheel drive. When equipped with the manual gearbox, mileage is more than respectable at 29 miles per gallon city and 35 mpg highway.
The 2013 model Mazda2 comes in two trim levels: base Sport and Touring. While the base Sport starts at less than $15,000, the more finished Touring trim comes in at $16,210. When picking the Touring trim, standard equipment includes 15-inch alloy wheels, cruise control and a 6-speaker stereo. Both models come with a 5-year/60,000-mile warranty.
Competition has been the same for years in this segment. Currently, the Honda Fit, Nissan Versa and Kia Rio are all on the Mazda2's radar, but none offer the Mazda's sporty look and finish. The closest competitor is the Ford Fiesta, which shares the same platform of the Mazda2 but offers more engine combinations and options.
The manual-equipped 2013 Mazda2 will keep you involved and entertained, and the price is hard to beat. With better-than-average fuel economy, this Mazda is ready to play in the sporty subcompact arena.