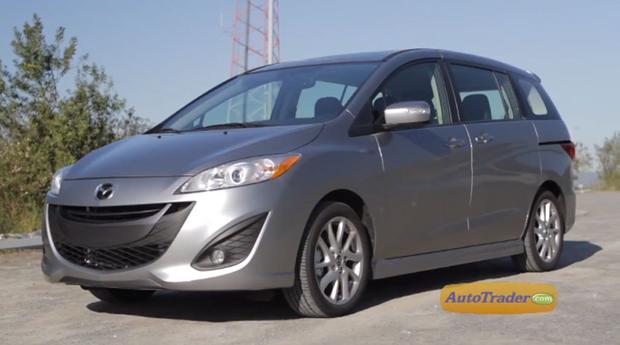 Minivans have been around for decades and used to be a very popular mode of transportation among families. So, in the hopes of creating more enthusiasm for this fading segment, the 2013 Mazda5 takes a new approach that is definitely worth a second look.
Outside, the Mazda5 has the same smiling grille from last year, but now it boasts integrated turn signals. Also, both sides of the vehicle still feature full-length sliding doors that allow for ultimate maneuverability for your wolf pack in the back seats.
The latest Mazda5 still rides on a car chassis, but the interior is nothing but versatile. Unlike previous models, though, the 2013 model is only available with captain's chairs in the second row instead of a bench seat. The captain's chairs, including the driver and front passenger seats, offer plenty of room for all adults. On the other hand, the rear bench does not offer the same amount of room and should be left to the kids.
The Mazda5 could be called the Mazda Cargo, since there is plenty of room even with all the seats occupied. For example, Mazda installed a fold-out table with cup holders between the second-row captain's seats and storage bins underneath. Also, all rear seats can fold down flat, allowing for almost 100 cu ft of cargo space!
To keep the price down on the new Mazda5, engineers decided not to offer very much in terms of technology or gadgets. There's no navigation, premium audio systems or even a backup camera for any of the three trim levels: Sport, Touring and Grand Touring. However, the Mazda5's top two trim levels come with backup sensors, plus Bluetooth hands-free phone and audio. Options for the 2013 model include a DVD Rear-Seat Entertainment System that comes with wireless headphones, a power moonroof and remote engine start.
Only one engine is available for the new Mazda5: a 2.5-liter, 157-horsepower inline 4-cylinder engine. The base Sport trim has an available 6-speed manual transmission, but the only transmission available on the other trims is a 5-speed automatic that does have a manual shift mode. The manual transmission will get slightly better gas mileage in the city, but on the highway both transmissions offer around 28 miles per gallon.
Prices for the Mazda5 start at under $20,000 for a base Sport trim, while a fully loaded Grand Touring will be much less than $30,000. With such a low price point, competition is tough to find. Nevertheless, it does include the Toyota RAV4, which offers optional all-wheel drive but no sliding doors, and the Dodge Grand Caravan, which offers a V6 engine but has worse fuel economy than the Mazda5.
The 2013 Mazda5 is a new take on a vehicle segment that some try to stay away from, but this outside-the-box minivan might be perfect for those looking for a vehicle with plenty of style, a practical interior and good fuel economy, while not being cluttered with endless overpriced, high-tech extras.