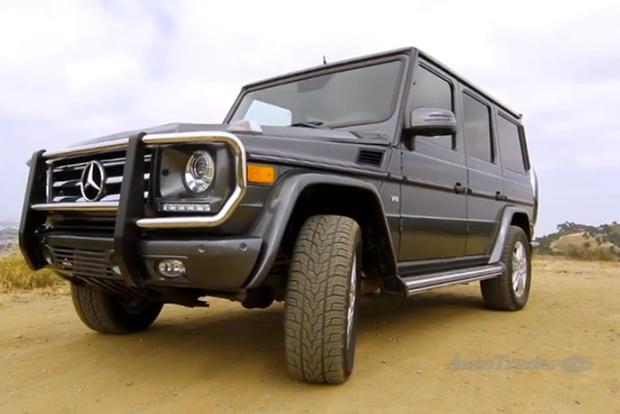 It's no secret that the 2013 Mercedes-Benz G-Class luxury SUV plays to a fairly narrow audience. In fact, fewer than one thousand G-Class units were sold last year. But that hasn't stopped Mercedes from giving this rugged, high-end utility some fresh updates and new features. Plus there's an ultra-powerful AMG version, which also returns for this model year.
Features Galore
On the outside, both G-Class models -- the G550 and G63 AMG -- are essentially oversized boxes on wheels, but now they feature new LED running lights and redesigned outside mirrors that resemble those found on other Mercedes models.
The interior of the G-Class or G-Wagon, as it has been called, remains unique, starting with the retro upright dashboard, which receives some noticeable improvements. It has a new gauge setup and a larger 7-inch navigation display that's been repositioned to the top of the dash. This gives the driver a better viewing angle of the COMAND electronics interface. Other new touches include a reconfigured center console, a smaller shift lever and a redesigned steering wheel. The traditional 12-speaker Harman/Kardon Logic7 sound system is no slouch, either. Comfort-wise, there's plenty of headroom in the G-Class, but legroom is limited.
On the safety front, there are now a number of new standard features, including radar-based cruise control, parking assist and blind spot monitoring.
Power, Performance, Prowess
The G550 has a 5.5-liter 382-horsepower V8 and a 7-speed automatic transmission sending power to all four wheels through a 2-speed transfer case. Its Electronic Traction System and three locking differentials combine to make the G-Class as good in the wild as it is on the highway. If you need even more power, the new G63 AMG is motivated by a tremendous 6.2-liter 536-hp twin-turbo V8, also mated to a 7-speed automatic.
Both versions of the G-Class are quick and each can tow up to 7,000 pounds when properly equipped. But gas mileage falls short when you have this much power. Expect no more than 15 miles per gallon on the highway and only 12 mpg in the city.
The Wrap Up
Costwise, the G-Class starts in the low six figures. The G550 has a base price of $113,000, while the uber-performing G63 AMG stickers for over $134,000. If you're interested in this kind of large, luxury, people-moving vehicle, you may want to try the Land Rover Range Rover or Lexus LX570 for comparison.
The 2013 Mercedes-Benz G-Class isn't an SUV that appeals to the masses, but that's the whole idea. This pricey status symbol continues to command loyalty among a select group of buyers. It's a boxy, short-on-legroom gas guzzler, but for those shoppers who can afford it and desire a truly premium off-road experience, the G-Class may be the ideal choice.