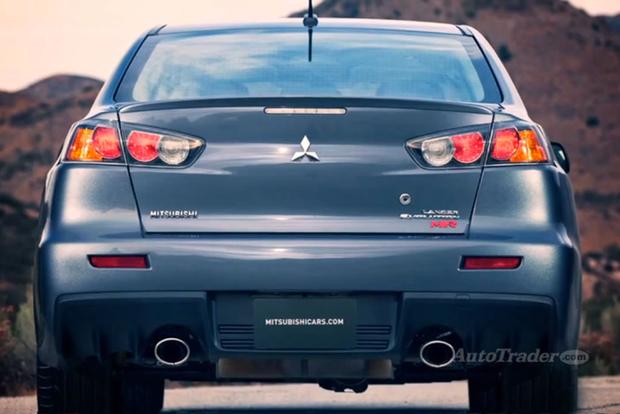 The 2013 Mitsubishi Lancer Evolution is unchanged from its 2012 predecessor, but the real news is that it's even around. Last year, there were plenty of rumors flying that Mitsubishi had plans to discontinue this little performance phenom. We're happy to report that the compact sport sedan known as Evo is alive and well, and remains one of the most thrilling rides on the market today.
On the Outside
The Evo has an overtly race-inspired exterior, so nobody will ever confuse it with the buttoned-down, non-performance-inspired Lancer that it's based on. Available in two trim levels, GSR and MR, you can quickly tell them apart by the rear body treatment. The GSR comes with a large, aggressive rear wing, while the MR receives a more sensible lip spoiler.
On the Inside
The 2013 Lancer Evolution is loaded up with standard equipment that enhances the entire Evo experience. This includes such goodies as Recaro front seats, which are found in the world's most formidable performance cars, and an easy-to-read speedometer and tachometer cluster with a useful, color multi-information display tucked in between. Overall, however, the level of interior quality is unimpressive, to say the least. Think rental car.
The steering column is not telescopic and the seats are not height adjustable, so drivers will have to do their best to find a comfortable seating position that grants good forward visibility. Fortunately, Mitsubishi's FUSE interface saves the day on the technology front. It includes voice recognition, Bluetooth and a USB port -- and here's the best part: It doesn't cost extra. On another positive note, rear-seat occupants in the Evo will have no problems finding enough legroom. This compact has a very accommodating second row.
Fast and Furious
The Mitsubishi Lancer Evolution is basically a world rally car for the street. It's fast. Very fast. And don't expect refinement or restraint in how the Evo goes about its work. This car's ride is downright harsh, while the handling is tight and twitchy. What you get is outstanding grip and world-class road-holding, but very little in the way of passenger comfort.
Under the Evo's hood, the 291-horsepower, 2-liter turbo-4 is a screamer that sends 300 lb-ft of torque through Mitsubishi's sophisticated all-wheel-drive system. A conventional 5-speed manual transmission is standard in the GSR, but we actually prefer the 6-speed dual-clutch automated manual that's in the MR. In many ways, it's more sophisticated and performance-driven.
Nothing Economical Here
Regardless of which gearbox you go with, you won't get award-winning gas mileage. The Lancer Evolution guzzles fuel to the tune of 17 miles per gallon city/23 mpg highway despite its small 4-cylinder engine.
The pricing is not that easy on your wallet, either. The base GSR comes with a $34,000-plus price tag, while the MR starts further upstream at over $37,000. Before you buy, you should try the equally rowdy Subaru WRX STI, the V8-powered Mustang GT or the pocket-rocket MINI Cooper John Cooper Works.
The Final Word
The 2013 Mitsubishi Lancer Evolution is a compact performance car with a sole purpose: to thrill. To that purpose, it was built to accelerate, corner and brake like a race car. If you can overlook the low-budget interior, stiff ride and pricey window sticker, you'll wind up with a hot little number that will aptly serve up a uniquely high-performance driving experience on the road and an ear-to-ear smile on your face.