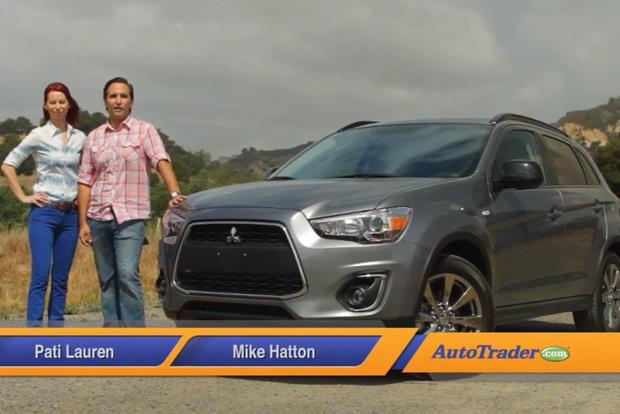 The 2013 Mitsubishi Outlander Sport comes from rather humble roots, based on the same platform as the less-than-memorable Dodge Caliber. But Mitsubishi has applied some magic to the Outlander Sport, and the latest edition of its smallest crossover continues the steady stream of improvements it has seen since its introduction in 2011.
The exterior styling has been freshened up since last year, and 18-inch wheels are now standard. The Outlander Sport is no off-road warrior, but its smallish exterior dimensions make maneuvering around town a snap.
Tech-Savvy Interior
The interior of the Outlander Sport shows good quality with a dark, rich look and soft-touch dash materials. The driver's seat in the base ES trim has a manual height adjustment, and the steering column is tilt and telescopic -- a little extra convenience not found in most other Mitsubishi models. Furthermore, the controls are laid out in good order, but the optional navigation system for the uplevel SE or LE trims is another story. Too many small buttons make it complicated to get directions quickly.
A round of applause, however, for the Outlander Sport's standard FUSE hands-free interface with voice-command capabilities for your phone and portable music devices. Not many compact crossovers can match the Outlander's standard technology features.
Slow But Steady
Simply put, the Outlander Sport is sluggish. It's the biggest gripe we've got when it comes to Mitsubishi's best-selling crossover. Propulsion comes from a small 2-liter 148-horsepower inline 4-cylinder residing under the hood. The base ES offers a choice of a 5-speed manual or a continuously variable transmission (CVT), while upper trims use the CVT exclusively. But that gearbox makes the Outlander Sport feel even slower. Front-wheel drive and all-wheel drive are available across the lineup. The all-wheel-drive setup pairs only with the CVT.
Since the engine is noisy and underpowered to begin with, there's not much of a fun factor to enjoy when putting the Outlander Sport through some twists and turns. Luckily, you can rack up around 30 miles per gallon on the highway no matter which drivetrain you choose.
And don't expect much from this ute when it's away from the pavement. Going off the beaten path is definitely not its mission in life. To that end, it's fair to call the Outlander Sport a smooth-riding, agreeable, all-weather commuter that just needs more muscle.
Well-Priced
But less than $20,000 will get you into a base model Outlander Sport, and going upmarket won't cost you an arm and a leg either. The higher-end LE all-wheel drive begins at a reasonable $24,895. Look at the Kia Soul, Hyundai Tucson or Mazda CX-5 before you make up your mind. They all take their own approach to the compact crossover formula.
Conclusion
The 2013 Mitsubishi Outlander Sport is no hot rod, that's for sure, but it has a smart-looking interior, lots of technology and solid fuel economy. Plus, the price is another important upside. A worthy compact crossover in its own right, the Outlander Sport has remained true to its modest beginnings.