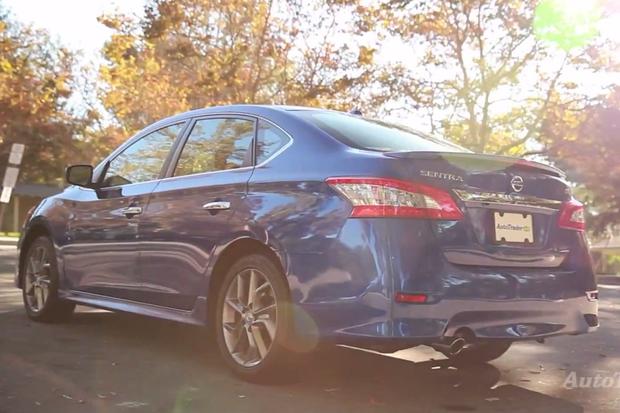 There are a lot of new small sedans on the market right now, and it can be hard to keep them all straight. That's why we appreciate the tried-and-true 2013 Nissan Sentra. Nissan's been making the Sentra since 1982, so you won't find any rookie mistakes here. But thanks to the Sentra's latest redesign, there's finally some style to go along with all that substance. Here are five reasons why the Sentra's still got it after all these years.
1. Comfortable Ride
A lot of small sedans are supposedly "fun to drive," but most people would rather be comfortable during the morning commute. That's why the Sentra is tuned for compliance. When you hit a rough patch, the Sentra just shrugs it off. It's a relaxing car to ride in, and that's a big deal for daily driving.
2. High-End Features
Like many small cars these days, the Sentra can be loaded with luxuries. Available features include alloy wheels, keyless entry/ignition, Bluetooth, a 4.3-inch display screen, dual-zone automatic climate control and leather upholstery. You can even get a Bose audio system via the Premium package. This isn't your parents' bare-bones Sentra; it has all the fixings if you want them.
3. Spacious Cabin and Trunk
Nissan has made passenger space a priority recently, and that's on full display in the Sentra. Front-seat occupants have plenty of room, but the real story is in back, where the Sentra can swallow a pair of 6-footers just as capably as a midsize family sedan. The 15-cu ft trunk is equally generous, nearly matching the larger Altima's cargo hold.
4. Mature Styling
The Sentra's new styling looks a lot more sophisticated. Mirroring the Altima and Maxima, the Sentra sports aggressive headlights and a curvaceous body that has an upscale vibe. Some other small sedans try to cultivate a youthful look, but the Sentra gives you the same mature, flowing lines as Nissan's other sedans. It just comes in a smaller, more affordable package.
5. Great Fuel Economy
Fuel efficiency has always been a Sentra signature, but the latest Sentra takes it to a new level. With the continuously variable automatic transmission, the Sentra delivers 30 miles per gallon city/39 mpg hwy. That's some of the best fuel economy in this segment, especially on the city side. It's rare for anything other than a diesel or hybrid to achieve 30 mpg on the urban cycle.
AutoTrader Says
With its attractive pricing and strong heritage, the 2013 Nissan Sentra is one of the most well-rounded small sedans on the market. Take one for a spin and see if you agree.