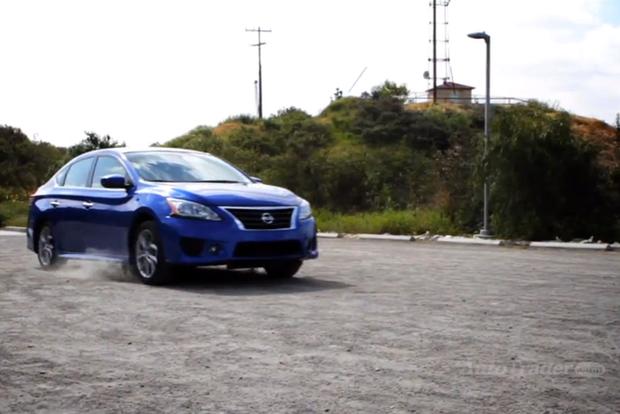 For longer than Nissan would like to admit, the Sentra has played second fiddle to the Honda Civic and Toyota Corolla in the compact sedan category. But, when it comes to the 2013 Nissan Sentra, Nissan went all out on the redesign, starting with a sleeker exterior, a quieter ride and a lower price.
The new exterior sheet metal gives the 2013 Sentra the look of a more expensive car, and the sloping hood and smooth curved front fenders are easy on the eye.
Nissan also revamped the Sentra's interior, which is roomy, even in the rear seat, and offers impressive materials quality. Plus, with a tilt-telescoping steering wheel and height-adjustable driver's seat, just about any driver should be able to get comfortable.
There are four main trim levels for 2013: S, SV, SR and SL, with a special FE+ package available on the S and SV trims that will increase fuel economy slightly.
Choose your trim level wisely if technology is important to you. USB and Bluetooth connectivity are not available on the S, are optional in the mid trims and only come standard on the top-of-the-line SL. In fact, if you go with any trim level below SL, you'll end up paying extra for popular amenities such as the cool push-button ignition.
The simple, straightforward layout of the instruments and controls is impressive in this compact car. It gives the Sentra a more refined and user-friendly vibe, right down to the available 4.3-inch audio display. There is an optional 5.8-in touchscreen navigation, but it seems small, has slow response and offers low-resolution graphics. This unit does have some positives, such as NissanConnect with Google Point-of-Interest and read-aloud texting.
Only one engine is available in the 2013 Sentra: a 1.8-liter inline 4-cylinder. With 130-horsepower and 128 lb-ft of torque, the Sentra has just enough power to keep up with traffic thanks to the vehicle's light weight. The base Sentra comes standard with a 6-speed manual transmission, while all the other trims come with a continuously variable transmission.
The Sentra is all about basic transportation -- from point A to point B and back with minimal fuss -- and no exaggerated claims about providing driving thrills, which translates into gas mileage that's easy to live with. The maximum highway fuel economy is as much as 40 miles per gallon with the FE+ trims.
The base Sentra S stickers at a very reasonable $15,990, while even the top-drawer SL Sentra gets started at under $20,000. And the drivetrain is covered by a 5-year/60,000-mile warranty.
Before deciding, be sure to look at the Chevy Cruze, Dodge Dart and Hyundai Elantra. They are all worth comparing to the Sentra since they all offer their own distinctive recipes for economy and style.
The Sentra has grown up with a stylish new exterior, a roomy and tasteful interior, and a price that won't drain your bank account. It's definitely not a pocket rocket, and the lower trim levels are a little under-equipped, but it's hard to overlook the 2013 Nissan Sentra if you're shopping for economy, value and styling.