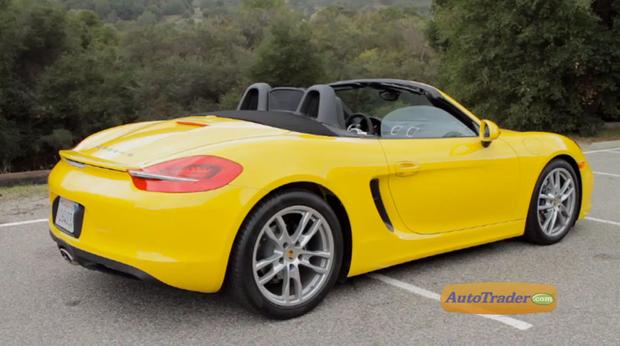 When Porsche decided to make an SUV and a sedan, enthusiasts were stunned. But now that both vehicles have dominated their specific classes, Porsche can go back to its bread and butter with the 2013 Porsche Boxster. This high-performance, premium sports machine comes with plenty of style, power and handling, which fits the Porsche mold perfectly!
The new, redesigned 2013 Boxster and Boxster S have been given a longer wheelbase and a wider track for improved stability, larger side intakes and rear diffuser for increased aerodynamics, electric power steering for better feedback and larger standard wheels for a more athletic exterior. Even with a larger footprint than the previous generation, the 2013 Boxster weighs as much as 77 pounds lighter.
Beyond the new exterior, the Boxster's interior could be mistaken for that of the legendary Carrera GT super car. For example, the 2013 Boxster offers a similar raked center console that dives from the dashboard to the armrest. Of course, this kind of quality in the interior, including the ability to create a near-perfect seating position, is to be expected in a Porsche that is both bred for racing and has the ability to be driven daily.
To make the Boxster friendlier, engineers at Porsche have almost perfected the power convertible soft-top, as it now opens or closes in just 10 seconds. And, if you want the top down but temps are dropping, the Boxster can now be had with optional heated seats and heated steering wheel.
Inside, Porsche has made life easier, as the new Boxster includes an excellent 7-inch touchscreen infotainment system, Bluetooth hands-free connectivity and an iPod/USB connector that is neatly found in the glove box. Interior options include the navigation system and a powerful 10-speaker Bose audio system.
Depending on the trim, two engines are available. For the stock Boxster, Porsche installed a 265-horsepower 2.7-liter flat six, while the Boxster S comes with a larger 3.4-liter flat six rated at 315 hp. For both engines, owners can opt for either a standard manual 6-speed transmission or a 7-speed dual-clutch automatic. Both transmissions send 100 percent of the power to the rear wheels.
Depending on the engine and transmission combination, fuel economy does vary slightly. On the high side, you should expect around 22 miles per gallon city and 32 mpg highway, while on the low end you'll find a more conservative 20 mpg city/28 mpg hwy.
If you decide to drive this bigger, faster and surprisingly lighter 2013 Porsche Boxster the way it was designed, chances are your only concern is going to be hitting the apex.