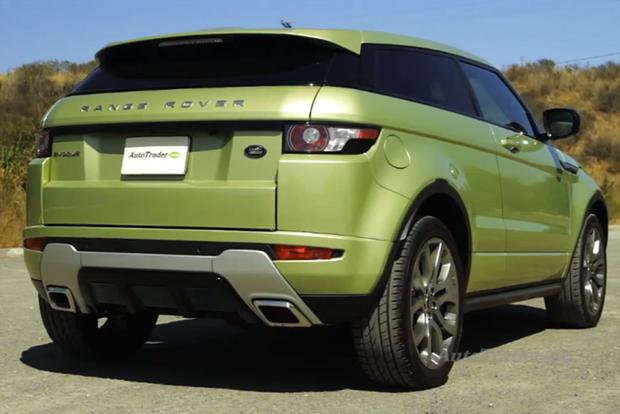 After a long history of building rugged, roadworthy SUVs with conservative, box-like styling, Land Rover broke the mold with the 2013 Range Rover Evoque. The Evoque now enters its second year, retaining an appeal that is both aggressive and youthful.
Aside from its sporty aero shape, the most distinctive exterior feature of the Evoque is its available panoramic roof. It is standard in all but the base Pure trim and comes with a power sun blind if the light from above gets too intense. Other available Evoque trim levels include Prestige and Dynamic. Prestige emphasizes luxury, while Dynamic leans toward sporty. You can also choose either a 2-door coupe or 5-door hatchback version of the Evoque.
The interior is worth bragging about, too. The cabin boasts high-quality materials and a sophisticated layout. For electronic entertainment, there's an 8-inch touchscreen that connects you to a full assortment of audio and Bluetooth capabilities. A Premium package adds HDD navigation and a 360-degree surround camera system that uses five digital cameras.
In terms of space, there's enough head room for everyone in the hatchback edition, but if you're sitting in the rear seat of the coupe model, the lower roof line gives passengers one inch less head room. Unfortunately, legroom is tight no matter which body style you choose.
With the Evoque, it's the first time a Range Rover has been equipped with a 4-cylinder engine instead of a V8. But this inline 4-cylinder is plenty strong. Its potent turbocharger spools out 240 horsepower through a 6-speed automatic transmission to all four wheels, and moves this able-bodied euro-ute from zero to 60 miles per hour in just 7.1 seconds. In additional to robust performance, the Evoque's fuel economy is quite good at 20 miles per gallon city/28 mpg hwy.
However, the Evoque has a few downsides worth noting. For one, engine vibration can be felt through the seats while the car is idling. And there's significant road noise inside the cabin at highway speeds. Also, the Evoque isn't the intrepid trailbuster we've come to know and love with Range Rover. It handles respectably on wet or snowy roads, but you're better off sticking to paved roads.
The base Evoque hatchback in the Pure design theme has an MSRP of just over $42,000, placing it in the premium price range. Step up to the 2-door Evoque Pure coupe, and the base sticker jumps to $45,040. But consider the Volvo XC60, BMW X5 or Audi Q5 before making up your mind. All are worthy competitors.
The 2013 Range Rover Evoque offers a bold design, a turbocharged engine and an upscale interior that departs from Land Rovers of old. It can be noisy inside, short on rear head room and more than $40,000 to buy, but overall the Evoque is a smart and sexy crossover with plenty of goods, inside and out.