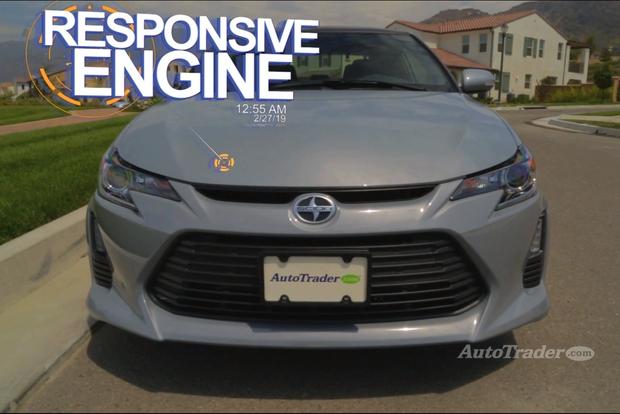 The 2013 Scion tC sport coupe reminds us of when driving was simple, affordable and fun. Remember the Prelude? The Eclipse? The Celica? Automakers have largely turned away from sporty-yet-attainable coupes like these, which is part of what makes the Scion tC so special. If you're looking for a new coupe on a budget, here are five reasons why the tC is one of our favorites.
1. Makes Driving Fun
Whether it's your first car or just the latest in a long line, the tC's engaging personality will put a little bounce in your step. With its tight dimensions and athletic handling, this Scion is an appealing alternative to boring economy sedans. But you don't have to worry about the fun getting out of hand, because with its standard front-wheel-drive layout, the tC stays safe and predictable all the way to its limits and beyond. It's a great introduction to the joys of spirited driving.
2. Responsive Engine
If you need to make time, you're in for a pleasant surprise. Although it's shorter than a Corolla, the tC borrows its engine from the much larger Camry, so it packs a healthy punch. Don't be afraid to mash that gas pedal when you're merging on the highway or passing on a rural 2-lane road. The 180-horsepower tC is a lot friskier than you'd think.
3. Serious Stereo
Scion knows you don't want to pay more for premium sound, so it comes standard on the tC. You get Pioneer audio with eight speakers, a USB port that's conveniently located on the center console and great sound quality for a factory setup. There's Bluetooth, too, and you can even add a subwoofer. Plus, the audio display looks cool with its special Scion font.
4. Spacious Interior
Although the 2013 Scion tC may appear to be a cramped sport coupe on the outside, it has an amazingly roomy cabin. The standard panoramic sunroof lends an airy feel, and the back seat is remarkably accommodating for adults. The rear seat backs even recline -- that's almost unheard of in a coupe. Aside from its lack of rear doors, the tC is a legitimate substitute for small economy cars when it comes to interior space.
5. Great Deal
Since the tC comes with so much standard equipment, there's no need to add options, so you could be out the door for around $20,000. Bang for the buck was another hallmark of those old-school sporty coupes, and the tC carries this torch, as well. If you're wondering about Scion's other coupe, the rear-wheel-drive FR-S, it's a great car, but it costs thousands more and offers less space.
AutoTrader Says
What's not to like? We just wish there were more cars like the 2013 Scion tC. If $20,000 is your magic number, this Scion is a great choice.