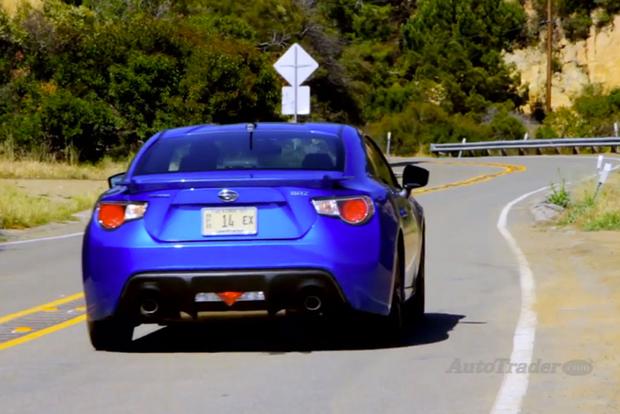 The 2013 Subaru BRZ is new for this model year and marks a very different direction for the brand. It's Subaru's first car since 1997 without all-wheel drive. Furthermore, it's not turbocharged, which is how Subaru performance models usually obtain their added power.
This low-slung, highly-styled compact sports car is definitely easy on the eyes, but not the most practical on the inside. Don't expect to fit anything beyond a few mid-sized bags or two small kids in the very tight rear seats. However, if it's just you and a friend, these seats fold down for additional cargo space.
In both Premium and Limited trim levels, the interior is simple and uncluttered and offers a nice array of modern conveniences. That said, the BRZ model's touchscreen interface is somewhat difficult to use and requires lots of back-and-forth switching between screen displays. And the buttons are too small, so you'll hit the wrong one more often than not. Another issue — there are no audio controls on the steering wheel, which will make you take your eyes off the road when searching for tunes. Overall, however, the cockpit-like cabin is refined and well put together.
Under the hood lives a 2-liter, horizontally-opposed 4-cylinder Boxer engine serving up 200 horsepower to the rear wheels, with either a standard 6-speed manual transmission or available 6-speed automatic with paddle shifters. With 151 lb-ft of torque, the BRZ model's acceleration is adequate, but not exhilarating. It's not that the BRZ is slow, it just can't match the thrills of its close cousin, the Subaru WRX. Beyond that, the engine's throaty sound is a little loud at highway speeds, but some may actually like that aspect of the car.
In terms of dynamics, the BRZ is quite impressive. Tight handling, quick steering and solid brakes make this little sports car a true driving machine and a lot of fun on the road. It also offers exceptional fuel economy at 25 miles per gallon city/34 mpg highway with the automatic, and 22 mpg city/30 mpg hwy with the manual gearbox. That's very impressive considering this is a performance-oriented car.
Affordability-wise, the BRZ is priced just right with the base Premium model coming in at under $26,000. The BRZ should be comparison-shopped against the MINI Cooper, Mazda MX-5 Miata and Scion FR-S.
The 2013 Subaru BRZ is a responsive, sleek and sexy sports coupe even though it's a little short on power, has a small backseat and a not-so-user-friendly touchscreen interface. But in the end, it dishes out lots of fun with better-than-expected fuel economy and a price tag most shoppers will find well within their budget.