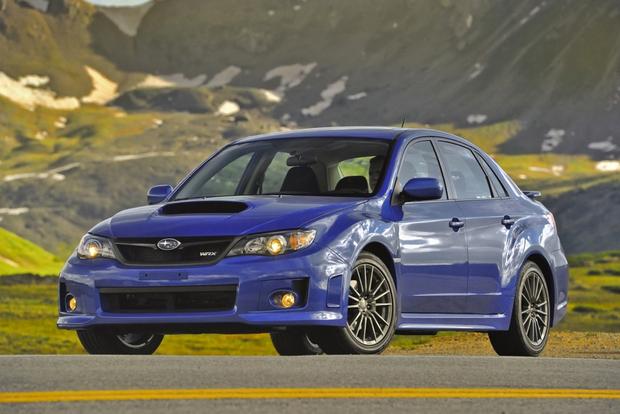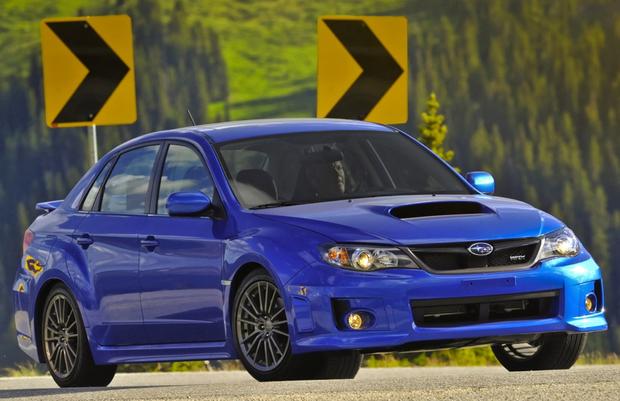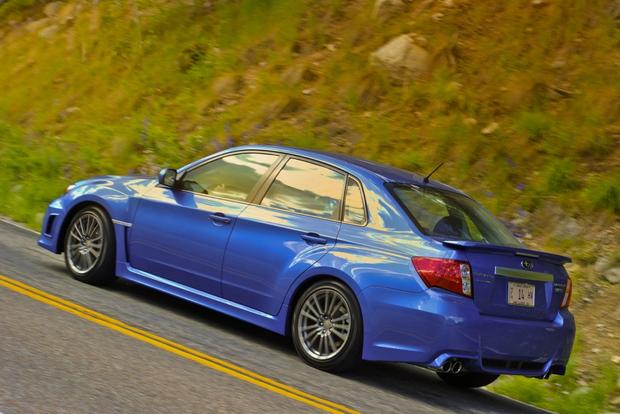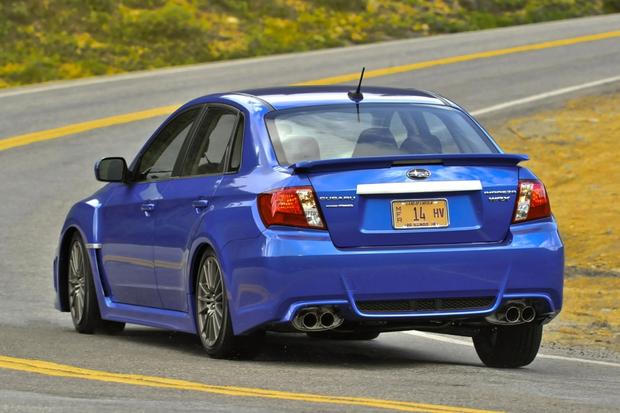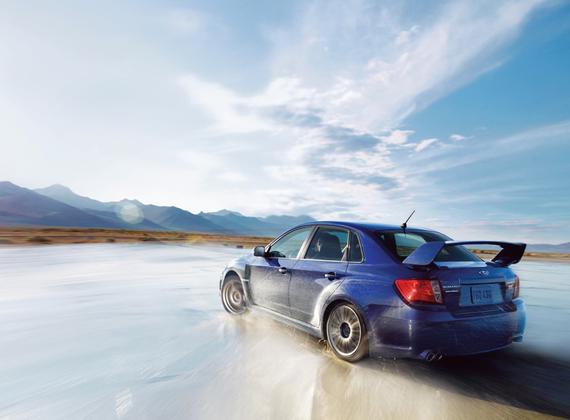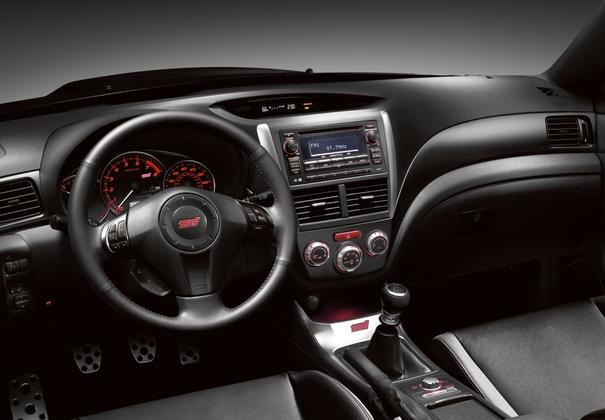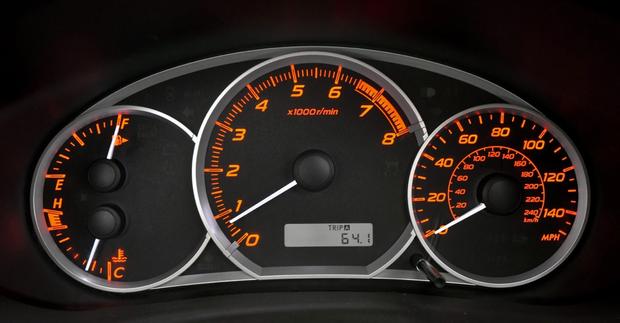 Pros: All-wheel-drive traction; powerful turbo engine; decent fuel economy; reasonable price
Cons: Rubbery shifter on WRX; no automatic transmission offered; cheap plastic on dash and doors; no high-end factory audio
What's New: The 2013 Subaru Impreza WRX receives no changes, and is due for a complete overhaul next year.
The 2013 Subaru Impreza WRX and WRX STI showcase what happens when you combine Subaru's legendary all-wheel-drive system with the company's equally legendary rally racing history. Though not much bigger than VW's GTI, the WRX sedan and hatchback outgun their German rival in the areas of horsepower and torque by a wide margin. Intended to appeal to a younger crowd (think "Grand Theft Auto" devotees), the WRX's year-round abilities (not to mention its rather lofty price) make it equally appealing to more mature drivers.
The WRX and WRX STI remain relevant despite being built on an older platform from the previous-generation Impreza. A holdover for 2013, the Impreza WRX is still an attractive prospect. Its turbocharged engine, sport suspension, beefy wheels and tires and comfy sport seats make it more attractive than the newer Impreza, unless of course you're all about maximum fuel economy and more interior room. For the ultimate thrill ride, the WRX STI brings a more powerful turbo engine, a 6-speed manual transmission and an adjustable center differential that allows the driver to choose front to rear torque distribution.
While we love the WRX's combination of compact practicality and all-out fun, it does have a few detractions. The WRX is offered only with a manual transmission, so automatic fans will have to shop elsewhere. Furthermore, insuring the WRX will cost more than the average 4-cylinder car, especially if there's a 16-year-old boy on your plan. Lastly, normal wear and tear items such as brakes and tires will probably cost more and require more frequent attention.
Comfort & Utility
Given its modest size, the Impreza WRX is actually quite roomy inside, with plenty of legroom in front for adults and rear-seat accommodations on par with other compact competitors. Taller drivers may want to opt for the base WRX, which excludes the headroom-eating sunroof found on the Premium and Limited models. The WRX's sport front seats offer good lateral side support, but the single-piece molded seatback rounds out near the top, forcing some drivers to complain of having their shoulders pushed uncomfortably forward.
The WRX's thick-grip steering wheel is complemented by a well-positioned shifter and a neatly organized instrument cluster backlit in bright red with white indicator needles. Checkered black carbon upholstery with WRX embroidered logos round out the stylish cockpit. Outside, the WRX distinguishes itself with wide fender flares, a wide functional hood scoop and, on the STI, 18-inch BBS wheels.
We like that Subaru offers Impreza WRX buyers a choice between the security of a trunk and the versatility of a hatchback but charges the same for both--with the exception of the STI sedan. Although the sedan's 11.3-cu ft trunk is large enough for most needs, those who carry lots of stuff, such as snowboards or camping gear, will likely find the hatchback's 19-cu ft cargo bay more practical.
Technology
Both the WRX and the WRX STI offer Bluetooth connectivity for cell phones and streaming Bluetooth for audio devices. There is also a USB interface for iPods. Although Subaru doesn't offer a high-end audio system like Bose or Harman Kardon on the WRX, there is an option for a 10-in subwoofer and upgraded speakers. Optional is a navigation system with voice control, iTunes tagging capability and text messaging.
The STI model includes Subaru's Intelligent Drive (SI-DRIVE), which allows for three settings (Intelligent, Sport and Sport Sharp) that adjust throttle input and the engine control module. Accompanying SI-DRIVE is the Multi-Mode Driver Control Center, which allows torque distribution to be manually selected between front and rear wheels. Two auto modes either increase or decrease power to the center limited-slip differential--less for dry-pavement touring and more when conditions become wet or slippery. There are also six manual modes with varying degrees of front/rear torque distribution up to a perfect 50/50 split. Subaru's Multi-Mode Vehicle Dynamics Center allows three variants of traction control, ranging from normal to increased traction, and the ability to switch off the system completely.
Performance & Fuel Economy
The Impreza WRX is powered by a turbocharged 2.5-liter boxer engine good for 265 horsepower and 244 lb-ft of torque. Hooked to a somewhat rubbery-feeling 5-speed manual, this engine nevertheless is a blast to drive, delivering immediate punch once the turbo spools up and giving right up to the redline. Environmental Protection Agency (EPA) figures of 19-mpg city and 25-mpg highway are more than respectable, considering the WRX's performance-oriented nature.
The WRX STI has a more powerful turbocharger and intercooler with Dual Active Valve Control, producing 305 hp and 290 lb-ft of torque. This engine is mated to a much-improved 6-speed manual that features tight, short throws for better operation. Fuel economy figures of 17/23 mpg are not far from the base car, but given the temptation to push this STI to its limit, owners should not be surprised if their fuel economy is much lower.
Safety
Every WRX and WRX STI comes with front seat side-impact airbags, front and rear side curtain airbags, electronic traction and stability control and Incline Start Assist, which keeps the vehicle from rolling backward when starting off on an incline of more than five degrees. The STI is equipped with Brembo performance brakes for better stopping power.
The Impreza on which the WRX is based excels in both independent and government crash tests, and is an IIHS Top Safety Pick.
Driving Impressions
Never mind the noisy cockpit and excessive tire noise. Forget about cheap plastic bits that can to rattle and squeak on warm days. The Impreza WRX is all about driving. The turbocharged engine loves to run, and nailing the gas pedal to the floor at every stoplight can easily become an addiction. Push the WRX hard into a turn and the car sticks to the pavement with the tenacity of a gummy bear on a theater floor. The all-wheel drive system helps greatly, as do the revised sport suspension and aggressive wheel-and-tire package.
In the STI, the ability to choose torque distribution and differential settings, coupled with the 305-hp engine, helps to create a driving experience worthy of the fastest supercar. It's no wonder the WRX has attracted many enthusiasts who will never be able to shell out $75,000 for a Porsche or BMW M but won't let that ruin their good time.
Other Cars to Consider
Mitsubishi Lancer Evolution - The Mitsubishi is the top-end performance rival of the WRX STI. The Evolutions's ride is a bit harsher, and it only comes in sedan form, but its interior is better equipped, with such options as Recaro seats and a 710-watt Rockford Fosgate audio system.
Volkswagen GTI - The GTI doesn't offer AWD, and its turbo engine isn't as powerful as the WRX's, but the GTI's ride is far more civilized, as is its Audi-like interior, and it's still a blast to drive.
Audi A3 - For about the same money as the STI, you can get into a 200-hp turbocharged A3 with quattro AWD, a premium name and an exterior that doesn't scream "boy racer."
AutoTrader Recommends
Pound for pound, the base Impreza WRX model is the best deal. The STI may offer the best performance, but its $35,000-plus price puts it into used BMW and Porsche territory. The base WRX offers plenty of power, doesn't have a rigidity-weakening sunroof cutting into its roof and comes nicely equipped with the features most drivers want. With a price starting at about $25,000, you can take the extra couple of grand you'd spend for leather seats and a power sunroof (Limited trim) and install a really nice aftermarket audio system.