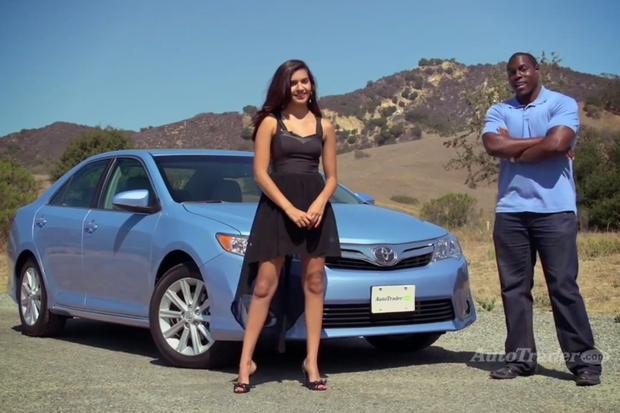 The Toyota Camry was completely redesigned last year, giving it much bolder exterior styling than Camry models of the past. It's now more eye-catching and adventurous for a midsize family sedan that has otherwise always been known for a conservative image.
To that end, the redesigned 2013 Toyota Camry has proven to be a worldwide favorite, just like its predecessors, and now it's in position to become a best-seller in the U.S. That's not so surprising when you consider all the features you'll find as you move up through the four trim levels -- L, LE, SE and XLE.
The Camry Cabin
The Camry's cabin has plenty of room for everyone, and all five seats offer excellent comfort. The controls are simple to operate, and there are lots of popular safety features on the menu.
A couple of favorites are the standard touchscreen audio system and the optional blind spot monitoring system in the SE and XLE, which also add Rear Cross Traffic Alert. Also optional on SE and XLE trims are navigation and Toyota's Entune interface, which pairs your smartphone to the sound system.
However, the cabin build was a letdown in quality. With loose plastic trim on the center console and the mix of interior shapes, it may be too busy for some drivers.
On the Road
The front-wheel-drive Camry can be equipped with an inline 4-cylinder or V6 engine. The 178-horsepower 2.5-liter inline 4-cylinder is standard on all trims, while the available 268-hp 3.5-liter V6 can be had in the sport-tuned SE trim and uplevel XLE. All engines come with a 6-speed automatic transmission, and the SE gets steering wheel-mounted paddle shifters.
The Camry accelerates smoothly and has an eager feel when pushed -- a nice surprise for a family sedan.
And fuel economy is respectable but not eye-opening. The 2.5-liter yields 25 miles per gallon city/35 mpg highway while the 3.5-liter has a rating of 21 mpg city/31 mpg hwy.
Price and Competition
The MSRP for the base L trim makes the Camry a good value at just $22,235. The Honda Accord, Kia Optima and Volkswagen Passat are good midsize competitors to the Camry and also worth considering.
The Last Word
This quintessential family car has been satisfying family-sedan buyers year after year with attractive styling, generous features and a quiet yet fun ride -- all for a reasonable price. Other than some less-than-perfect interior execution, the 2013 Toyota Camry continues to deserve its immense popularity.