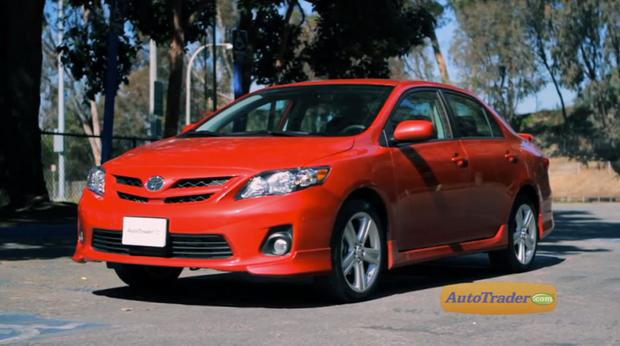 The 2013 Toyota Corolla presents a real problem for car buyers looking for a compact vehicle. The latest Corolla won't win any style competitions, drag races or fuel economy tests, but it will win the reliability, resale and comfort categories hands down!
For the 2013 model year, the Corolla comes in three trims: L, LE and S. All three have different personalities based on standard features and options, but they all share one of the simplest, most well-illuminated instrument panels around. Unfortunately, you'll also find a large amount of cheap-looking plastic that's used to keep costs down. Although the cabin of the 2013 Corolla offers plenty of room for five, it's not the most comfortable with three adults in the back seat.
Standard features for the interior are based heavily on the trim level. For instance, the base L trim comes pretty plain, with basic, flat seats that are not that well bolstered. The S and LE trim levels come standard with thicker seats and a 6.1-inch infotainment system. They both have an available Premium Complete Package, including Toyota's EnTune interface with hands-free voice navigation.
Under the hood of every 2013 Corolla is a 1.8-liter, inline 4-cylinder engine that produces 132 horsepower and 128 lb-ft of torque. Both the L- and S-trim Corollas come standard with a 5-speed manual transmission, but an outdated 4-speed automatic is optional. That automatic is the only transmission available for the LE trim.
Fuel economy doesn't vary much depending on the transmission, and averages 27 miles per gallon city and 34 mpg highway. These numbers aren't revolutionary in the compact category, and similar numbers are found on Corolla's bigger cousin, the Camry.
At a starting price of only $16,230 for the base L trim, the Corolla is extremely affordable. Throw in a 5-year/60,000-mile warranty and excellent resale value and the 2013 Corolla is a great vehicle in a segment full of competition. The opposition in the compact class includes the new Dodge Dart and Ford Focus. Although both offer more power and great looks, they have a heftier price tag. Another is the Hyundai Elantra, which has more aggressive styling and includes lots of features for the price.
Despite not achieving every podium spot in the segment, the 2013 Toyota Corolla still defines the term "basic transportation." While not sexy, swift or sporty, the Corolla is a reasonable way to get anywhere in comfort. Also, millions of happy Corolla drivers across many generations can't be wrong ... right?