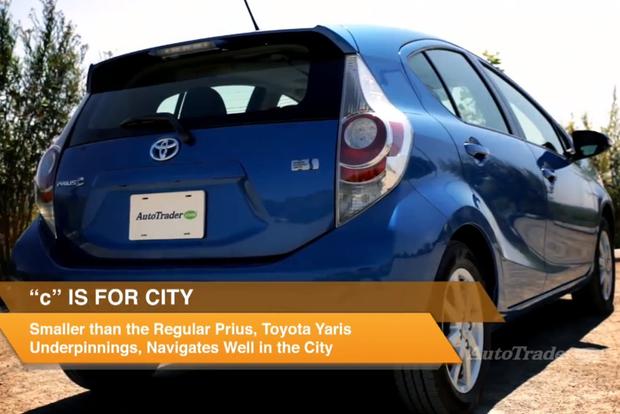 The 2013 Toyota Prius c is a smaller version of the standard Prius, and it's already a winner with hybrid buyers. Having shed some of the outer space styling of the regular Prius, the subcompact c hatchback still offers all the positive attributes you'd expect, including superior fuel economy, but at a lower price. Furthermore, with its Toyota Yaris underpinnings, the Prius c is nimble and concise, which helps it navigate well in city driving.
Simple Interior
There are four numerically branded trims to the Prius c lineup: One, Two, Three and Four. They all get iPod/USB and Bluetooth connectivity. Step up to trim Three and enjoy the Entune interface that links to your smartphone to deliver handy apps such as Pandora Radio.
The front seats are comfortable and offer good support. And, in the rear, there's adequate headroom and legroom, but knee room comes up a little short.
We found the instrument panel to be cleaner and simpler than that of the regular Prius spaceship layout, but we would have liked to see push-button start across all trims. The interior materials are a little lower in grade than the standard Prius, and the telescoping steering column could use more range.
Hybrid Drive
The front-wheel-drive Prius c uses an inline 4-cylinder gasoline engine teamed with two electric motors to produce 99 horsepower. A continuously variable transmission is the only gearbox offered. The Prius c can be driven as an electric vehicle only under light load.
In any case, the Prius c is clearly underpowered. And at full throttle, it emits a noticeable moaning. Plus, the no-frills Yaris chassis gives it a stiff ride.
But if you don't mind a little sluggishness and rigidity, fuel economy is where the Prius c really shines. How does 53 miles per gallon in the city sound? On the highway, the Prius c yields an impressive 46 mpg. All of this means far fewer trips to the gas pump.
Affordably Priced
The base price for the entry-level One is under $20,000. The top-shelf Four stickers for a shade over $23,000. For cross-shopping, you'll want to look at the Honda Insight, Honda CR-Z and the standard Prius.
The Final Ruling
The Prius c is pretty cool for a budget hybrid. It has outstanding fuel economy and a more "Planet Earth" appearance than its standard Prius cousin. It also has plenty of features to choose from. A little more power wouldn't hurt, but overall the 2013 Toyota Prius c is a stylish hatchback with a stingy fuel appetite and a sticker price to match.