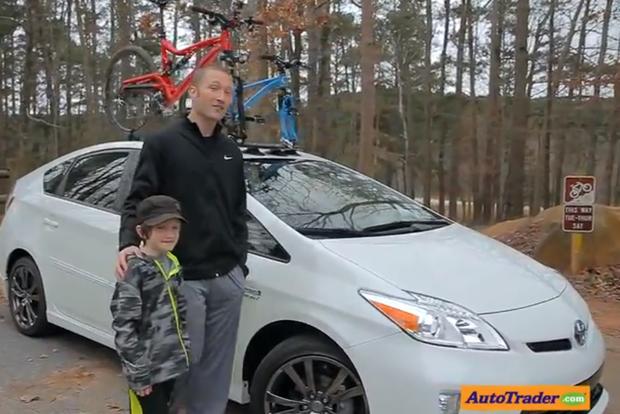 Considering the 2013 Toyota Prius gets 50 miles per gallon, its sub-$25,000 starting price seems like a real bargain. But how is the car in everyday circumstances, and what would you have to do if you wanted a car that gets better than 50 mpg?
Prius Options
The 2013 Toyota Prius comes in four trim levels: Two, Three, Four and Five. Two is the base model and it features 15-in alloy wheels with plastic covers, variable intermittent wipers, push-button start with driver keyless entry, cruise control, automatic climate control and a touchscreen audio system that provides control over some vehicle settings, along with iPod/USB and Bluetooth connectivity.

To see how the Prius holds up in the real world, we decide to take it out for a day of mountain biking.

Like most hybrids, the Prius uses a combination of a gasoline engine and an electric motor. The front-wheel-drive Prius is powered by the dynamic duo of a 1.8-liter gasoline inline-4 and an electric motor backed by a battery pack. Acceleration isn't brisk, but we don't think that's why people buy a Prius. Also, you can feel the car switching back and forth between gas and electricity; almost all hybrids do this, but with the current 2013 Prius, it's less intrusive than with other hybrids.
Technophile
We do like the tech inside the Prius. The diagram of the car that shows where power is flowing is really cool. We also like the on screen graphics that pop up when you hover over certain steering wheel mounted buttons. Also, the new Entune system, standard on the Prius Three on up, which uses your smartphone's data connection to send mobile apps straight to the Prius model's touchscreen interface. The system includes useful apps like Pandora Internet radio and OpenTable dining services.

To some, the shape of the Prius isn't the most attractive car around, but it's that shape that helps it get 50 mpg. Also, we tested the Sport version of the Prius and it's actually a very sharp looking car. The Prius also has a roomy interior, especially the back seat.

You could get better fuel economy than the Prius, but you might have to go to extremes. For example, Mike Turner has a modified 1992 Honda Civic that he says gets 80 mpg in the summer. Of course it lacks basic creature comforts and is odd looking at best.

Ultimately, the Toyota Prius is a state of the art hybrid that asks for few compromises compared to a more traditional car. If you really want the most miles per gallon, the 2013 Toyota Prius has to be on your shopping list.