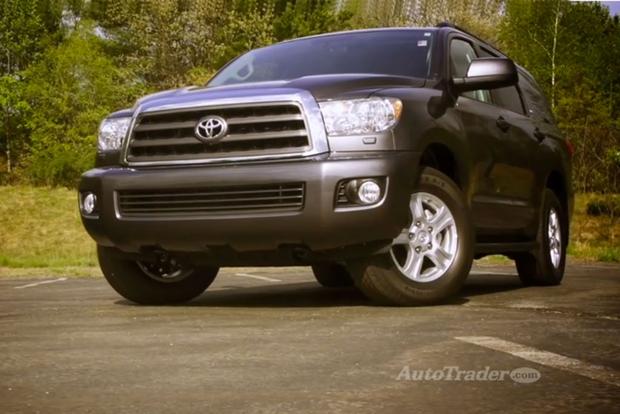 If bigger really is better, there aren't many full-size SUVs on the road bigger or better than the 2013 Toyota Sequoia. For 2013, the Sequoia surpasses the size and roominess of its closest rivals. And that's just the beginning.
Large and In Charge
One look at the Sequoia and you can see its exterior dimensions are jumbo-sized, but the Sequoia is more than just about large proportions. Offered in three trim levels -- SR5, Limited and Platinum -- the list of standard equipment and optional features makes each level easy to personalize. Be prepared to be a bit overwhelmed with the Sequoia's premium-level cabin. For 2013, the Sequoia can be had with a Toyota-first Blu-Ray rear-seat entertainment system, which takes passenger enjoyment one step past the conventional DVD setup.
We also highly recommend the Toyota Entune system that's standard on the Platinum trim and optional otherwise. In addition to voice-activated navigation, Entune gives you access to local fuel prices, sports, stocks, traffic and weather.
With all the Sequoia's available features and technology, the instrument panel is immense, but that can be a drawback for the driver, making some controls so far away, they're actually hard to reach.
However, in terms of roominess, the Sequoia delivers fully. Passenger comfort is elevated to the max thanks to an incredibly spacious and airy cabin. And with the rear seats folded out of the way, there's a remarkable 120 cu ft of cargo volume.
Trucklike Power and Performance
Under the hood, the Sequoia is powered by a 381-horsepower, 5.7-liter V8 mated to a 6-speed automatic transmission. Energy channels either to the rear wheels only or through a very capable 4-wheel-drive system with low-range gearing for off-roading. And the steering is light, which helps with maneuvering this big rig. The Sequoia also has a 4-wheel independent suspension, so it soaks up bumps nicely. But it is a big, broad hauler, so in tight urban driving you have to be alert.
Like any other big truck, this V8-powered SUV drinks a lot of gasoline. Environmental Protection Agency estimates are 13 miles per gallon city/18 mpg hwy in rear-wheel-drive and 13 mpg city/17 mpg hwy in 4-wheel-drive. So, if fuel economy is important to you, the Sequoia may not be your first choice.
But the Sequoia comes in strong on the safety front. It offers Toyota's Star Safety system with vehicle stability control, an available blind spot monitoring system and a plethora of airbags across all three rows.
Hefty Sticker
All of this SUV goodness comes at a price. The Sequoia SR5 has a base sticker of $42,455, and the upmarket Platinum trim with 4-wheel drive begins at an eye-opening $63,070. The Sequoia is most commonly cross-shopped against the Chevy Tahoe, Ford Expedition and Dodge Durango. All three competitors are worth test drives.
The Full-size Answer
The 2013 Toyota Sequoia is a truck-based, full-size SUV that's ideal for anyone who enjoys moving lots of people and lots of cargo in total comfort. In other words, it is the ultimate family road-trip vehicle. Yes, it might be both pricey and thirsty, but it aptly delivers on all its big promises.