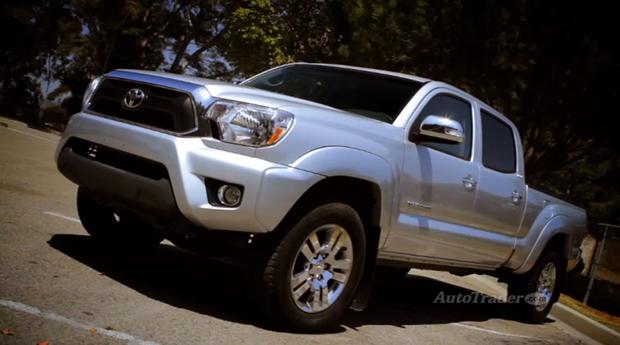 Toyota may be one of the most experienced manufacturers in producing pickup trucks that can pull double duty as a family hauler. The 2013 Toyota Tacoma is a prime example. While it can be dressed for off-road trail duty (the TRD T/X Baja Series, for example), it can also be outfitted for more practical daily transportation (e.g., the Tacoma Double Cab).
Lots of Variety
The key to Tacoma's versatility is its plethora of configurations: Standard Cab, Access Cab, Double Cab, long bed, short bed, 2- and 4-wheel-drive models, and option packages, including TRD Sport and TRD Off-Road. This able-bodied pickup can be many things to many people. Last year, the Tacoma received a restyled front treatment along with a spruced up interior, but overall there aren't many big changes to be found to its tried-and-true formula. As the old adage goes, "if it ain't broke, don't fix it."
A Well-Designed Cab
Behind its doors, materials are as good as you'll find in any truck in its class. That said, there are plastic surfaces everywhere you look. Although the front seats are comfortable and offer good support, some may think they're too low to the floor. In the back, the jump seats in the Access Cab will give kids an adequate place to sit. If you're regularly transporting adults, however, the rear seat of the Double Cab is clearly the better choice.
Plan on spending some time going through the lengthy list of extras and add-ons, such as sport seats, a rearview camera and electronic goodies, including an upgraded 7-speaker display audio system with navigation, satellite radio and Toyota's Entune smartphone interface.
Capable and Strong
Under the hood, there's a choice of 4- or 6-cylinder power. The 2.7-liter inline 4-cylinder is good for 159 horsepower and 180 lb-ft of torque, while the 4.0-liter V6 delivers a robust 236 hp and 266 lb-ft of torque. Depending on the model, the Tacoma can be fitted with either a 5- or 6-speed manual gearbox or 4- or 5-speed automatic transmission. Completing your drivetrain choices are 2- or 4-wheel-drive configurations. And properly equipped, the Tacoma can tow up to 6,500 pounds of trailer. The brakes are our only real concern. They feel a little soft and uninspiring for a big, strong truck.
As you might expect, fuel economy is at its best with the rear-wheel-drive 4-cylinder Tacoma, while the V6 4-wheel-drive models prove to be thirstier. Tacoma's overall miles per gallon range spans from 21 mpg city/25 mpg hwy down to 16 mpg city/19 mpg hwy.
Broad Price Range
With so many choices, what you'll pay comes down to what you want your Tacoma to be. The Base Tacoma Regular Cab 4-by-2 starts at $17,625 before options. On the other end, the V6 Double Cab 4-by-4 has a base sticker of $26,805. About the only head-to-head competitor for the Tacoma is the Nissan Frontier. Both of these midsize workhorses match up pretty well and should be driven back-to-back for a true comparison.
The Last Word
With its varying cab configurations, bed lengths, trim packages and optional features, the Tacoma plays to a large audience, and does so in good fashion. While we'd like to sit a little higher and feel more confident when on the brakes, there's still plenty to like about the 2013 Toyota Tacoma. In fact, it's downright impressive. Consumers looking for a good, solid, everyday truck owe themselves a test drive.