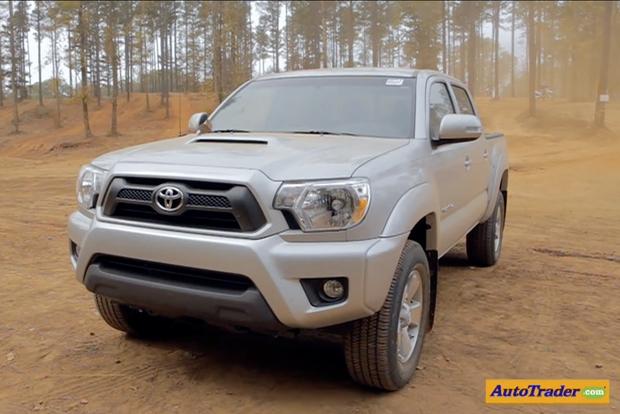 At first, it might seem easy to put a pickup to the test; take it off road, tow something and maybe check out the payload. But what if you want a truck to do all that and serve as the family car too? Not everyone can afford a sedan for the family and a truck for fun. We think the 2013 Toyota Tacoma just might be able to do it all. So to truly put it to the test, we put the Tacoma up against a purpose built, V8 powered rock crawler--and a family of vehicle testers.
In order to handle the family hauling duties, we opted for a Tacoma Double Cab--that's just Toyota's way of saying four-doors. To keep the cost down, we decided on a Tacoma Pre-Runner. That means it's a two-wheel drive truck but with the raised ride height of a 4x4. We did opt for the more powerful V6 to maximize hill climbing and towing capabilities, but it does get lower fuel economy compared to the 4-cylinder version of the Tacoma.
Our test vehicle also has the TRD Sport Package, which adds $3,200 to the V6 Double Cab Pre-Runner's $24,500 base price. The TRD Sport Package includes 17-inch alloy wheels, upgraded Bilstein sport shocks, a hood scoop, fog lights, keyless entry, sport seats, a leather wrapped steering wheel and few other cosmetic enhancements.
For those who are serious about off-roading, the TRD Off-Road Package takes it to the next level with an off-road tuned suspension, a locking rear differential, beefier BF Goodrich tires and similar upgrades to the TRD Sport. The TRD Off-Road Package costs $3,345.
There are so many ways to configure a Toyota Tacoma, you really review all of the options before arriving at the dealership, to figure out what you really need. Standard cab, Double Cab, long-bed, short-bed, two and four-wheel drive and various option packages in addition to the TRD Sport and TRD Off-Road packages are just a few of the choices Tacoma shoppers are faced with.
Ultimately, we feel like the 2013 Toyota Tacoma did a great job of handling all that we threw at it. Even when equipped with two-wheel drive, it does remarkably well off road. It also tows with composure and has a comfortable and roomy interior (when you opt for the Double Cab). Check out the video to see how the Tacoma fares when compared to a purpose built rock crawler.