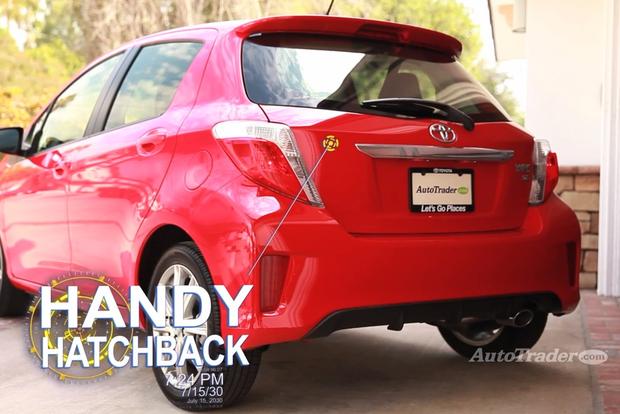 The 2013 Toyota Yaris may be one of the most affordable cars on the market, but there's more to this hatchback than just the bottom line. If you spend quality time with the Yaris like we did, you'll find it's full of pleasant surprises. Whether you're looking for practicality, fuel efficiency or even a little fun, the Yaris is an unexpected treat. Here are five reasons why Toyota's subcompact is worth your while.
1. Handy Hatchback
The Yaris is offered only as a 2- or 4-door hatchback, and that's a good thing. Let's face it: Hatchbacks are just more practical. The trunk offers more than 15 cu ft of space, which is about the same as the midsize Camry sedan. Flip the seat backs down and you've got some serious hauling ability, whether you're moving to a new city or just bringing stuff home from Ikea. It's like having a little crossover SUV, except the Yaris fits into tiny parking spaces, too.
2. Excellent Fuel Economy
Surprise, surprise: The Yaris is great on gas. It gets an amazing 30 miles per gallon city, while the 5-speed manual transmission returns 37 mpg hwy to the 4-speed automatic's 36 mpg. In other words, Yaris drivers should average over 30 mpg no matter what kind of driving they do. That's a rare feat, especially for a nonhybrid.
3. Cool Standard Stereo
Unlike almost every other economy car, the Yaris comes standard with a stereo that really cranks. Toyota's Tech Audio system includes six speakers, satellite and HD radio, Bluetooth with streaming audio and a USB port for your MP3 player or smartphone. Most subcompacts come with a bare-bones stereo that's begging for an upgrade, but the Yaris is ready for your tunes right out of the box.
4. Sporty Styling Touches
The base Yaris already comes with a 3-spoke, flat-bottomed steering wheel, but the SE model really ups the ante with fog lamps, a mesh grille insert, a rear spoiler, sport seats and a sport-themed instrument package with a digital information display. Whereas the typical subcompact car is strictly a commuter appliance, the Yaris SE's sporty flourishes give the car a little personality.
5. Fun to Drive
The SE naturally grabs all the headlines with its sport-tuned suspension, but even the base Yaris is more nimble and responsive than we'd expect. Any economy car will get you from point A to point B, but the spunky Yaris can make the drive a bit more interesting. As any racer will tell you, it's more fun to drive a slow car fast than a fast car slow, and a spirited drive in the Yaris can be a legitimately good time.
AutoTrader's Advice: The 2013 Toyota Yaris hits most of the right notes for a modern subcompact, and it does so for a great price. Try one out and see if you're as pleasantly surprised as we were.