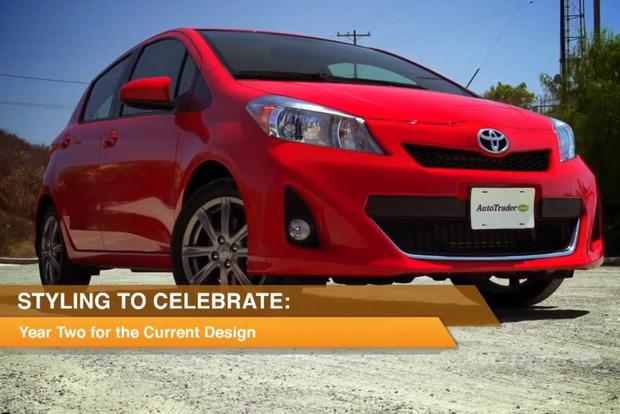 Last year, the subcompact Toyota Yaris received a total redesign with improved styling, added features and a more enjoyable overall driving experience. The 2013 Toyota Yaris maintains all of those upsides, and we found a few more to celebrate. The Yaris may be Toyota's smallest, most inexpensive car, but we think it's more appealing than your typical, boring low-end entry model. And it comes as a 3- or 5-door lift-back.
Impressive Interior
The best part of the Yaris interior is the people space. Toyota has made both the front- and rear-seat accommodations roomy enough for all four occupants and their stuff with more than 15 cu ft of cargo space behind the back seat.
The quality of the materials is better than what cars in this price segment usually give you. The plastic surfaces have an appealing texture, and the dashboard and instrument panel are well-configured. In addition, we like the standard iPod, USB and, now, Bluetooth hookups, along with the 6-speaker stereo. Unfortunately, there's no telescoping feature on the steering column, so taller drivers will have a long reach to pilot the car.
Modest Drive
The Toyota Yaris has one engine across the board, a 1.5-liter inline-4 making just 106 horsepower and 103 lb-ft of torque. So if you're looking for speed, look elsewhere. On a related note, the engine can generate a lot of noise when accelerating. A 5-speed manual transmission is standard, and a 4-speed automatic is optional. We urge you to skip the automatic. With only four gears, it falls short of the competition.
Otherwise, the Yaris is a fairly entertaining car to drive. The steering responds well, and the cornering is crisp and steady. Unfortunately, the Yaris doesn't absorb rough pavement very well.
In terms of mileage, there's barely any difference between the two transmissions. The Yaris yields 30 miles per gallon city/37 mpg highway with the manual and 30 mpg city/36 mpg hwy with the automatic.
Budget Sticker
The $14,370 base price is friendly to just about any new-car budget. But the Yaris has some formidable competitors in this segment, such as the Chevrolet Sonic, Kia Rio and even the Toyota Prius c.
End Notes
It's small on the outside and big on the inside, with lots of standard features and good fuel economy. Get yours with the 5-speed manual. You won't get exhilarating performance or the smoothest ride, but Toyota's legendary reliability is yours for the taking. Factoring in all the pros and cons, we still think the 2013 Toyota Yaris could win you over.