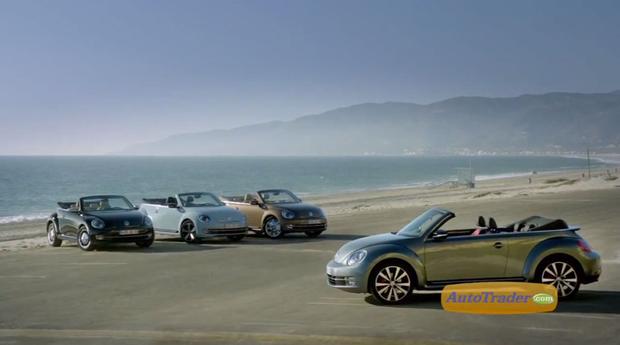 One of the friendliest people cars in history, the VW Beetle has enjoyed a long and eventful history since it was introduced after World War II. Now, the 2013 Volkswagen Beetle Convertible is writing another chapter in the ongoing biography of the Bug.
The styling of the redesigned 2013 Beetle Convertible borrows from the original 1949 Type 1 Beetle. Several trim levels are available, each representing a different throwback era in Beetle history -- including the uber-popular 1950s-style Beetle, a 1960s edition and the retro-themed 70s trim, offering very appropriate exterior and interior color combinations. The 2013 Beetle Convertible offers reinforced A-pillars and an Automatic Rollover Support System that deploys two rollover bars automatically if the Beetle takes a tumble for the worst. Unlike any of the previous generations, the 2013 model has a fabric electric top that can be raised or lowered in only 10 seconds while you're driving at speeds of up to 31 miles per hour. I don't believe the first generation could even accelerate up to 31 miles per hour in 10 seconds!
All 2013 VW Beetle Convertibles come standard with lots of features, including leatherette seats, an 8-speaker audio system and Volkswagen's Media Device Interface, which includes an integrated iPod cable. Premium recommended audio options include the touchscreen HD radio, which should be paired with the powerful Fender-branded audio system.
None of the three engines available for the 2013 Beetle Convertible are sluggish by any means. They include the base 2.5-liter, 170-horsepower inline 5-cylinder, a 200-hp 2-liter turbocharged gasoline-powered motor and a 2-liter turbodiesel. Three transmissions are available, as well, depending on the engine, and include a contemporary automatic for either the 2.5-liter or the turbodiesel, a 6-speed manual for either of the turbocharged motors and a dual-clutch Direct Shift Gearbox (DSG, for short) on just the 2-liter turbocharged gas-powered motor. Finally, all drivetrain combinations come with a 5-year/60,000-mile warranty.
Competition is more stiff now than when the Beetle hit the roads over 70 years ago, and includes the Mazda MX-5 Miata and the MINI Cooper convertible or roadster. Even though both lean more toward all-around performance than the Beetle, neither offers a diesel engine for a great combination of power and economy. Also, since the 2013 VW Beetle Convertible has a starting price of $24,995 and a fully loaded price of around $32,000, many of the vehicles, both new and used, may fit your personality or needs a little better.
Enthusiasts love the new 2013 Volkswagen Beetle Convertible, since it continues to be the purest among a wide range of wannabes. But, even for those not looking for an icon, the Beetle Convertible is a great combination of economy and fun.