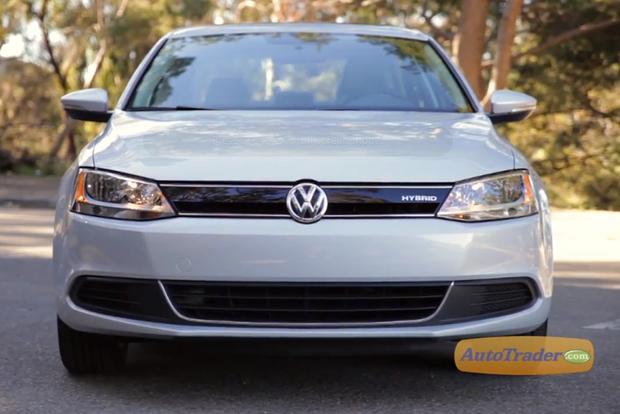 Hybrid vehicles have been something of a craze, but the new 2013 Volkswagen Jetta Hybrid takes a proven vehicle with mainstream success and converts it into one that breaks from the "car from outer space" look that the Toyota Prius and Honda Insight have been accused of sporting.
Even though the 2013 Jetta Hybrid looks pretty much like a conventional Jetta on the outside, it has an updated front grille and some chrome badges. The interior, however, is nothing but upscale and includes the same classy material used in the top-of-the-line gasoline Jetta GLI.
Technology is expected in a hybrid vehicle, but there have been complaints about the large Power Meter, which is puzzling for many. With confusing diagrams that make it hard to tell which power mode you're running on, plus a needle that constantly bounces around, the standard Bluetooth connectivity with audio streaming will be of more interest than miles per gallon.
Under the hood, the Jetta Hybrid offers a 1.4-liter turbocharged 4-cylinder engine, which is mated to a 27-horsepower electric motor for a total of 170 hp. The only transmission available for the Hybrid is a wonderful 7-speed dual-clutch DSG. With this combination, you will forget the potentially large fuel economy numbers. The Jetta Hybrid feels quick and nimble, as the front-wheel-drive vehicle has plenty of power and the steering responds to the slightest input.
The problem with driving the 2013 Jetta Hybrid aggressively is the brakes can't keep pace with the vehicle's ability to get-up-and-go. But, since this is a hybrid, expected mileage is 42 miles per gallon city and 18 mpg highway. Plus, even the Hybrid version of the Jetta has the same 5-year/60,000-mile powertrain warranty as that of the other standard gasoline Jetta models.
Prices for the 2013 Jetta Hybrid start at just $24,995. Since the Jetta Hybrid is so dynamic, the competition includes the Toyota Prius and Prius c when comparing gas mileage and the new Ford C-Max Hybrid when looking at performance and handling.
If you want a vehicle with an attractive and upscale look, excellent performance and handling, and the possibility of over 40 mpg, the 2013 Volkswagen Jetta Hybrid is the perfect combination -- and would be even if it wasn't a hybrid!