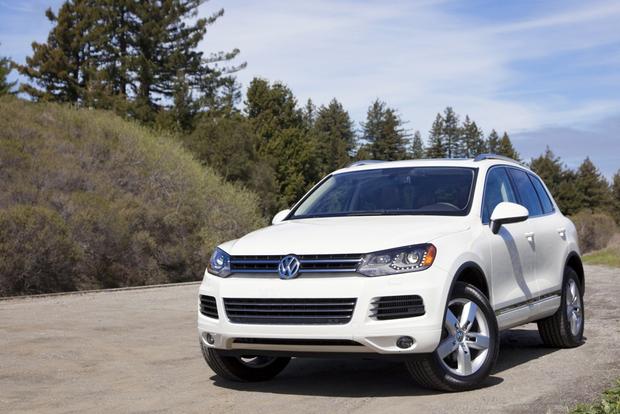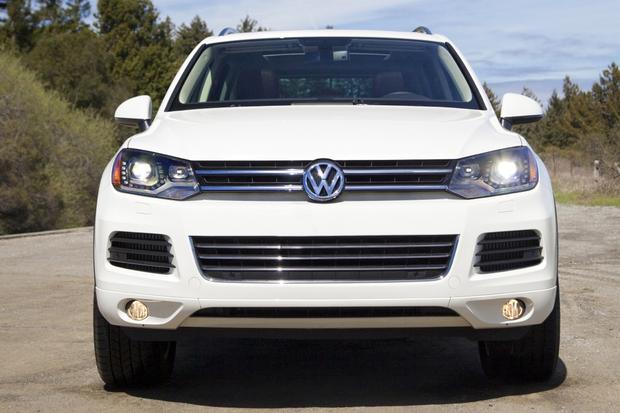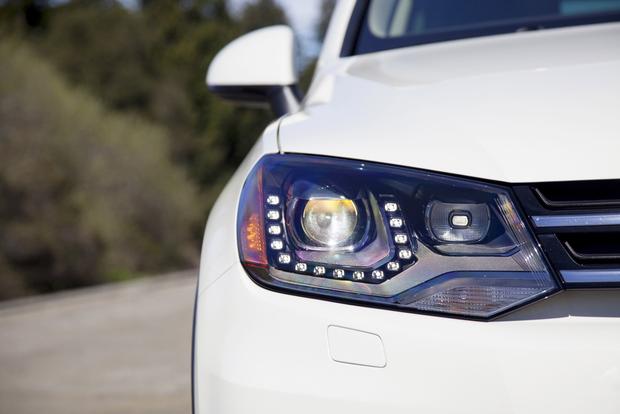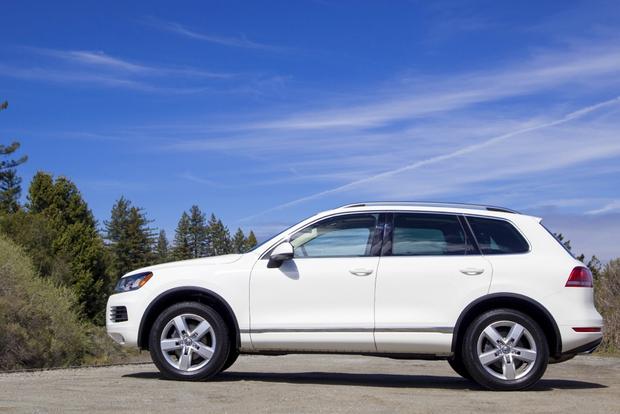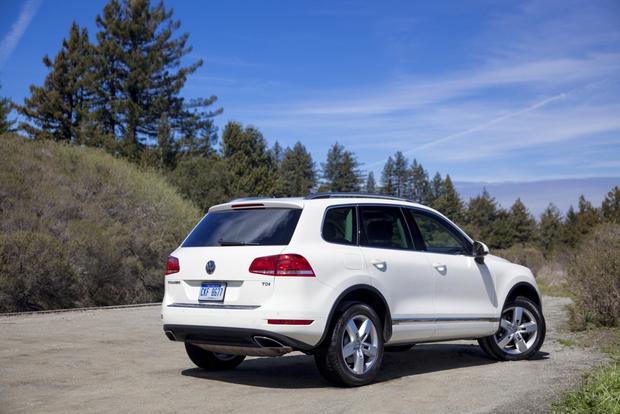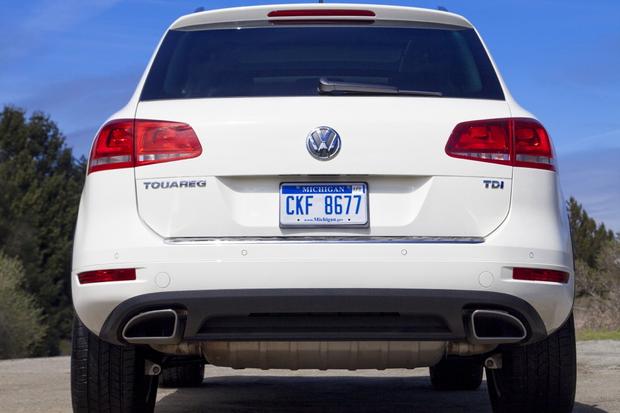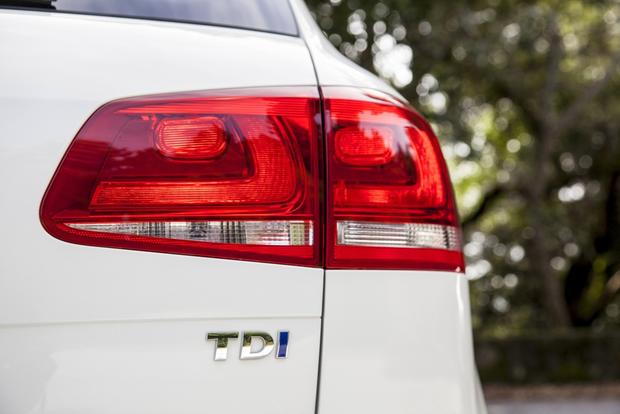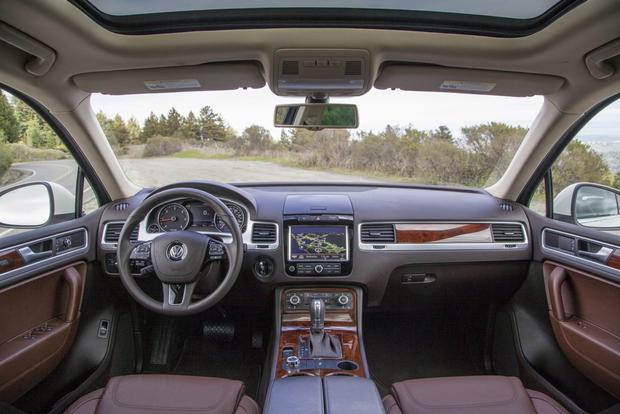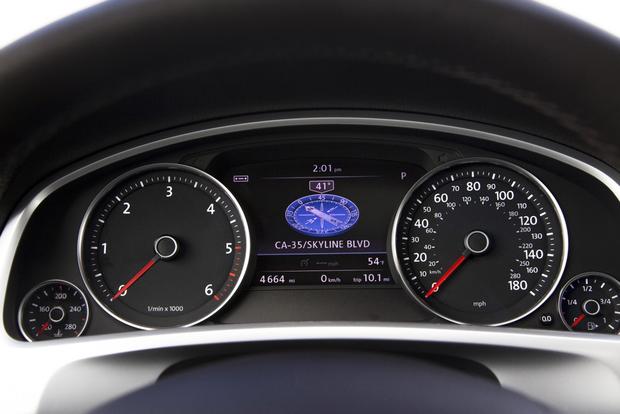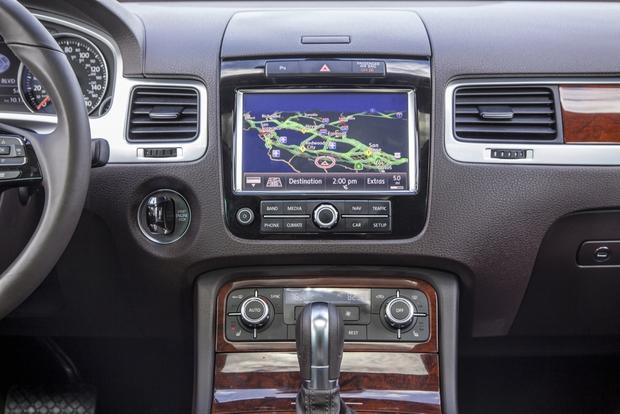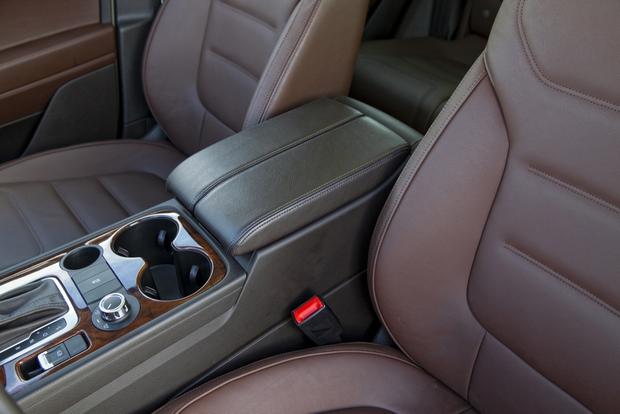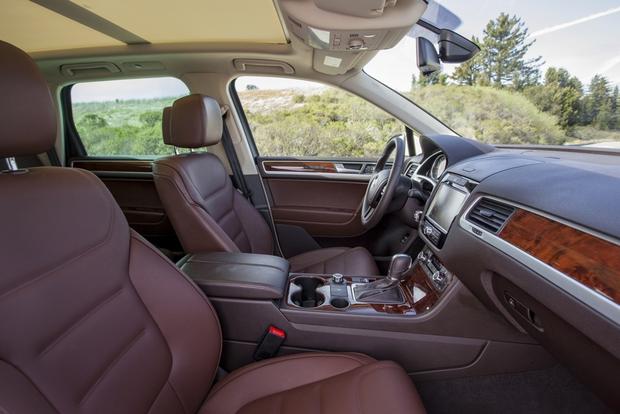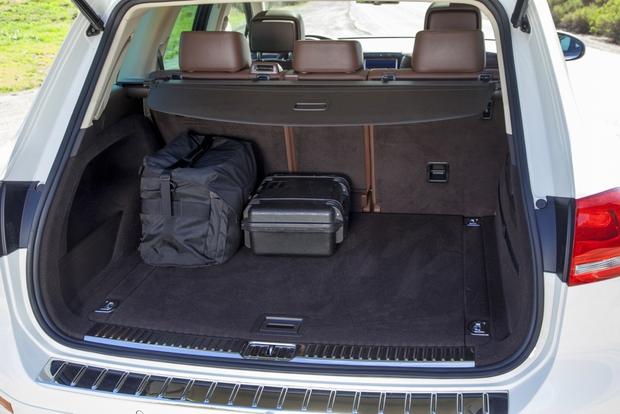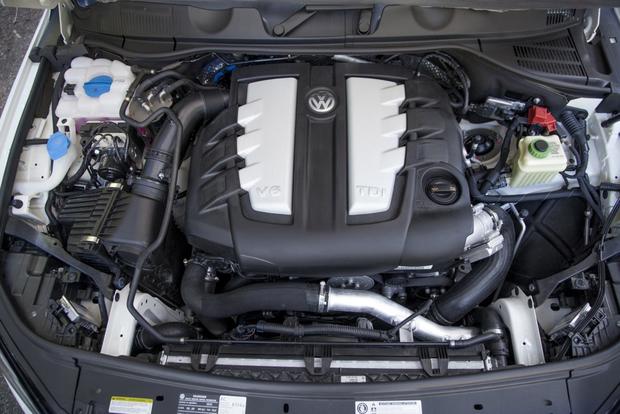 Pros: Strong and efficient turbodiesel V6; premium interior; accommodating back seat; driver's-car handling; unflappable high-speed composure; exclusive 10-year powertrain warranty.
Cons: Firm ride; transmission's shifts could be smoother; limited cargo space for a midsize SUV.
What's New: The only significant change for 2013 is a 15-horsepower bump for the Touareg TDI, which also finds a little extra fuel economy.
Introduction
Calling a $43,000-plus crossover a bargain might seem like a stretch, but that's exactly what the 2013 Volkswagen Touareg represents. Underneath, the Touareg features a platform that was jointly engineered with Audi and Porsche, who use it for the Q7 and Cayenne, respectively. So the Touareg gives you a truly world-class foundation, and it does so for many thousands less than those premium brands.
In fact, the Touareg even has a leg up on its counterpart from Audi. Since the original version of this shared platform was weighed down by unnecessary off-road hardware, Volkswagen and Porsche have switched to a modified second-generation platform that's considerably lighter and more agile. But Audi, for reasons that aren't entirely clear, has stuck with the original setup. Accordingly, the Touareg TDI, which shares the Q7 TDI's diesel engine, is faster, nimbler and more fuel-efficient than the much pricier Audi in real-world driving.
Sibling rivalry aside, the 2013 Touareg is simply an immensely satisfying vehicle to drive. It's equally at home on freeway slabs and washboard roads, traversing the terrain of your choice with supreme confidence. The interior is laid out in no-nonsense fashion, yet there's still a sense that you're driving something special. And with the back seat's elevated bench and copious head- and knee-room, the Touareg also happens to be one of the best vehicles we can think of for covering long distances with four adults.
Throw in the Touareg's exclusive (for Volkswagen) 10-year/100,000-mile powertrain warranty, and you're looking at a crossover without compromise. If you're shopping at this price point, or even at considerably higher price points, get yourself to the nearest VW dealer and take a spin in Volkswagen's bargain SUV.
Comfort & Utility
The 2013 Volkswagen Touareg is offered in three trim levels: Sport, Lux and Executive. These trims apply to both available engine choices (VR6 and TDI). There's also a separate, limited-production Hybrid model.

The entry-level Touareg Sport comes with 18-inch alloy wheels; roof rails; Xenon headlights with LED accents; fog lights; a power tailgate; a leather-wrapped multifunction steering wheel with tilt/telescopic adjustability; 8-way power-heated front seats; a sliding and reclining back seat; leatherette upholstery; Bluetooth connectivity; dual-zone automatic climate control; and an 8-speaker audio system with a touchscreen interface, 6-CD changer, iPod integration, SD-card reader and satellite radio. Optional on Sport is a hard-drive-based navigation system with digital music storage and an 8-in display, as well as parking sensors.
The Touareg Lux starts with the navigation-equipped Sport's features and adds 19-in alloy wheels; a panoramic sunroof; heated exterior mirrors; wood grain interior trim; 12-way power front seats with adjustable lumbar and driver memory functions; leather upholstery; and power-folding rear seats.

The Touareg Executive tacks on 20-in alloy wheels, a heated steering wheel, heated rear seats, keyless entry with push-button ignition and a 620-watt Dynaudio sound system.

The Hybrid mostly shares the Lux's equipment roster but gets special Vavona wood trim that's shared with the Executive.
The Touareg's interior is typical Volkswagen: simple, no-nonsense and full of high-quality materials. Some rivals may have a more luxurious feel inside, but we're charmed by the Touareg's excellent ergonomics and unpretentious character. The emphasis here is on functionality; for example, the driver's seat doesn't look like much but offers an amazing range of height adjustability, and the bottom cushion tilts independently. We do appreciate the panoramic sunroof, though, for bringing some welcome light and warmth to this rather austere cabin.
The Touareg's back seat is one of the best in the business. It offers 6.3 inches of fore/aft travel, and the seatbacks recline to help tired passengers catch a few Zs. What's more, its bottom cushion is nice and high, so thigh support is superb, and there's plenty of foot room under the front seats.
Although that sliding back seat makes the most of the Touareg's cargo space, there's ultimately not much of it by mid-size crossover standards. The area behind the back seat, measuring at 32.1 cu-ft, is competitive, but most vehicles this large can do better than 64 cu-ft with the rear seatbacks folded. At least the folding process is a breeze thanks to conveniently located power switches on the sides of the cargo bay.
Technology
A USB port is not available in the Touareg, so if you're used to carrying your MP3s around on a USB jump drive, you'll have to switch to an SD card. Moreover, your USB-compatible MP3 player will have to make do with a rudimentary auxiliary input instead. But an iPod hookup comes standard, so Apple aficionados are in luck.
Other than the missing USB port, there's little to complain about on the technology front. We're fans of the navigation system, which boasts a huge display and an exceptionally straightforward touchscreen interface. Once you've got your MP3s hooked up, every Touareg does a great job of navigating through music folders and generally making your mobile listening experience a pleasant one. It's a shame the crisp Dynaudio sound system isn't more widely available, though, as it's a serious upgrade over the base system.
Performance & Fuel Economy
All Touareg models come with all-wheel drive and an 8-speed automatic transmission. The mainstream models offer a choice of two engines.
The V6 models carry the 3.6-liter VR6 engine (VW's name for its narrow-angle V6) with 280 hp and 265 lb-ft of torque. We really like this engine in the Passat and CC sedans, but the Touareg V6 weighs over 4,700 lb, so acceleration here is unremarkable.
A better solution for a heavy vehicle like the Touareg is a diesel and, happily, the Touareg TDI features one: a 3.0-liter turbodiesel V6 rated at 240 hp and 406 lb-ft of torque. The torque figure is the notable one, as it allows the Touareg TDI to accelerate aggressively in short bursts, making quick work of passing and merging maneuvers. It's a refined engine, too, with minimal clatter. Your passengers probably won't know it's a diesel unless you tell them.
As for the limited-circulation Hybrid, it rolls with a 3.0-liter supercharged V6 that's paired with an electric motor and a nickel metal-hydride battery pack. The transmission is the familiar 8-speed automatic. As you'd expect of a vehicle with 380 hp and 428 lb-ft of torque, the Hybrid is quite fast, 2.5-ton curb weight notwithstanding. Being a proper dual-mode hybrid, this VW can technically accelerate to 30 mph solely on electric power, and its gas engine shuts off automatically during light throttle applications.
Disappointingly, the Touareg's 8-speed automatic often makes its presence felt in the form of less-than-smooth shifts; we expect creamy smoothness at this price point. We also expected better fuel economy from the Touareg V6, which checks in at an EPA-rated 17 mpg city/23 mpg highway. The Touareg TDI is considerably better at 20/29 mpg (up from 19/28 mpg last year), an impressive achievement for such a heavy, torque-rich crossover. The Hybrid's 20/24-mpg rating makes us wonder why anyone would choose it over the cheaper, more frugal TDI.
Safety
The Touareg comes with standard stability control, 4-wheel anti-lock disc brakes and six airbags (front, front side and full-length side curtain).
The government hasn't crash-tested this Touareg, but the independent Insurance Institute for Highway Safety (IIHS) awarded the Touareg its highest rating of Good in every testing category.
Driving Impressions
Other than the BMW X5, there's not a mid-size crossover that we enjoy driving more than the Touareg. The driving position is brilliant, boasting great visibility all around and a perfectly placed footrest. The compact 3-spoke steering wheel controls perhaps the most responsive steering in any SUV, which is not surprising given the Touareg's Porsche DNA.
This VW loves high-speed cruising, but it's equally at home on the dirt, where its long-travel suspension eats up whoop-de-dos like a Baja off-road racer. The only potential demerit involves its firm ride, which is basically the opposite of the sofa-like experience of the Mercedes-Benz M-Class. The previous Touareg had an available air suspension that smoothed things out, but that option has been discontinued.
Other Cars to Consider
BMW X5 - The X5 is older and more expensive, but it has a thoroughly up-to-date roster of engines. There's also an available third-row seat.
Infiniti FX - If you think of the Touareg as a driver's SUV, you have to consider the sporty FX a competitor. Based on the same platform as the G sport sedan, the FX is a hoot to drive and offers an available V8 with serious speed.
Mercedes-Benz M-Class - The new M doesn't look that special, but it has a creamy-soft ride and a much-improved diesel drivetrain.
AutoTrader Recommends
We think the Touareg TDI is the no-brainer choice here. It's genuinely fun to drive. And 29 mpg on the highway? Are you kidding? We think it's one of the best all-around vehicles in the world.