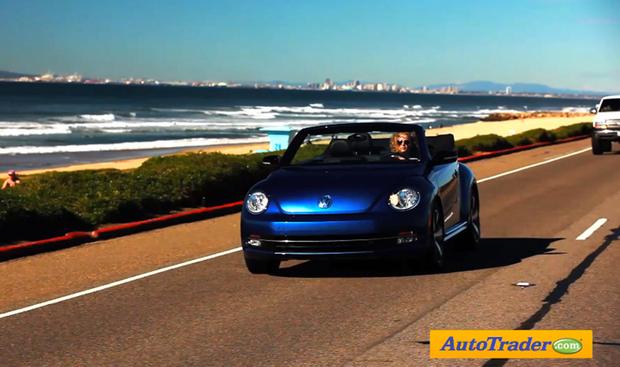 If you want affordable fun in the sun, good luck -- right? Convertibles are expensive these days. But the all-new 2013 VW Beetle Convertible starts around $25,000, and it's a blast to drive. Here are five reasons why the Beetle is one of the best drop-top values around.
1. Great Engines
If you stick with the base model, you'll have a fun 5-cylinder engine that accelerates well and makes cool noises, too. But you can also opt for a powerful 2.0-liter turbo that's borrowed from the sporty GTI. You can even get the torque-rich TDI diesel engine, making this the only diesel-powered drop-top on the market. No matter which way you slice it, the Beetle Convertible's got motor.
2. "Drives Expensive"
Most affordable convertibles leave something to be desired from behind the wheel, but not the 2013 VW Beetle. With the top up, wind noise is minimal; and no matter what the top's doing, the Beetle is smooth, solid and responsive on the road. We know it's a cliche, but the Beetle really does have that extra something that sets good German cars apart. You feel special driving this car, and that's certainly not the case with every sub-$30,000 convertible.
3. Easy-Folding Top
The Beetle Convertible's soft-top mechanism couldn't be simpler. Just press a switch and watch as the top folds down in only ten seconds. It's so quick and easy that you can do it on the fly at a stop light. Plus the Beetle's top secures itself, so there's no need to get out and install a separate tonneau cover as in, say, a Chevy Camaro.
4. Good on Gas
The Beetle TDI can return well over 40 miles per gallon on the highway, but the 2.0-liter turbo is no slouch either -- it's rated by the Environmental Protection Agency (EPA) at up to 30 mpg hwy. So you can have it both ways: economy-car efficiency with the wind in your hair. And don't worry about any drop off in real-world fuel economy, because we know from experience that these two motors actually tend to outperform their EPA estimates.
5. Room for Friends
You could get a Mazda MX-5 Miata for the same price, but are you sure you only need two seats? The Beetle Convertible is a legitimate 4-seater, so there's room for you and your crew. You know it's true: a convertible's no fun if your friends can't have none.
With the redesigned Beetle Convertible, VW's got the next big thing in affordable convertibles. What are you waiting for? Put the top down and take one for a spin.