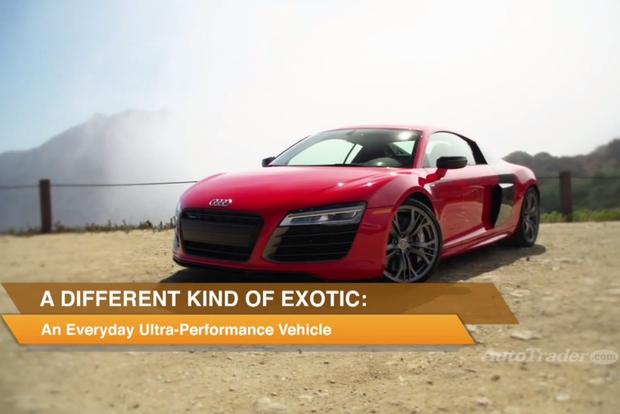 Any one of a dozen manufacturers can build an exotic sports car with enormous amounts of power and performance. But building one that you can drive every day is a whole different story. That's what makes the 2014 Audi R8 a more practical kind of exotic.
After a 1-year hiatus, the R8 coupe and convertible spyder have received mild exterior refreshes for 2014 that maintain their supercar curb appeal. But we think Audi could have been more aggressive with the updates. The look is sleek but maybe too understated for a high-end sports car such as this.
Snug and Sophisticated Cockpit
The cabin is certainly upscale, and the instruments and controls are well laid-out. The Audi Multi-Media Interface is one of our favorite systems. It handles audio, navigation and several other electronic features. But one small issue is the awkwardly placed phone attachments just behind the center console.
Overall, the cockpit-like interior is comfortable, but there isn't much passenger room to spare. And be aware, there's only about 3.5 cu ft of trunk space -- a price you pay when buying a mid-engine performance car.
Performance Galore
Engine choices for the R8 include a 4.2-liter V8 yielding 430 horsepower and 317 lb-ft of torque, and a 5.2-liter V10 with 525 hp and 391 lb-ft of torque. There's also a V10 Plus that boosts output to a thunderous 550 hp.
The R8 is offered with a conventional 6-speed manual gearbox, or you can go with the new 7-speed dual clutch automated transmission, a big improvement over the previous automatic. Of course, Audi's signature Quattro all-wheel drive is standard.
No matter how you equip the R8, it serves up impressive acceleration. The R8 V10 will get from 0 to 60 in a blurring 3.5 seconds with a top speed of 198 miles per hour.
You won't get economy-car fuel efficiency, but in the world of exotics it's far from a fuel-burner. On the more conservative end, the 4.2-liter engine paired with the 7-speed automatic will yield 14 miles per gallon city/23 mpg highway. Not bad, but it's downhill from there.
For Deep Pockets Only
Frugality is usually not a concern, however, for anyone looking to buy an R8. This is a 6-figure exotic with prices starting at around $115,000. A top-level V10 can push close to $180,000 before extras. Other high-performance machines such as the Lamborghini Gallardo, Nissan GT-R and Porsche 911 are all fair comparisons to the R8.
The Final Say
The 2014 Audi R8 has all the tools when it comes to performance and high-end accommodations. Although no car is perfect, this one delivers impressive performance, snug comfort and a luxe-level quality of workmanship that's hard to resist. But you have to be able to afford one first.