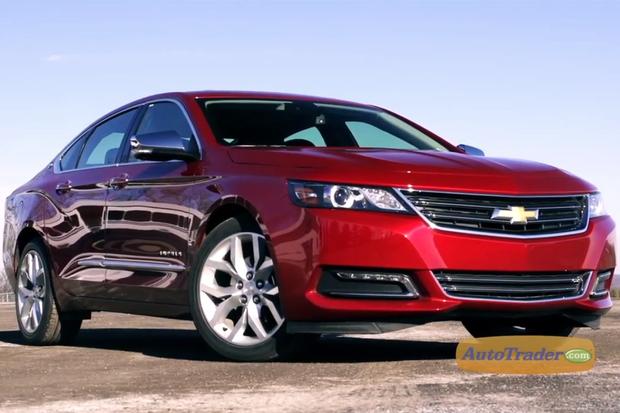 AutoTrader.com spent some quality time with the new 2014 Chevrolet Impala. Chevrolet invited us to get behind the wheel of the new Impala at GM's Proving Grounds in Michigan.

The exterior look of this this car implies that the new Impala is a huge step up from the current car and it is. This is especially true inside the Impala - the dash, seats, buttons, switches and gauges look and feel like they've been engineered to a higher standard than any Chevy in recent history. That higher standard inside is followed up mechanically - we got behind the wheel of an LT and an LTZ, one with the 2.5 liter, four-cylinder engine and the other with the 305 hp V6. We did not get to drive the eAssist mild hybrid version, but have driven other eAssist sedans from Buick and Chevrolet. No matter what you want from a full size sedan, Chevy has a decent engine option for everyone and none are disappointing.

The long, wide look of the Impala combined with 18, 19, or 20-inch wheels give it a substantial, almost premium look. Thankfully, Chevy didn't rely on a retro look for the new car. John Cafaro, director of North America passenger car exterior design said "Our design team was challenged to create a new classic, but that didn't mean relying on nostalgia. This is very much a contemporary car, with design elements, craftsmanship and attention to detail that complement its advanced technology and performance."

The new Impala is also larger, more comfortable and more refined. When asked, GM reps put it this way " The stiffer architecture also enabled engineers to tune the ride and handling more precisely, for a greater feeling of control and comfort." Chevy's MyLink is another bright spot - it takes the typical in-car radio/navigation interface to level that's above and beyond what's offered in other cars - some costing much more than the Impala.

While some details of the new Impala remain unclear, we do know how much the car will cost. The new 2014 Chevrolet Impala starts at $27,535 for the base car. That's $850 higher than the previous-generation 2013 model.

That base price for a 4-cylinder Impala LS is $29,785. The high-end Impala LTZ tops the sedan's range at $34,555.

In each case, prices reflect an Impala equipped with a 197-horsepower 2.5-liter 4-cylinder engine. Shoppers looking for more power can opt for a 3.6-liter V6 in both LT and LTZ models. Mated to a 6-speed automatic transmission, that engine boasts 305 hp. V6 models start at $30,750 for the Impala LT, or $36,580 for the LTZ. Based on our time behind the wheel of the new 2014 Impala, we can say it's a lot of car for the money.

Chevrolet says that only V6 models will be available when the Impala launches, but 4-cylinder versions will come soon after. A third engine -- GM's 2.4-liter eAssist hybrid -- goes on sale later in 2013. That engine produces 182 hp and, in the smaller Malibu, returns up to 37 miles per gallon on the highway - a really good number for a large sedan.

Our initial impression is that the 2014 Impala is completely worth the extra $850 over the 2013 model. Styling is all-new inside and out, replacing today's bland look with a modern new design. The new sedan will also offer more features, from Chevrolet's MyLink system to adaptive cruise control. And it will add new safety features like rear cross traffic alert to help drivers back up and blind spot warning for lane changes.

The 2014 Chevrolet Impala will be available spring of 2013.