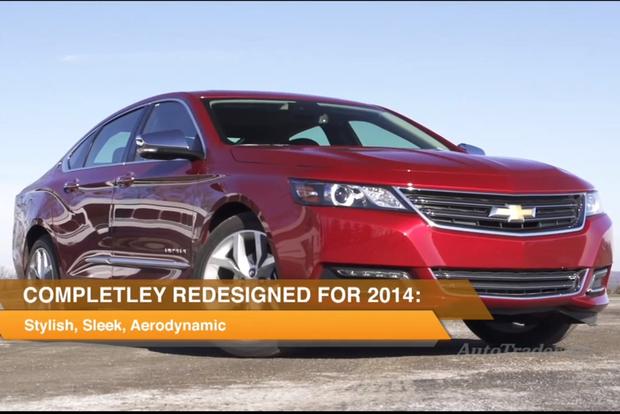 The 2014 Chevrolet Impala is completely redesigned, and it's a much-improved car in almost every way. The exterior has been given a stylish makeover aimed at appealing to younger buyers. It's also longer and sleeker, with improved aerodynamics for better fuel economy. And that's just the beginning.
Refined Cabin
The new cabin is roomier than last year's, and five adults can ride with plenty of head- and legroom. And the 60/40 split rear bench seat leads to a massive 18.8 cu ft trunk. Moreover, we found the front seats to be very comfortable and supportive, even on long trips.
Uplevel LT and LTZ trims feature the new MyLink interface, offering a flip-up 8-inch screen and the latest technology, such as voice recognition, gesture recognition and Bluetooth for up to 10 devices. There's even a Valet Mode that protects your stored data from anyone trying to snoop.
One thing to note, from a driver's perspective, is that the rear window feels short on visibility due to the steep slope, high trunk lid and wide C-pillars. Go slow when backing up.
Impressive Performance
The 2014 Impala will ultimately be offered with three engine choices. At model launch, the 3.6-liter, 305-horsepower V6 leads the way. It has an impressive power band, and acceleration is immediate to the tune of 0 to 60 miles per hour in just 6.8 seconds. That's pretty impressive for a full-size sedan.
But for a bit more fuel efficiency, you could wait for the 196-hp 2.5-liter inline 4-cylinder to hit the showroom. And for more socially conscious drivers, the 2.4-liter eAssist hybrid coming in the fall may make the most sense.
All powerplants are matched to a 6-speed automatic transmission with front-wheel drive. We found that the transmission will sometimes have trouble deciding on which gear, especially on twisty, hilly roads. There is a manual button on the shift lever, but we thought it was a little clunky to operate.
We recommend staying away from the optional 20-in wheels. They generated too much road noise. Go with the 19-in wheels for a quieter highway ride.
For fuel economy, the 3.6-liter engine yields 18 miles per gallon city/30 mpg hwy. The hybrid will tout Environmental Protection Agency ratings of 25 mpg city/35 mpg hwy. In both cases, you'll find yourself getting at least 30 mpg hwy, and that's very good.
Price and Competitors
The base LS has an MSRP of $26,725. For the top-level V6 LTZ, things get going at $35,770 before options. If you're shopping around, the list of Impala competitors includes the Ford Taurus, Hyundai Azera and Toyota Avalon.
The Final Say
The redesigned 2014 Chevrolet Impala boasts a sleeker, crisper exterior, roomier and quieter interior and the latest state-of-the-art MyLink system. On the flip side, the transmission needs refinement and the 20-in wheels are noisy. All of that said, the new Impala is a sweet ride with lots to offer and well worth a closer look.