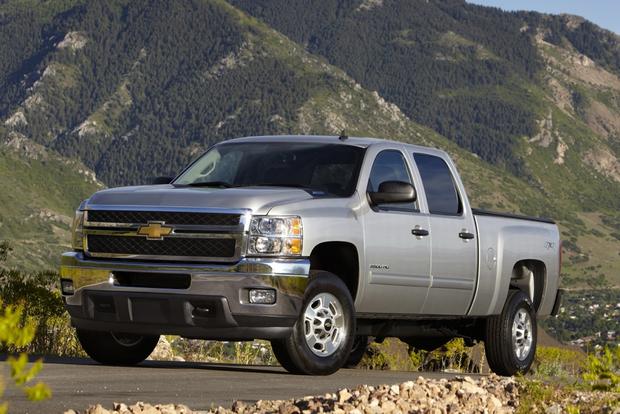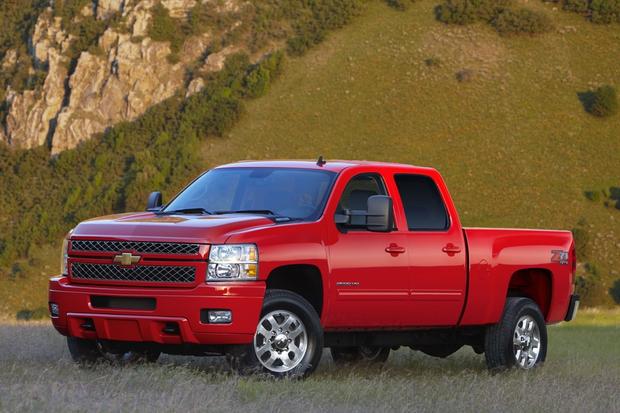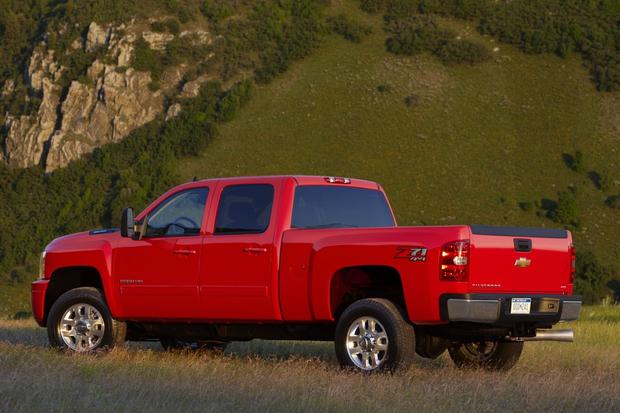 While pickups have entered the American mainstream, the 2014 Chevrolet Silverado HD (branded as the 2500HD or 3500HD) remains true to the pickup's original purpose: taking care of business.
At one point, all trucks were "trucklike." No one buying a truck used it for anything but work. If it looked like a farm truck, you could bet it was a farm truck, driven by an actual farmer. It didn't tow your ski boat, and it didn't carpool.
While today's pickup can be all things to all people, heavy-duty pickups remain a breed apart. And perhaps no others in that category stand quite so proudly as Chevrolet's 2500HD and 3500HD. With a fully boxed frame and an optional Duramax diesel driving through an Allison transmission, these trucks weren't designed for making a coffee run to Starbucks. Rather, they were designed to build the Starbucks itself.
But if you're a fugitive from the 9-to-5 routine and simply want to get out of town, there are few better machines to tow a 10,000-pound Airstream or cabin cruiser than Chevy's heavy-duty trucks. If your cargo fits in the bed, the 2500 can carry more than 7,000 pounds of payload, and the dual-axle 3500 handles even more.
What's New for 2014?
The Silverado HD is unchanged for the 2014 model year, pending a full redesign for 2015.
What We Like
Overbuilt and capable of virtually everything; three cab configurations, two bed lengths and two drive types; top-notch optional Duramax diesel V8
What We Don't
Dated compared to more recently updated competitors, especially inside; all-new 2015 model already on its way; doesn't offer manual transmission like RAM HD does
How Much?
$30,500-$48,500
Fuel Economy
The 2500HD and 3500HD both have a standard 6.0-liter V8 that provides a more than adequate 360 horsepower and 380 lb-ft of torque. For maximum capability and a modicum of efficiency, heavy haulers will spec the 6.6-liter Duramax diesel, providing a slight bump in horsepower (to 397 hp) and a quantum leap in torque to 765 lb-ft.
The Environmental Protection Agency doesn't provide fuel economy estimates for heavy-duty trucks, and actual economy will vary widely based on application. The 2500HD's standard 36-gallon capacity does enable a diesel operator to travel up to 680 miles on one tank of gas, suggesting roughly 18 miles per gallon on the open road. But if you're looking at a heavy-duty pickup, our bet is that fuel economy isn't among your chief concerns.
Standard Features & Options
The 2014 Chevrolet Silverado HD comes in three trim levels -- a base-level Work Truck, mid-level LT and upscale LTZ. Both the 2500HD and 3500HD offer all three trim levels.
The base-level HD Work Truck ($30,500 in 2500HD form; $32,500 as a 3500HD model) comes standard with only the bare essentials. Vinyl seat covers are standard, as is a vinyl floor covering. The pickup includes an AM/FM stereo, but it doesn't feature a standard CD player. Other bare-bones features include crank windows and manual-adjustable mirrors.
Drivers add a long list of important features stepping up to the mid-level LT ($34,000 in 2500HD form or $36,000 with the 3500HD chassis). The upscale trim level adds alloy wheels, keyless entry, power windows, power locks, power mirrors, cruise control and a CD/MP3 player.
At the top end of Chevrolet's Silverado HD lineup is the LTZ ($41,000 for the 2500HD or $43,000 for the 3500HD). Offered only in extended cab or crew cab guises, the Silverado HD LTZ features many upscale amenities, such as dual-zone automatic climate control, leather seats, a center console, Bluetooth, a remote starter and steering wheel-mounted audio controls.
Heavy-duty Silverado models offer several key options, such as a sunroof, a navigation system, a rearview camera and even a rear-seat DVD entertainment system. Rear parking sensors and a heated steering wheel are also available.
Safety
Chevrolet offers a full menu of active-safety components, including 4-wheel disc brakes with ABS, StabiliTrak electronic stability control and a trailer sway control system. If you have an accident, head curtain side airbags with rollover protection are available, as are seat-mounted side-impact airbags for driver and right-front passenger; these provide thorax and pelvic protection.
The Silverado HD has not been crash tested by the federal government's National Highway Traffic Safety Administration or the Insurance Institute for Highway Safety.
Behind the Wheel
Given the wide array of cabs, wheelbases, suspensions and drivetrains, a Silverado HD's ride, handling and performance are essentially what you want them to be. Just one example: The HD chassis can be ordered with one of five torsion bar rates. And a Z71 off-road suspension is available on LT and LTZ models. It provides enhanced capability when the road to the work site ends before the work site begins.
If the ride/handling balance can best be described as workmanlike, so can the responsiveness of the available V8 engines. By nature, the 6.0-liter gasoline engine is more responsive. The diesel, meanwhile, provides the stump-pulling torque but slower response to throttle inputs.
When it comes to utility, the Chevy's Heavy Duty delivers on all counts. The new fully boxed frame enables the HD to haul and tow virtually any load you or your crew can reasonably handle. And its utility is enhanced by its mobility; buyers can opt for mobile Wi-Fi and enjoy USB connectivity, Bluetooth, SiriusXM and navigation. Multiple charge points throughout the cab allow for operation of multiple electronic devices.
Other Cars to Consider
Ford F-Series Super Duty -- The F-Series Super Duty offers many of the same traits as the Silverado, including torquey engines and a dizzying array of body styles and bed configurations.
GMC Sierra HD -- The Sierra HD is essentially a mechanical twin of the Silverado. Its biggest advantage is an upscale Denali trim level for shoppers interested in the ultimate in luxury and capacity.
RAM Heavy Duty -- The full-size RAM Heavy Duty offers a similar array of options, engines and configurations as the Silverado. But it can tow a little more and boasts an available manual transmission -- a must-have for some drivers.
AutoTrader's Advice
We'd opt for an extended cab 2014 Chevrolet Silverado 2500HD LT with 4-wheel drive, the 6.0-liter V8, Z71 appearance package, off-road suspension and forged 18-inch wheels. So equipped, it would have a window sticker of just over $42,000 with destination. Given the menu of typical incentives, however, we'd expect it to go for a figure substantially lower than that.