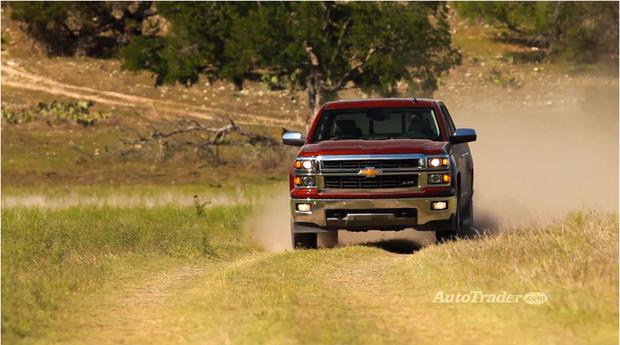 We're just going to say this right up front: The 2014 Chevrolet Silverado is the best full-size truck. Take the all-new Silverado's crossover-like ride and handling, combine it with an almost elegant interior, add Chevy's MyLink suite of in-car tech and apps, while beefing up its real-world truck ability, and the Silverado comes out on top.
If you're a doubter, we get it. The Ford F-150 and RAM 1500 are great in their own right, too. If there's a "but" when it comes to the new Silverado, it's the RAM that points it out. When comparing the new range-topping Silverado High Country to the top-of-the-line RAM Laramie Longhorn, the RAM is a little plusher and comes off as more high-end. Stick to the base and mid trim levels -- the kind most people are likely to buy -- and the Silverado is very compelling.
New Look
Admittedly, the new Silverado doesn't look dramatically different, but that's no accident. The subtle styling changes give the truck a more modern look while making it easy to spot as a Chevy truck -- and that's important. Popular products are always easily identifiable. You know a Coke bottle when you see it, just like you can pick out an Apple phone even on a crowded subway platform.
But don't let the familiar skin fool you. The 2014 Silverado's body is wider, tougher and more high-tech than ever, and it hides a truck that is completely new -- from the rear bumper to the bow tie on the front grille. Park the 2013 model next to a 2014 and the changes are obvious.
For example, to shed weight and improve fuel economy, the Silverado now has an aluminum hood. Also, the body is curvier in certain areas, reducing wind resistance and improving fuel economy. Even parts of the body you don't normally think of as being styled are different. Open the rear doors on a crew cab and almost all the connection points, seams and welds have been hidden. The result is that the truck looks less like a utility vehicle and more like a well-crafted automobile.
More Than Skin Deep
Everything beneath the skin is new, too. There are three new engines (one V6 and two V8s), all more efficient and more powerful than before.
The Silverado's ride and handling have been dramatically improved, as well. On the road, the truck now feels more like a crossover SUV than a beefy truck. The interior remains family-sedan quiet even on the highway. Electric power steering delivers just the right amount of road feel, but it also makes the Silverado easy to maneuver in a parking lot or on a boat ramp.
We spent most of our time in a 2-wheel-drive Silverado Crew Cab with the 5.3-liter V8. This is the setup Chevy says most buyers will order. With 355 horsepower, this middle engine makes more than enough power but feels as smooth as a family sedan. The 5.3-liter V8 is estimated to get 23 miles per gallon on the highway and 16 mpg in the city.
Even a Silverado with the 305 hp, 4.3-liter V6 can tow 7,200 pounds. All three engines feature cylinder deactivation, which essentially shuts off two (V6) or four (V8) cylinders under light load situations.
Nicer Inside
To capitalize on the new, more refined feel, Chevy did some serious work on the truck's interior. The gauges, dash, seats and even the carpet all give the truck a more upscale feel compared to the previous Silverado. We like the Silverado's large, easy-to-use buttons and switches. Just below the radio and climate controls are several large switches that control features such as parking sensors and Hill Descent Control. All these switches are large enough that real truck folks won't have to take off their gloves to use them.
How Much?
Base price for a Silverado standard cab is about $25,000. Crew Cab models start at $32,700. An LTZ Crew Cab is just over $40,000 but comes with many standard features.
More Truck Stuff
If you're worried the more civilized ride and fancier interior means the Silverado is all show and no go, you can put that worry aside. The 2014 Chevy Silverado has plenty of newly standard features that will help you go, pull and off-road harder than ever. Trailer Sway Control is standard, as is Hill Descent Control. Chevy also put new brakes on the Silverado; the Duralife rotors resist rust, are more durable and deliver a smoother feel even after years of use. Maximum towing capacity for the Silverado 1500 is 11,500 pounds. The off-road ready Z71 is now a separate model and can be had in LT or LTZ trims.
In TV ads, Chevy will probably emphasize things such as the new bumper with a built-in step, a longer 6-foot, 6-inch bed with the Crew Cab or two years of free scheduled maintenance. Those are important, but how the truck handles real-world situations is more important.
It's really the 2014 Silverado's real-world ride and handling that make the truck such a dramatic improvement over the previous Silverado. The features and options are great too, and that the base price is very near that of the 2013 Silverado adds to the truck's overall appeal. The 2014 Chevrolet Silverado's effortless combination of work-truck friendly features, nontruck feel, modern connected tech and a very comfortable interior make it the full-size truck we'd most like to park in our own driveway.